By
for on April 29th, 2019
'Killing Eve' Season 2, Episode 4 Recap: "Desperate Times"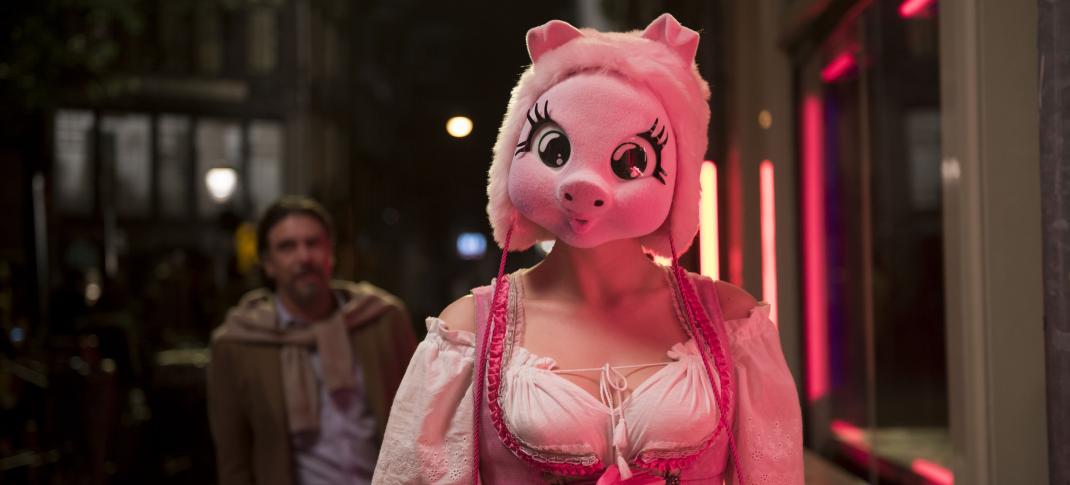 With Killing Eve finally off to the races, a new Ghost victim lands on Eve's doorstep.
Helen: You know what they say. One cock-up looks like an accident; two cock-ups starts to look like carelessness.
Carolyn: Or a threesome.
Last week's episode felt a bit like the real beginning of the show's second season, with all old business from last season wrapped up, and Eve and Villanelle back to their regularly scheduled cat-and-mouse game. This week brings in a brand new angle as the unflappable Carolyn is finally seen from the non-power perspective when she goes to see her boss, Helen Jacobsen (Zoë Wanamaker). Konstantin her "Russian asset" going AWOL has upset the powers that be rather a lot, and Helen is screamingly angry about it, in between eating her crisps. Carolyn promises her this is all going to plan. 
Eve, meanwhile, has gone a little round the bend to get back in Carolyn's good graces. It turns out the businessman viewers saw the Ghost kill with coffee back in episode 2 was Peele's godson, Jonathan, but these are not the only deaths in the Peele company. Eve has traced any deaths connected to Peele and his firm, and it turns out they've been happening for months, including the former CEO of the company, all meticulously planned assassinations, all made to look like accidents. Whoever and whatever is taking down the Peele corporation is working a very long con, over the course of nearly a year, with every death carefully curated to fit the victim's health issues.
The discovery leads to another visit with the late Alistair's son, Aaron Peele and his hilariously new economy company where kombucha is on offer to guests, and NDAs are handing out for the signing like candy. Aaron may not be the next victim, as Jess and Eve first thought, but instead the Bond-like villain behind the murders. He is utterly disinterested in their findings, and far more into going off about how MI-6 and the CIA are over as institutions, in a world where companies like his have more information on the billions of humans on this planet than they could ever hope to.
Not that the Ghost has stopped her activities, showing up as the cleaner at Peele's secretary's apartment, another faceless worker in an anonymous position allowed into the most intimate of settings to take her quarries down. In comparison, Villanelle is sitting out at a cafe table, wearing some fantastic straight-off-the-runway fashion, and practically being begged by people on the street to pose or their Instagrams. Villanelle and Konstantin have wisely left the UK for the moment, and are hanging out in Amsterdam where their first significant job is scheduled to happen, which involves the Rijksmuseum, which Villanelle is very much less than thrilled to be doing. Great art doesn't get her juices flowing like high fashion and death do until she sees Jan de Baen's The Corpses of the De Witt Brothers, that is. She is instantly obsessed and even buys a postcard of it to send to Eve.
This being Amsterdam, Villanelle's next victim is quite possibly her most spectacular to date, involving the red light district, BDSM, an open window, and her in old school dutch outfit with an adorable little girl cartoon pig's mask, where she murders him in front of a cheering crowd who believes it to be part of the show. Of course, the image she's recreating is The Corpses of the De Witt Brothers. I suppose she took Konstantin's advice on making it fun to heart. She clearly hopes Eve will get the message.
Sadly, Carolyn intercepts the postcard before it reaches Eve, recognizing the danger of allowing the two women to meet again. Instead, when the report of the Corpse murder comes in, Carolyn opts to send Jess to deal with the body instead of Eve. (Eve senses she's being cut out, but she also knows better than to push right now.) Villanelle is not ok when, after waiting all day, the wrong woman shows up. In retaliation, our favorite killer goes to a club, gets high, and nearly murders someone just to feel again, before Konstantin intervenes and drags her home. (At least she didn't try and kill Jess, who, did I mention, is pregnant? After Bill, I am worried for all of Eve's MI-6 partners.)
Eve, left at home, gets busy putting two and two together with the Ghost, figuring out that our killer is an ex-doctor or an ex-nurse, that she's non-white, over-35, and entering the buildings as part of the cleaning services. Armed with these clues, Kenny gets down to finding the needle in the haystack. While he works, Eve spends time with Hugo, who has the same thrill-seeking tendencies she does in tracking serial killers, and who gets her relationship with Villanelle in a way most don't. Anything that could happen between them is stopped in the nick of time though, as Kenny has found The Ghost (Jung Sun Den Hollander).
By episode's end Eve has taken the woman into custody and is ready for the interrogation. However, with half a season still to go, does the wrapping up of this case mean Eve can turn her attentions back to her old quarry?
---
By
for on April 29th, 2019