By
for on July 2nd, 2014
It's Official: 'Sherlock' Will Return for a Special and a Fourth Season!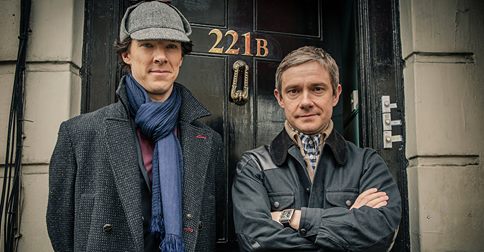 Fans everywhere can rejoice: The BBC
has officially confirmed
that
Sherlock
will return for a one-off special
and
a three-episode Series 4!
[Yes it's okay if you start screaming now.]
Even though the entire cast and creative team has been discussing this for ages as a done deal, it's nice to get the official word that the fourth season is happening (plus the bonus of an extra episode!) Stars Benedict Cumberbatch and Martin Freeman will return as Sherlock and John and presumably solve the mystery of why Moriarty's face was plastered everywhere in London at the end of last season (and hopefully deal with the fallout from the Mary situation that left a lot of fans scratching their heads). 
"A special, plus a new series of three episodes - it's a record-breaking run!" co-creator Steven Moffat said in a statement. "Of course, it's far too early to say what's coming, but we're reasonably confident that the very next thing to happen to Sherlock and John, is the very last thing you'd expect..."
However, it's also turned out to be true that we're going to have to wait a bit for new episodes to arrive. Filming on the one-off special – which will presumably at Christmas 2015, as Freeman also reported in the Telegraph – is set to begin in January, and production on the full Series 4 run will get underway later in the year. 
Shooting on the #Sherlock special will begin in January 2015, with the series shooting later next year. #221back

— Sherlock - #221back (@BBCOne) July 2, 2014
(Remember that Cumberbatch's run in the West End as Hamlet goes through the end of October of 2015, so it's highly likely they mean production will get underway very late in the year.)
The busy schedule of the show's leads – Cumberbatch has been attached to a multitude of films in production and Freeman's been occupied with both The Hobbit trilogy and Fargo – has meant that nailing down a filming date for more Sherlock has proven tricky.
"It's taken a little while to get the dates sorted as none of the boys are exactly sitting back twiddling their thumbs but there was unanimous goodwill to make this work, so we're thrilled that 221b is going to be inhabited again," said executive producer Sue Vertue.
But at last it thankfully appears that the stars have aligned! 
So.. hands up if you're excited for more Sherlock? What would you like to see happen in both the upcoming special and Series 4? 
---
By
for on July 2nd, 2014
More to Love from Telly Visions