By
for on May 13th, 2014
Its Official: David Tennant and Olivia Colman to Return for 'Broadchurch' Series 2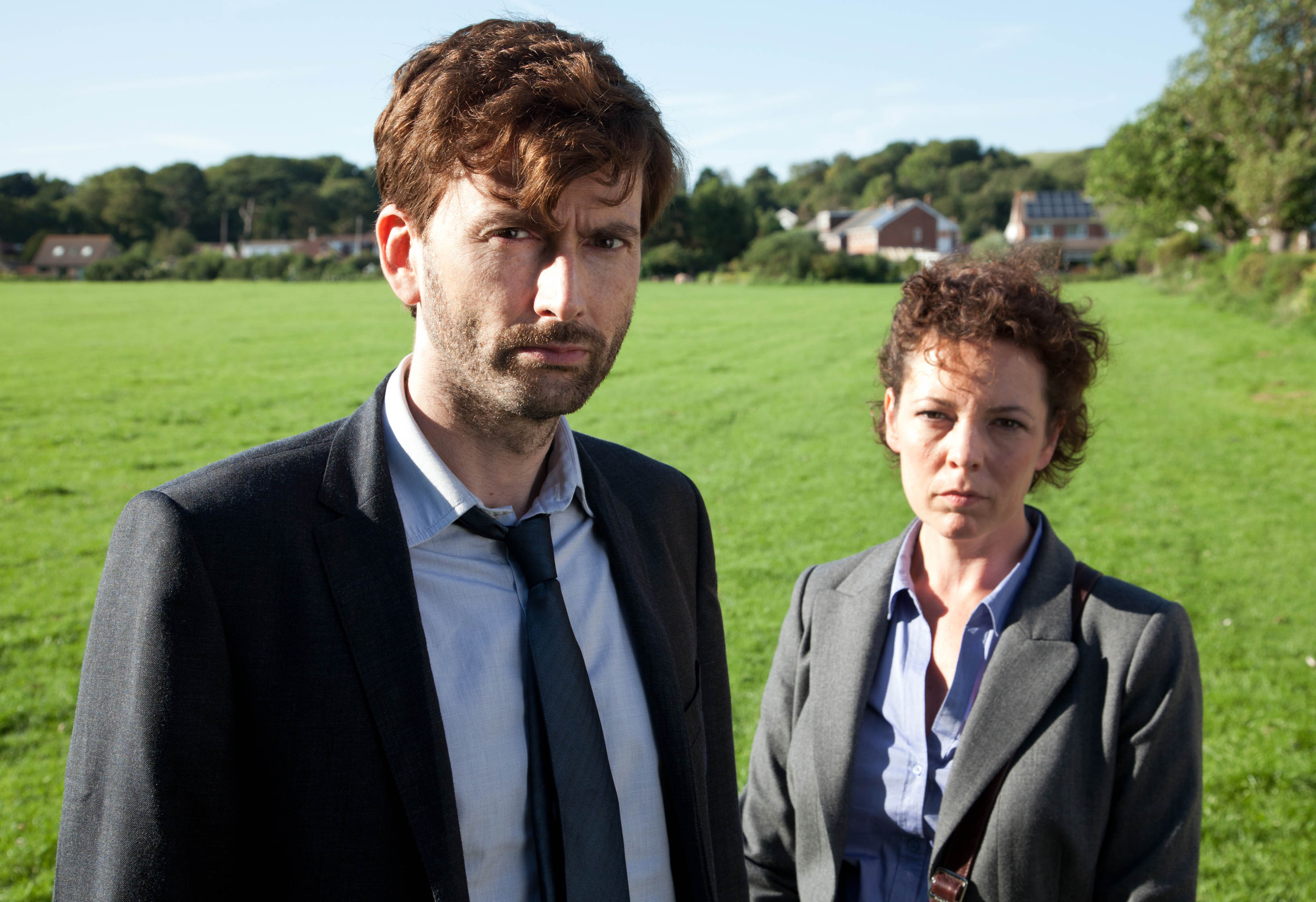 Mystery fans the world over can breathe a sigh of relief today – ITV has officially confirmed that stars David Tennant and Olivia Colman will both be returning for the highly anticipated second series of Broadchurch.
The pair will also be joined by several other familiar faces in Series 2 – including Jodie Whittaker and Andrew Buchan, who portrayed the parents of Danny Latimer, the young boy whose murder started it all, as well as Doctor Who's Arthur Darvill, who plays local vicar Paul Coates.
The first season of Broadchurch centered around the investigation – lead by Tennant's tortured DI Alec Hardy and Colman's more empathetic DS Ellie Miller – into the mysterious death of a young boy, and the impact the case had on the small town of Broadchurch and its residents.  It was also fairly remarkable for the simple fact that it told a self-contained story and actually solved the case at the end – and is still coming back for another season. What will Series 2 look like? How do you follow up the Danny Latimer case with something else? We'll have to wait and see, because creator Chris Chibnall and the folks at ITV are keeping story details on serious lockdown.   
"We're delighted Broadchurch is back in production, but we're remaining tight-lipped about how the story develops," said ITV Director of Drama Steve November. "Suffice to say Chris has delivered as always and the scripts are just as exciting as the first series."
Which sounds great of course, but tells us nothing. Will there be a new case? Will more cast members return? Are we going to deal with more of the fallout from the revelation of the killer at the end of Series 1? Your guess is a good as mine.
Broadchurch delivered record ratings for ITV, was the most tweeted about British drama ever, and was pretty much all anyone was talking about in the world of entertainment while it was on. (Seriously, Twitter was just awash with spoilers from every direction.) It seems safe to say that expectations for Series 2 are similarly high.
Tennant, interestingly enough, is currently pulling double duty in this role, having recently recreated his DI Hardy character for Gracepoint, the American adaptation of Broadchurch that's set to air on FOX in the US this Fall. (And done an American accent to boot!) Colman, meanwhile, is not involved in Gracepoint and the role of Ellie Miller will be played by Breaking Bad's Anna Gunn.
Filming on Broadchurch Series 2 gets underway this summer.  What do you think of the prospect of a second season? Are you excited? Anxious? Torn? (I'm kind of all of the above at this point.) 
---
By
for on May 13th, 2014