By
for on March 25th, 2020
Hulu's 'The Great' Will Fill the "The Favourite'-Shaped Hole in Your Life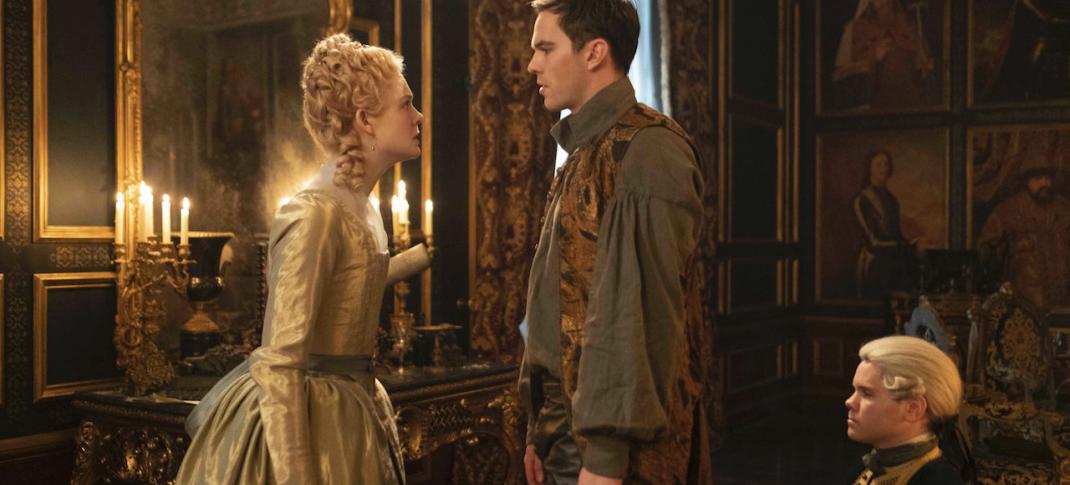 Oscar-winning film The Favourite turned the concept of the period drama film on its head, introducing a sly, hilarious take on the genre that still managed to use its period story to convey a worthwhile message to modern audiences. (Also, it was just fun as heck to watch.)  Now upcoming Hulu series The Great aims to do something similar for television, telling a small screen story of the early life of the girl who would one day become Russian empress Catherine the Great, but filling it with plenty of laughs and some seriously biting satire along the way. 
If the tone and feel of this story is familiar - it should be. The Great comes to us from the mind of Tony McNamara, who wrote The Favorite, so it's safe to say he knows a little something about putting a more modern spin on a traditionally historical costume drama. 
Elle Fanning stars as the young Catherine (or Princess Sophie, as she was known then), who arrives in Russia from Germany in 1745 in order to marry the boy who would one day become Tsar Peter III. Naive and sheltered, she's hoping for a handsome prince and a bright future. Unfortunately, she gets Peter instead - played by Nicholas Hoult, who actually appeared in The Favourite - a virtual man-child who is more interested in throwing ridiculous parties and flinging dogs off balconies in parachutes than become a leader. So, like so many women before - and after her - Catherine realizes that if she wants a place for herself in the world, she's going to have to make it for herself.
The real-life Peter's reign was both brief and ignonimous, notable largely for the fact that he was overthrown by his wife and her political advisors after barely six months on the throne. (And possibly murdered by them, depending on who you believe.) 
The series' setting - and the presence of Peter - sets The Great apart from the other period drama about Catherine's life that dropped earlier this year. HBO's Catherine the Great was much more dramatic, more lavish and much more focused on Catherine's reign after she took power in her own right. This series will have an entirely different focus and, despite Catherine's obvious scheming in the trailer, it may never get to the point in the story where she is made a widow. (She and Peter were married for over a decade before he became Peter III, after all.) But regardless, it certainly seems as though the journey there will be an entertaining one. 
Watch the full trailer for yourselves below. 
The series' official synopsis promises a first season full of...well, a whole lot. 
The Great is a satirical, comedic drama about the rise of Catherine the Great from outsider to the longest reigning female ruler in Russia's history. Season One is a fictionalized, fun and anachronistic story of an idealistic, romantic young girl, who arrives in Russia for an arranged marriage to the mercurial Emperor Peter. Hoping for love and sunshine, she finds instead a dangerous, depraved, backward world that she resolves to change. All she has to do is kill her husband, beat the church, baffle the military and get the court onside. A very modern story about the past which encompasses the many roles she played over her lifetime as lover, teacher, ruler, friend, and fighter. 
The Great premieres on Hulu on May 15. 
Are you looking forward to this period comedy? Let's discuss. 
---
By
for on March 25th, 2020
More to Love from Telly Visions