By
for on February 28th, 2020
Hulu's 'The Great' To Premiere This May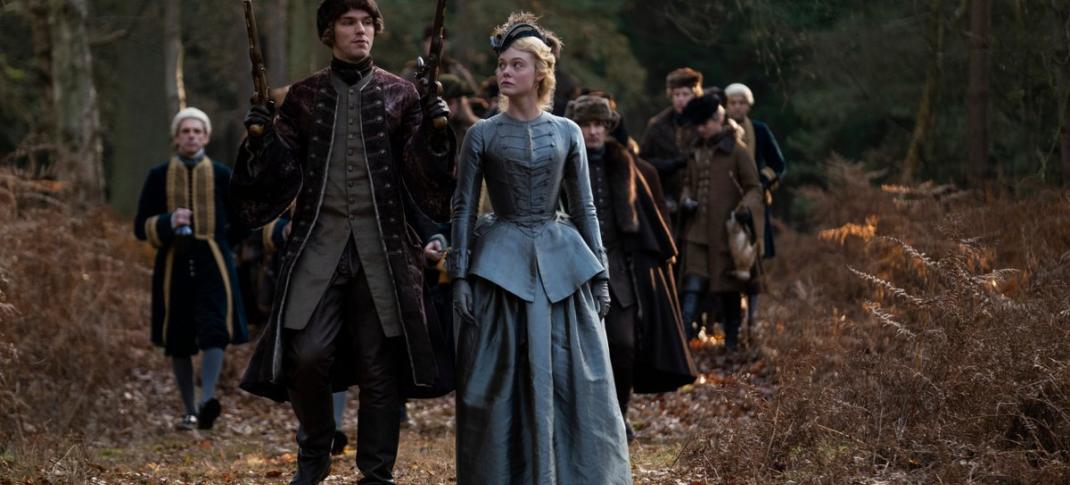 Russian empress Catherine the Great is having a bit of a moment right now, what with the lavish HBO miniseries about her life starring Helen Mirren that aired back in the fall of 2019, and now the upcoming Hulu period comedy (ish?) series headed our way this spring, known simply as The Great. 
Though it's also a period piece, this take on the Empress of Russia's life feels very different from the recent HBO version. For starters, it's funny. Yes, really. And, unlike its Mirren-starring counterpart, it's more about the beginning of Catherine's life in Russia, rather than the end of her reign. 
Elle Fanning stars as the young Catherine, who travels from Germany to Russia in order to marry Tsar Peter III in 1762. Naive and sheltered, she's hoping for a handsome prince and a bright future. What she gets is Peter - played by X-Men star Nicholas Hoult - a virtual man-child who is more interested in playing with toy soldiers and flinging dogs off balconies in parachutes than in actual ruling an empire. So, like so many women before - and after her - Catherine realizes that if she wants to build a place for herself in the world, she's going to have to do it herself. 
The Great comes to us from the mind of Tony McNamara, author of recent Best Picture winner The Favourite, so it's safe to say he knows a little something about putting a biting, modern spin on a historical costume drama. 
Here's how he described the series in January, at the winter edition of the Television Critics Association press tour. 
"On one level, she's Catherine the Great, who marries [the son of] Peter the Great, and that's a big story," McNamara said during the series' Television Critics Association panel. "On another level that's quite contemporary, it's about a woman who marries the wrong person and then has to go, 'What do I do? Do I kill him?'"
The real-life Peter's reign was both brief and ignonimous, notable largely for the fact that he was overthrown by his wife and her political advisors. (And possibly murdered by them, depending on who you believe.) However, the show version of their story may go somewhat differently. After all, The Great doesn't seem particularly interested in things like historical accuracy, so who knows what might happen. 
Watch the trailer annoucing the series premiere below, and you'll see what we mean. 
The Great will officially premiere on Friday, May 15 on Hulu. 
Does it sound like something you'd watch? Let's discuss in the comments. 
---
By
for on February 28th, 2020