By
for on September 4th, 2023
'The Great' May Have Been Canceled, But It Still Managed to Have a Perfect Ending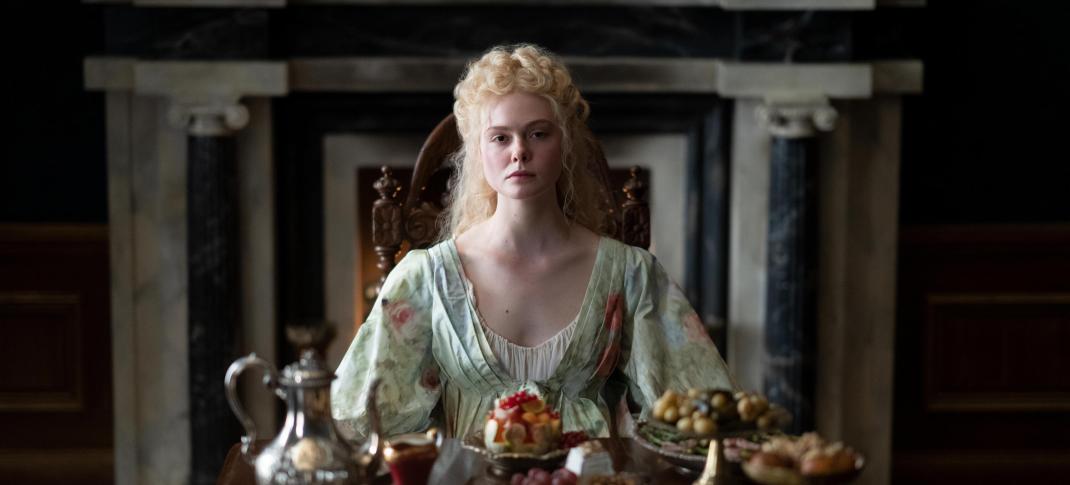 Even the best of reigns must eventually end. Unfortunately, such is apparently the case with Hulu's satirical period drama The Great, which has been unceremoniously canceled by the streamer after three seasons. 
Billed as an occasionally true story of the life of Russian Empress Catherine the Great, the irreverent, hilarious, and often wildly inaccurate series still managed to tell a thoughtful tale about the uncomfortable compromises women in power are often asked to make and the unflattering way history seems determined to remember them. In many ways, it's difficult to explain precisely why creator Tony McNamara's unhinged fever dream of a historical drama worked as well as it did, but The Great's specific mix of humor, heartbreak, and weirdly anachronistic jokes was truly like nothing else on television, and the streaming landscape will be a darker place without it.
Given the series' high profile, starry cast, and general critical acclaim, its sudden cancelation seems like a weird move. The Great has racked up seven Emmy nominations since its original premiere in 2020, and won the award for Outstanding Period Costumes in 2022, the same year that stars Elle Fanning (The Girl from Plainville) and Nicholaus Hoult (Renfeld) nabbed acting nods for their performances as Catherine and her husband Peter III. While the series never really cracked the larger streaming zeitgeist in the way, say, the earlier seasons of Hulu's The Handmaid's Tale did, it was objectively one of the platform's best shows. And its loss is a real shame, both for fans of period dramas and just folks who appreciate good TV. Because The Great was, in fact, great.
But while the cancellation news may have come as a surprise to fans, the series at least concluded its third season with a finale that felt...if not definitive, at least complete. Smartly, as it turns out, the series' final episode works as both a pause and a period, allowing us as viewers to visualize what might come next for the characters but also serving as a functional conclusion to at least one part of Catherine's life. Because had the series' been renewed, it and its story would have, of necessity, looked quite a bit different than what came before.
After all, The Great Season 3 made the choice to kill off one of its main characters, finally fulfilling the historical edict it had spent the better part of three seasons ignoring. (In real life, Russia's Peter III died fairly soon after Catherine's coup, and is generally believed to have been assassinated.) A risky move, given how much of the season --- and quite frankly, the series --- had been dedicated to Peter and Catherine's love story, but one that gave Fanning some incredible material to work with in the season's final four episodes. 
In many ways, the season's (now series) final installment, which saw Catherine reclaim control of both her country and her own personal narrative, was Peak The Great: deeply chaotic, fully ridiculous, and strangely perfect all at the same time, an hour that managed to feel both like an ending and a new beginning all at once. Showing us a Catherine both forever marked by grief and fully come into her own at last, her final unhinged dance to ACDC's "You Shook Me All Night Long" is cathartic and heartbreaking by turns.
A woman who sits on the throne of Russia not by fate or divine right, but by dint of her own ruthlessness and intelligence, whose literal (albeit necessary) rewriting of history in order to keep her power essentially forces her to both sacrifice her memory of who her husband was and muddy the details of his death, this Catherine finally has become the leader that Russia needs, if not necessarily the one she initially wanted to be.
In truth, it's difficult to imagine what a fourth season of The Great might have looked like had the show continued. Without Hoult's mesmerizing performance at its center, without the emotional heart of Catherine and Peter's relationship, what would The Great have become?
Granted, there's plenty of historical material worth mining. The real Catherine had many lovers, the most famous of which --- Grigory Potemkin --- had yet to appear in the world of the show. There's a worthwhile story to tell about grief and healing, and the unique sadness that comes with wondering if the best days of your life are already behind you. Who would this Catherine have been without Peter? Could she have ever truly moved on from him? 
The series' strong cast of supporting characters, from the mercurial Aunt Elizabeth (Belinda Bromilow) to the scheming Georgina (Charity Wakefield) certainly had stories worth exploring further. Marial (Phoebe Fox) could never have managed to walk the fine line between being Catherine's friend and pushing for revolution forever. And what of little Paul? The historical Catherine did not have a terribly great relationship with her son and heir, but that doesn't mean the show would have followed the same path. These are questions I would have certainly loved to see play out onscreen. But despite being sad I won't get the chance to do so --- I'm still okay with the answers I have in my head.
But, if The Great has taught us anything, it's that history is just another kind of story. Who's to say this show's version of it is truly less worthwhile than anything else? In many ways, Season 3's final episode seems like an appropriate explanation for the series' existence writ large ---
---
By
for on September 4th, 2023
More to Love from Telly Visions