By
for on January 14th, 2019
'The Favourite' is Already a Favorite of This Year's Award Season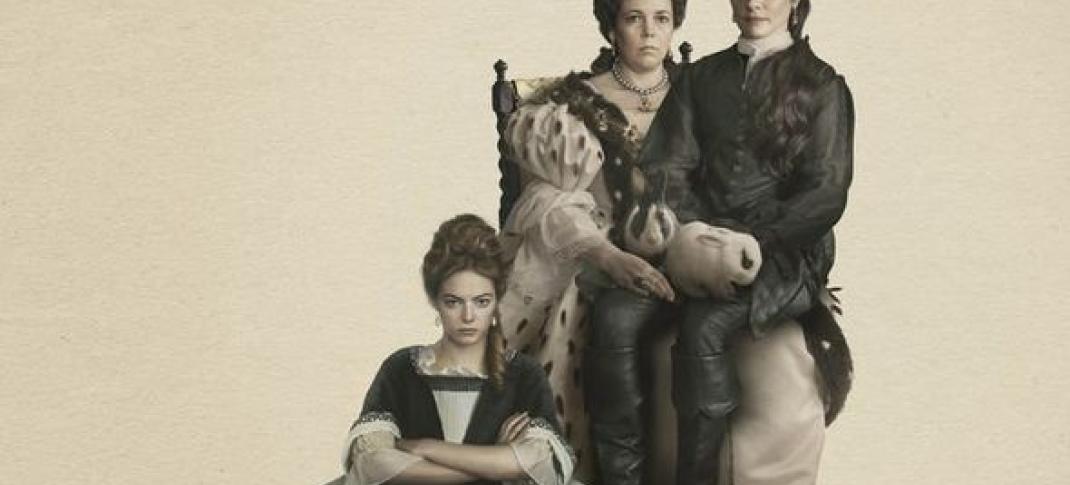 The starting pistol for this year's major awards marathon has just been fired and it's clear that The Favourite has turned cinematic heads. According to IMDB, the historical period comedy-drama film has received 228 nominations thus far this awards season, in categories that range from costume design and editing to screenwriting and best motion picture. In most cases all three of the cast's featured actresses have received a nod with Olivia Colman designated to the Best Actress group for her performance as the rather flighty Queen Anne. Meanwhile her co-stars Rachel Weisz and Emma Stone must compete for the best supporting actress award much like their characters in the film vie for the queen's favor.
Case in point ,the British Academy of Film and Television Arts (BAFTA) announced their nominees last week, and The Favourite leads the field with twelve nominations. It's the only production to be up for both Best Film and Outstanding British Film. The winners will be announced at a televised ceremony in London on February 10th.
To date, The Favourite has already won 78 individual honors from the Iowa Film Critics to the Venice Film Festival. In December, the critically acclaimed film brought home a record ten British Independent Film Awards. And of course, if you were watching the 76th annual Golden Globes award ceremony, you would have witnessed this very adorable moment as an elated Olivia Colman accepted the Best Actress in a Musical or Comedy statuette.
If after watching that clip you're still a bit fuzzy as to who Olivia Colman is, you can check out the British Actresses You Should Know profile that I wrote about her almost six years ago. It was the inaugural post of the series and the very first thing I wrote for Telly Visions!  Of course since 2013, Ms. Colman has been busy adding to an already impressive list of projects which include the sitcoms Flowers and Fleabag and another Golden Globe winning performance in the spy thriller The Night Manager. U.S. audiences will see Olivia in the coming year in Les Misérables and the third season of Netflix's popular period drama The Crown. So yeah, she's one crazy busy lady!
Now that I've firmly and gratuitously established the awesomeness that is Olivia Colman and my obvious admiration for her, let's move on to the other objective I'm supposed to be addressing and that is what you might find interesting or unique about The Favourite.  I actually went to see the film in question on New Year's Eve at my closest art house theater (one hour away in Cleveland) and watched it in the company of healthy-sized audience. The trailer offers a good sense of the personality of the film and a rough idea of the plot so let's review that first.
So the fragile, grieving and sickly Queen Anne (Colman) has come to rely on her childhood friend and confidante Sarah Churchill, Duchess of Marlborough (Weisz) to advise her on matters of state and shield her from the stress of her responsibilities. Meanwhile it's clear to many in the royal court that Sarah is actually calling the shots for her own political gain. Things would have probably gone on like this for the rest of Anne's reign if Sarah's disgraced cousin Abigail Hill (Stone) hadn't come along begging for employment. It turns out young, sweet Abigail has a manipulative side as well and attempts to transfer the Queen's affections to herself while simultaneously usurping her cousin's power.
The Favourite is based on a true story, but it's not a biopic
When I went to watch the movie, I had no idea it was based on a true story. Even as I was watching, I was thinking to myself, "Queen Anne? The real Queen Anne?" Then it I occurred to me, "What do I know about this particular monarch other than she lent her name to a style of furniture, a neckline and a lacey plant?" Other viewers have apparently had the same questions because once I got home I found plenty of articles online discussing various aspects of the movie. I learned that most of the characters were based on real people, the rivalry between Abigail and Sarah was legit and Anne did have a tragic past including the loss of her husband and all 17 children she conceived. She suffered many afflictions, but today modern doctors would probably say that Anne's symptoms suggest she had lupus.
This movie is funny, but the quirky kind of funny
The director of The Favourite is Yorgos Lanthimos. His films often feature dark humor and surreal or absurd circumstances. He also directed The Lobster (which featured Weisz and Colman) about a society where single adults must find a partner within a limited period of time or be turned into the animal of their choice. Anyway, The Favourite has several laugh out loud moments, the most memorable probably being when a dignified ballroom dance suddenly morphs into bizarre anachronistic choreography with Weitz and co-star Joe Alwyn spinning, flailing and vogue-ing all over the place. Even though it's meant to contrast with how immobile and ill Anne is, you can't help laughing at the absurdity.
The Favourite is being touted as the best queer film of 2018
If you didn't know this (SPOILER ALERT): Anne, Sarah and Abigail engage in a lesbian love triangle. I think I sort of knew this going in, as it was suggested in the trailers if not explicitly spelled out. I'm not surprised about the accolades from the LGBT community, but personally I interpreted their actions as something a bit different than what I've been reading. Yes, Sarah and Abigail are competing for Anne's affections with "gifts" of an intimate nature. However, they are both very ambitious women who have used their powers of allure to seduce men as well.  As for the queen, she is a lonely, broken woman who craves loving, human companionship from someone she can trust.  What I'm saying is I believe there's more than sexual orientation alone at play in the motivation of the characters' actions.
There are men in this film, but they are decidedly supporting characters
The Favourite features actors familiar to most British film and television viewers. Nicholas Hoult (About A Boy, Skins, X-Men) plays Robert Harley, the first Earl of Oxford, Tory leader and full-on dandy. Mark Gatiss (Sherlock, Game of Thrones, League of Gentlemen) portrays John Churchill, first Duke of Marlborough, and Sarah's husband who leads the British forces in England's war against France. Up-and-comer Joe Alwyn (Mary Queen of Scots, Boy Erased and Billy Lynn's Long Halftime Walk) plays Baron Samuel Masham, a courtier with a weakness for Abagail whom she sees as her ticket back into proper society.
While each is a talented and entertaining gent engaged in his own conniving, self-serving activities, their characters notably take a backseat to the strong-willed, take-charge ladies who must plot and scrape even more ruthlessly to get ahead.
Did I mention Olivia Colman?
Both Ms. Stone and Ms. Weitz put in great performances and I won't be surprised if they continue to rack up the nominations. Their rivalry features deliciously witty, sharp banter and their characters are smart, devious and in the end, a bit surprising. However, anytime castmates are nominated in the same category, the likelihood of either winning seems reduced as it tends to split the voters who are enthusiastic about the film. I have no statisical proof, it just seems to be the case.
Now when it comes to Olivia Colman, she stands alone in messy, mercurial, sorrowful, needy glory. As an actress, she has absolutely no vanity in her portrayal of Queen Anne. In the scene below, she transforms from childlike glee to shame to disproportionate anger in sixty seconds. That, my friends, is a talented performer.
If you've seen The Favourite already, let's chat with as few spoilers as possible. Oscar predictions are fair game too. If you haven't seen it yet, are you intrigued or less likely to shell out the price of a ticket?
---
By
for on January 14th, 2019
More to Love from Telly Visions