By
for on July 17th, 2022
'Hotel Portofino' Season 1 Episode 5 Recap: "Discoveries"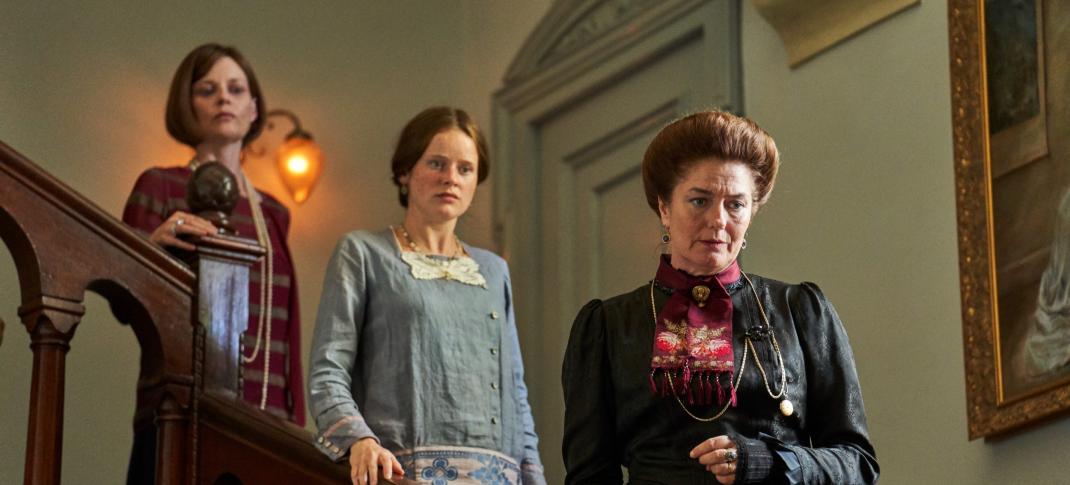 The penultimate episode of this season of Hotel Portofino begins with chaos right out of the gate and it should be no surprise that Vincenzo Danioni can be found in the middle of it all. First, there's the hasty daybreak departure of Pelham Wingfield, who tells Bella he's off to a tennis match in Monte Carlo. Next, Danioni arrives at the hotel unannounced with a civil servant authorized to inspect the premises. Mrs. Scanlon is fit to be tied, but alas, the finished report cites unhygienic conditions. Bella has fourteen days to rectify the bogus issues or face closure of her establishment.
Upstairs, Cecil has finally read Bella's intercepted letter given to him by Danioni. Angered by his wife's tender feelings for another man, Cecil is about to confront her just as a commotion erupts from the stairwell. Jack Turner announces the Rubens painting has disappeared from his room and demands an investigation. His shouting wakes the rest of the hotel, and Danioni, still loitering about, forbids the guests from returning to their rooms. Billy is summoned for the errand of fetching the police; Danioni accuses him of bicycle theft, and young Scanlon is forced into the outhouse until the authorities arrive.
Billy feigns an injury prompting Bella to call for Nish. Once they're alone, Billy warns Nish that he hid the box of anti-fascist pamphlets under Lady Latchmere's bed, and the spare keys are still in his room. The Ainsworth's driver Francesco (Petar Bencic), is tasked with bringing back the police; of course, we know he has been Danioni's spy all along and has alerted his boss to the location of the illegal literature.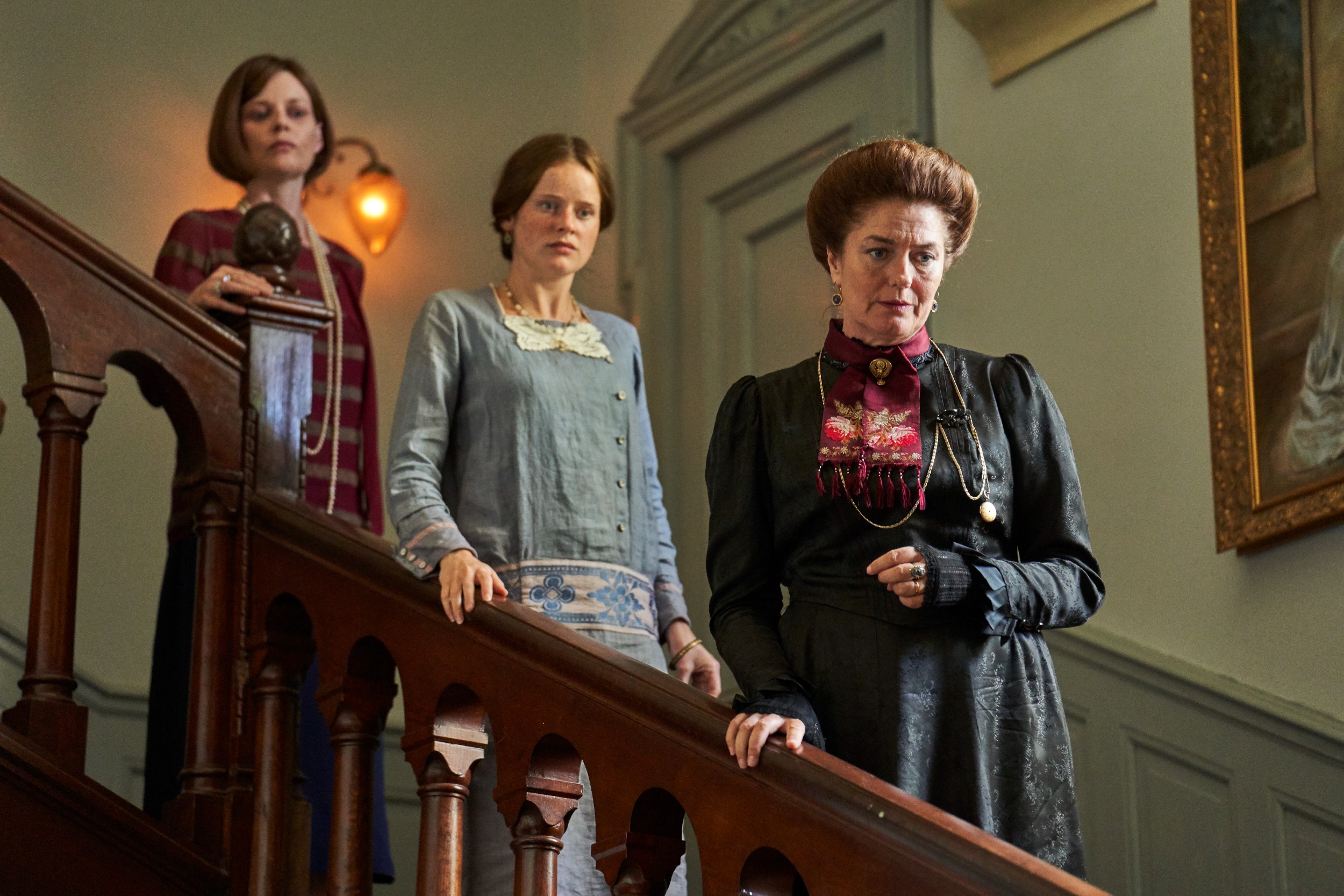 As the guests gather in the dining room for breakfast in their jammies, a scene straight out of an Agatha Christie locked room mystery transpires. Lizzie Wingfield is intimidated by Cecil Ainsworth, who suggests that the coincidence of Pelham's departure and the painting's disappearance may bring her celebrated husband some unsavory publicity. In the dining room, Jack and Cecil assert their suspicions for the benefit of their captive audience. When Claudine admits she left the painting for a short while to meet Mrs. Wingfield, Turner becomes increasingly agitated. Conversely, Cecil seems as calm as a cucumber, perhaps too calm.
Outside, Nish confides in Lucian about the hidden pamphlets; they try to devise a way to remove them undetected from Lady Latchmere's room, but the police are already coming through the gates. Bella and Alice join in the conversation, and the talk turns to who should take the blame. Nish offers to accept responsibility; Alice says they should throw Billy under the bus, but when Bella goes to warn Lady Latchmere about the situation, she insists on claiming ownership of the materials. She abhors bullies like Mussolini (and her husband) and is happy to do this on behalf of her son, Ernest.
Meanwhile, Constance goes about her usual duties unnoticed, apart from Roberto Albani, who makes unsolicited comments. It dashes Alice's plans to get closer to the handsome albeit arrogant Italian as if she needs more reason to be jealous of her daughter's nanny. One wonders how the dignified and kindly Count ended up with such a Lothario for a son. Speaking of the Count, he comes to Bella's aid when she discloses that Danioni is threatening to shut down the hotel. He suspects she's not telling him everything but offers to speak to her adversary, man-to-man. The police fail to locate the painting or the pamphlets, so Billy is taken in for questioning. A substantial contingent follows as Betty waves from the driveway.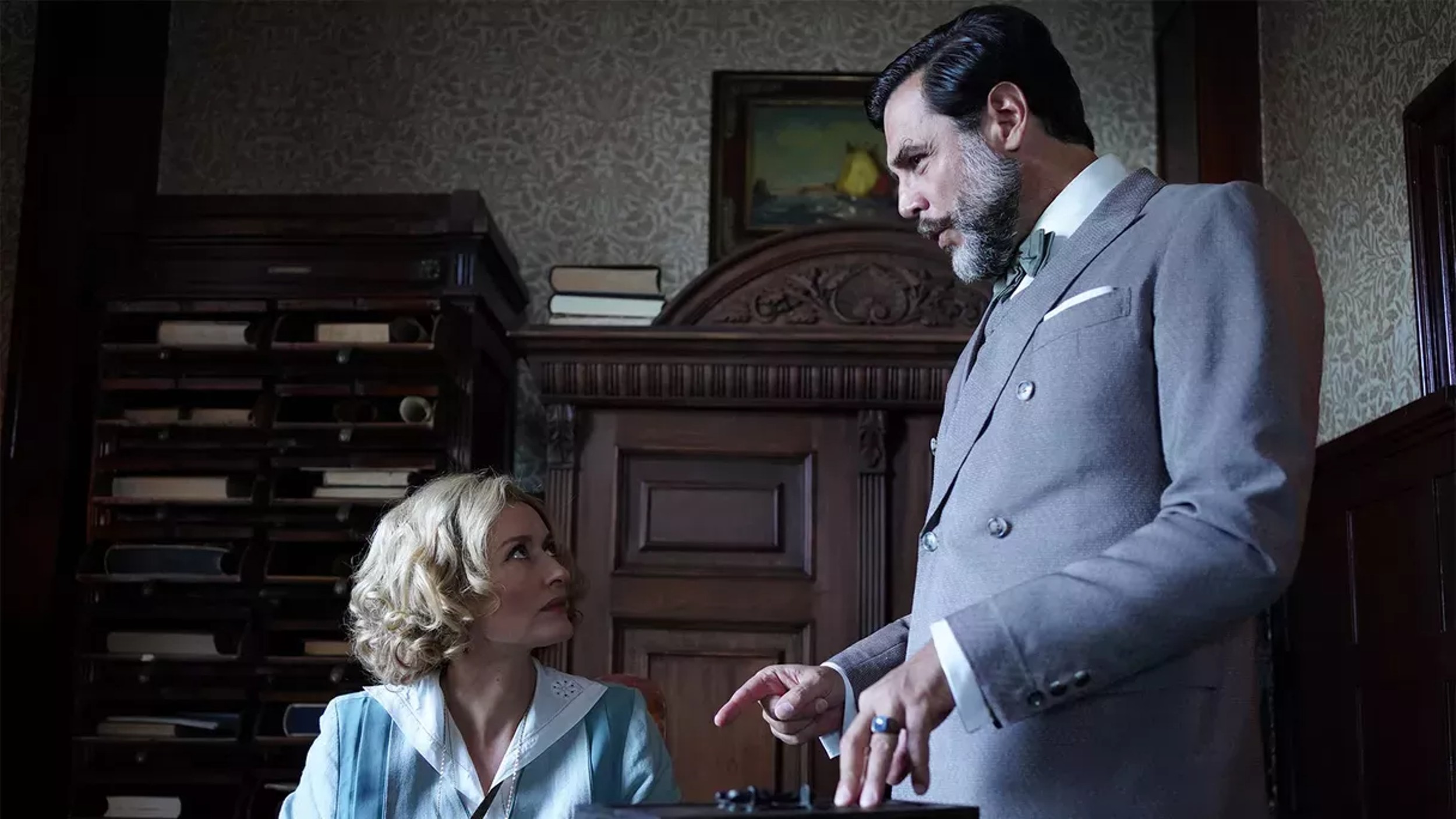 Back in the house, Cecil says it's ludicrous to think that Billy Scanlon is a criminal mastermind. Jack Turner claims the servant is the only credible suspect, but Mr. Ainsworth disagrees; he suggests Jack had the painting stolen to cheat Cecil out of his share of the sale price. The two men trade a barrage of insults and threats; Jack tells Claudine they're leaving; she refuses, suggesting he should return to his wife. No surprise there. Just as he stops short of calling Claudine a racist slur, Bella and Lady Latchmere jump in to protect her. Cecil orders Francesco to help Turner pack his bags. Jack drives off, but will he make good on his threats? Only time will tell.
Meanwhile, in town, the Count has tracked down Danioni for a test of wills disguised as a friendly chat. When Albani asks Vincenzo why he wants to expel the Ainsworths from Portofino, the bureaucrat denies it. After the Count name drops that he has recommended the hotel to an influential senator, Danioni says there's been a misunderstanding, and he rips up the inspection report. At the police station, Lucian tells Billy the pamphlets had been moved while Nish and Gianluca say their goodbyes. The young Italian says going to Turin to resist Mussolini is worth the danger because, with the fascists in charge, there's no place in their world for people like him and Nish.
Bella is relieved when Danioni delivers the news that the matter over the hotel inspection has been resolved. Once she and the Count are alone, he tells Mrs. Ainsworth that her foe will never leave her alone until whatever secret he holds over her is out in the open. Unfortunately, when Bella finally plucks up the courage to tell Cecil the truth, all his anger and frustration from the incident with the painting have built up to a boiling point. When Bella realizes Cecil has seen her intercepted love letter, she tries to explain, but he angrily strikes her across the face.
While this episode was very heavy on the hijinks of Cecil, Danioni, and Jack Turner, there is one observation to make about Lucian and his complicated love life. He and Rose aren't suited at all. Except for a brief drunken interlude, Rose and Lucian have never clicked. Now Paola has made it clear to Lucian that he is not for her, which leaves the artistic, curious, self-reliant, and brave Constance March; she did save the day by relocating the pamphlets from Lady Latchmere's room to her laundry basket, after all. The only thing that could get in their way is a secret back in Yorkshire.
Quite a few questions remain. Who stole the painting? How will Bella react to Cecil's violence? Will Nish stay in Portofino or follow his heart to Turin? Join us next week for the season finale of Hotel Portofino.
---
By
for on July 17th, 2022
More to Love from Telly Visions