By
for on June 26th, 2022
'Hotel Portofino' Season 1 Episode 2: "Lessons"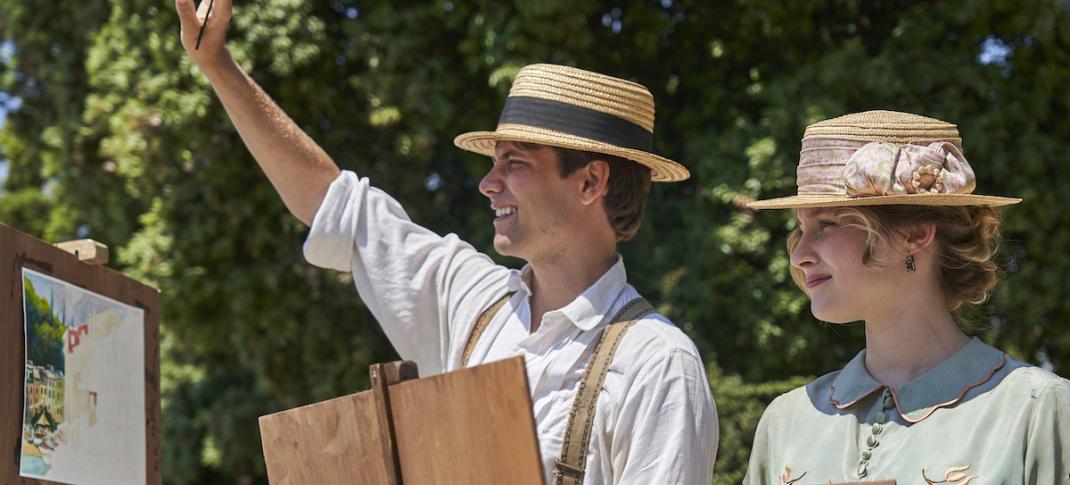 Hotel Portofino opens this week with a surprising reveal. Hotel proprietress Bella and her husband Cecil have engaged in some marital activity the night before. While Mr. Ainsworth seems quite pleased with their evening of passion and assumes all is forgiven, Bella is irritable and has misgivings about what, on her part, was a moment of weakness. Their pillow talk turns to money and the family's lack thereof. In what sounds like an oft-debated point between the couple, Cecil lobbies for Bella to hit her wealthy daddy up for the funds they need. Though he's rolling in the dough, Bella is hesitant to ask her father for more since he has generously loaned her the money to bankroll her hotel.
It's already become apparent that Cecil avoids an honest day's work at all costs but spends excessive time and effort trying to convince other people to finance his lifestyle. Cecil's next scheme of the day involves calling his brother in England and ordering him to crate up their grandfather's (most certainly fake) Rubens paintings so the American art dealer staying at the hotel can get them authenticated. As he doesn't want his conversation overheard at home, Mr. Ainsworth looks for a phone in town. He crosses paths with Danioni, Portofino's resident Fascist leader, who generously offers his phone free of charge. But we know nothing is free when dealing with a villain like Vincenzo.
Danioni wastes no time in worming his way into the Ainsworths' affairs. When Cecil invites him to the hotel for refreshments that day, Vincenzo suggests a traditional afternoon tea service marketed to the locals would be a good moneymaker. He even offers to steer some customers from the council their way. Initially, Bella rejects this idea since it's coming from a man who threatened to blackmail her. However, long-term guest Count Carlo Albani (Daniele Pecco) confides she should probably tolerate him because he'll make trouble. Bella understands this more than he knows and agrees. Was there a twinkle in Alabani's eye when he suggested working with Bella's daughter, Alice, on the menu?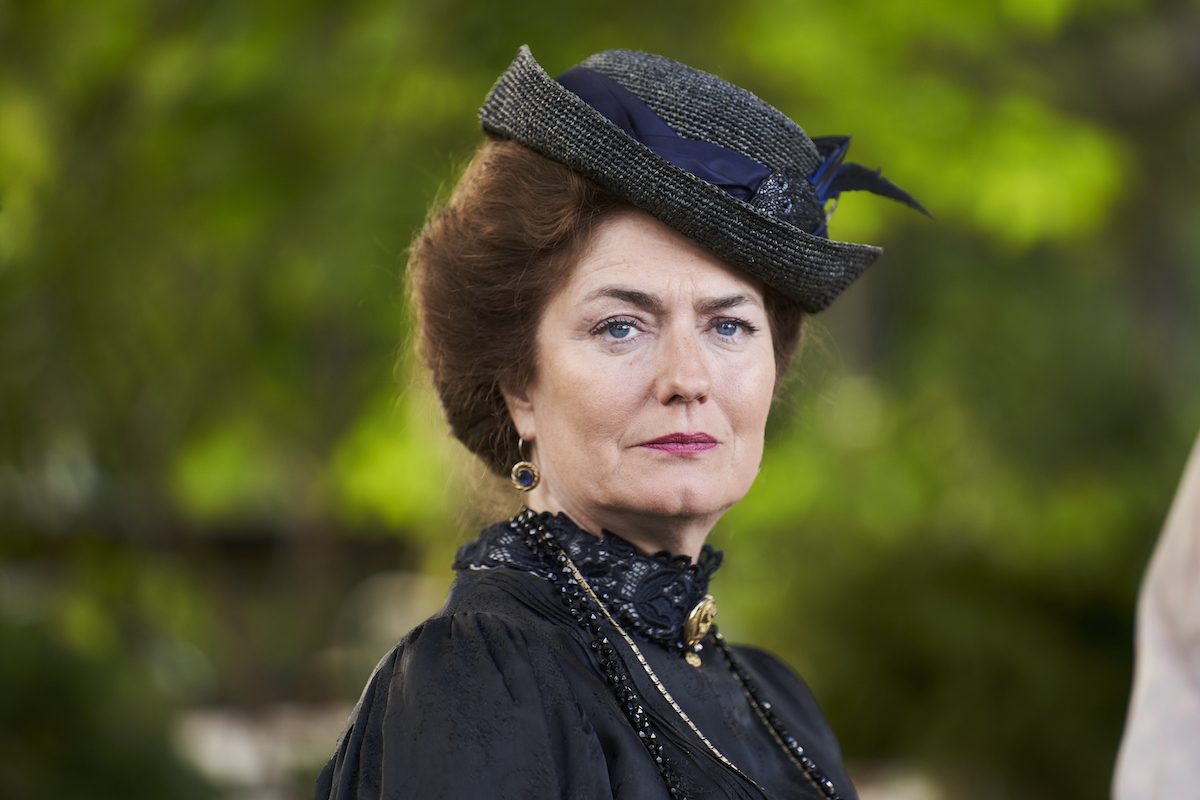 Vincenzo isn't done meddling in Bella's business yet. On Sunday morning, the hotel's food delivery doesn't arrive; Betty Scanlon has no way to make breakfast and is having a major breakdown (as is Lady Latchmere). Mrs. Scanlon's son Billy (Louis Healy) went into town for food, but no one would sell it to him. He was able to beg for a basketful of provisions, but they won't last long. Some of the family and hotel guests attend church, but Bella goes with a specific mission in mind to confront Mr. Danioni about their unexpected food shortage.
While Vincenzo rejects her description of his actions as blackmail, he explains it's necessary to be shrewd to provide for his family. He then admires Bella's ring and tells her how much his wife likes sapphires. Though we don't see her hand it over, when Mrs. Ainsworth returns home, she tells the servants that regular food deliveries will resume tomorrow, so draw your own conclusions.
But enough about the shady dealings of Fascist thugs. Let's move on to the complicated love life of Lucian Ainsworth. It almost feels like a game of Shag, Marry, Avoid (because the girl you fancy isn't in the suitable social class). Young Mr. Ainsworth seems to be genuinely trying his best to seal the deal with Rose Drummond-Ward. Alas, a few obstacles stand in his way. First, Rose's mother is ever-present, always smirking, judging, and undermining her daughter's confidence. Their trip to the beach for an art lesson is a disaster when Rose gets paint on her silk blouse (which Julia insisted she change into, of course). The young lady struggles to cope with this minor blunder, forcing both mother and daughter to leave the beach immediately.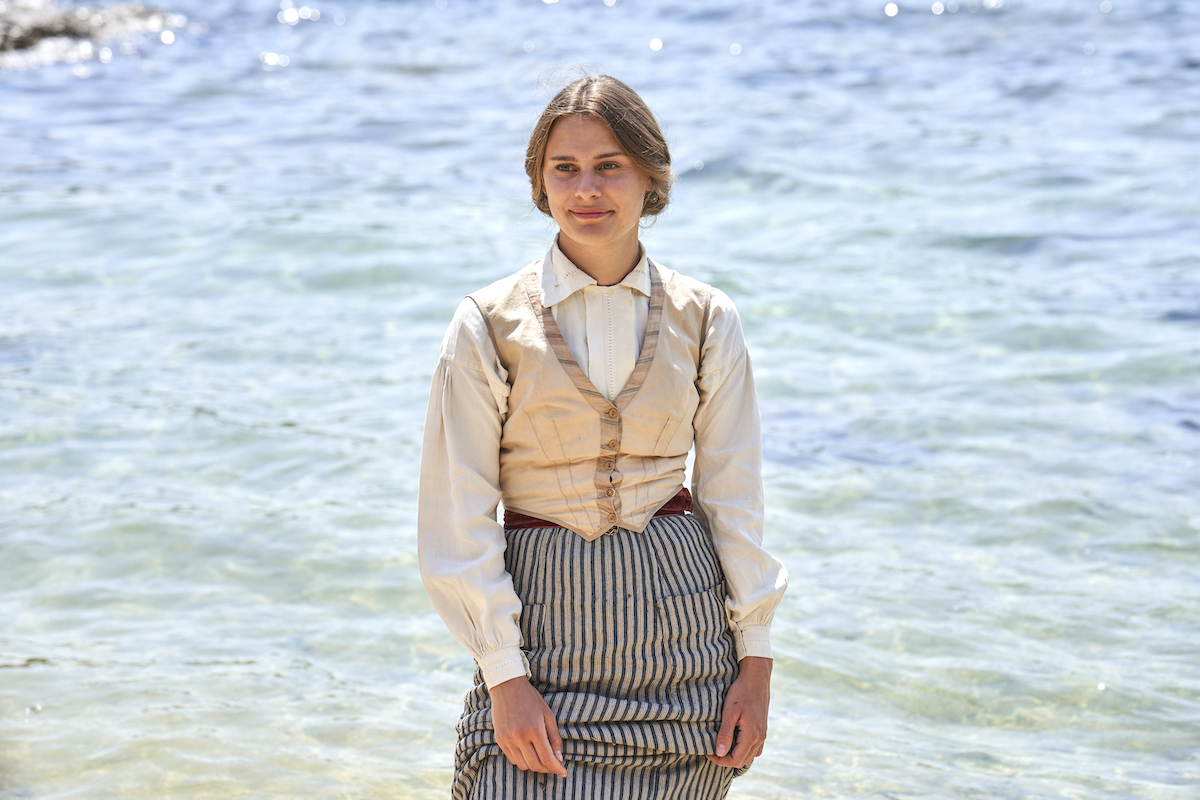 The second issue, to put it delicately, is that Lucian is having it off with one of the locals. Paola (Carolina Gonnelli) is a maid at the hotel, and the pair have some chemistry, as we can surmise from their romantic encounter in the kitchen. She is also a valued staff member, as demonstrated by the miracle meal she whipped up for the guests out of Billy's fishy haul. The unfortunate fact for Paola is that, while she is in love with Lucian and demonstrably jealous of any woman he spends time with, his attraction to her is physical only. He doesn't see her as a potential wife.
The final obstacle is Lucian's slowly dawning realization that nanny Constance March is quite remarkable. Sure, she's beautiful. But more importantly, she stands up for herself, has an artistic eye, and has already formed a bond with his niece Lottie which indicates she'd be a good mother, perhaps similar to Bella. She's a great match in all ways but one. She's an employee with no money or prospects to bring to the family. And there's that baby photo in Connie's locket, which is undoubtedly why she came to Italy to start a new life.
A few other things happened in this episode. We got acquainted with the scandalous "Mrs. Turner," who has yet to be introduced by her real name, Claudine Pascal (Lily Frazier). A performer of some type, she hasn't been back to the States since the war ended. When Nish stumbled upon her on the beach, she taught him some yoga moves. Being the only two people of color in the area, they seem to have formed an easy alliance which is nice to have when so many gawk or turn up their noses.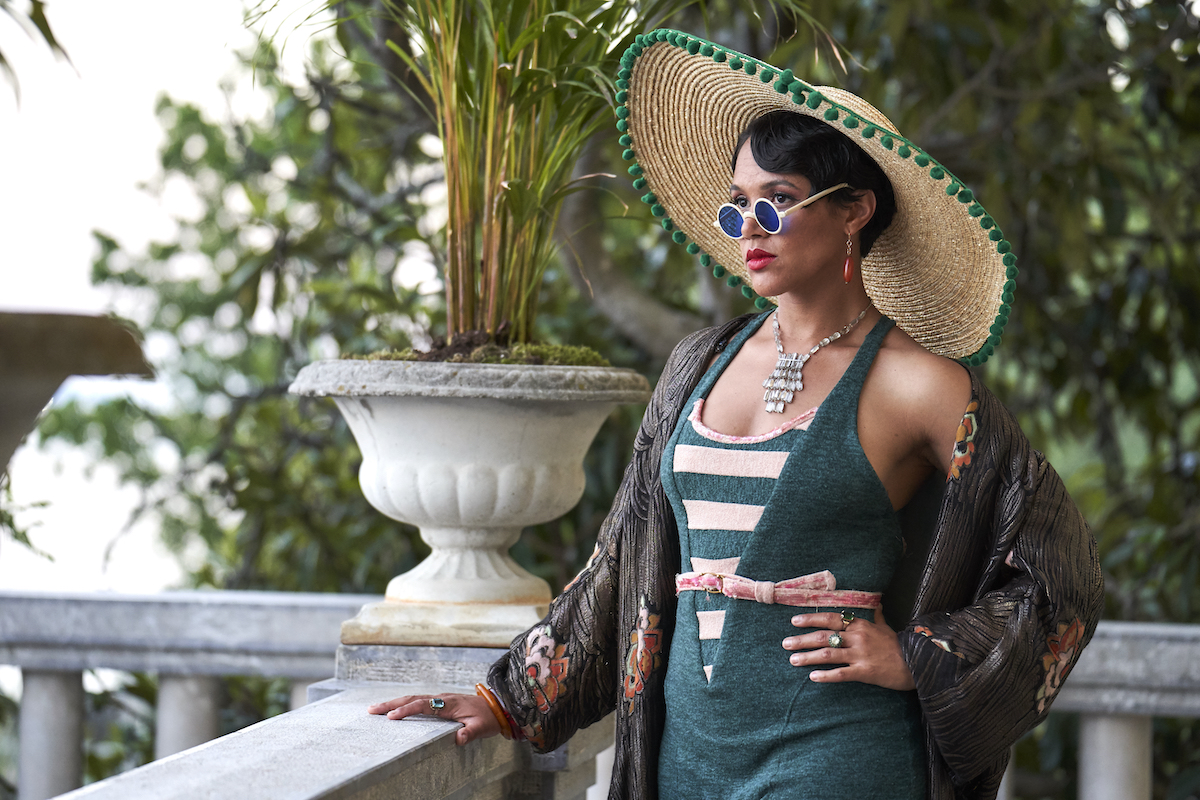 Meanwhile, while most of the others are at church, Claudine's lover, Jack, takes Cecil on a spin in his flash car. He seems willing to at least look at the Ainsworth family Rubens though he's not committing to any fraudulent authentication. (Not yet anyway.) In other celebrity sightings, the arrival of professional tennis player Pelham Wingfield (Dominic Tighe) at the hotel is quite exciting for Lucian, a big fan. In a somewhat awkward interaction, Mr. Wingfield's wife, Lizzie (Bethan Cullinane), indicates to Lucian that Pelham is washed up in no uncertain terms.
Finally, there's Billy's dangerous escapade. After a night of drinking in town with his friends, they cross paths with a fascist gang. A drunken Billy taunts them, and the fascists make chase. The group catches up to one of his mates, beating him brutally as Billy hides in the shadows. When they've gone, young Mr. Scanlon drags his friend home to the hotel. Bella hears a noise and comes downstairs to find a seriously injured man bleeding in her kitchen.
Still a lot to process, but I felt this episode significantly improved over the debut installment last week. The main characters are beginning to be fleshed out; others relegated to the background were given a voice. I look forward to seeing what will happen on several fronts, particularly Lucian and his love rectangle (or possibly more, if we still think Nish has romantic feelings for Ainsworth as well).
---
By
for on June 26th, 2022
More to Love from Telly Visions