By
for on July 10th, 2022
'Hotel Portofino' Season 1, Episode 4 Recap: "Uncoverings"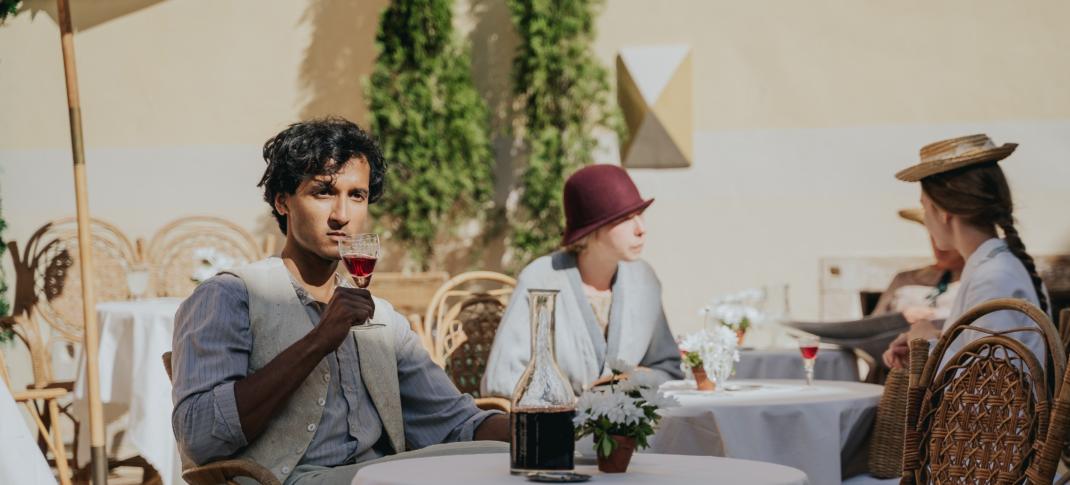 Last week's episode of Hotel Portofino ended with Lucian and Anish attempting to flee from a police raid on a secret anti-fascist meeting. Amid the chaos, the friends get separated. Lucian finds a hiding spot and finds his way home when the coast is clear. Down by the docks, Danioni and the police close in on Nish and the movement's leader, Gianluca Bruzzone. Finding no one hiding in the storage cupboards, the officers depart; once the coast is clear, both men emerge from under a tarp on a nearby boat.
When the pair finally arrive at the hotel gate, Nish offers Gianluca his hand but receives a kiss instead. Realizing that he may have misread the situation, Gianluca leaves with a parting apology, but it's unclear precisely what Nish is feeling. That is until the next time the two men meet in town. Nish is drinking alone in a café when a waiter gives him a message; he sees Gianluca standing nearby and follows him to a storehouse building where the two give in to their desires. Afterward, they smoke and talk about the anti-fascist cause; Gianluca explains his plans to go to Turin to take the fight against Mussolini to the cities. He suggests Nish join him and learn how to resist.
Back at the hotel, most guests are nursing hangovers, with poor Rose suffering the most. After she rushes to the bathroom, Lucian tracks her down and says he hopes she'll feel well enough for today's boat trip. Rose has forgotten she agreed to it, but it doesn't matter. Despite Lucian's advice to focus on making herself happy, Rose can't muster the courage to face her mother's disapproval for the second time in as many days. Even so, the boat trip goes ahead as planned, with only Lucian, Mrs. Wingfield, Roberto Albani, and Claudine Pascal in attendance.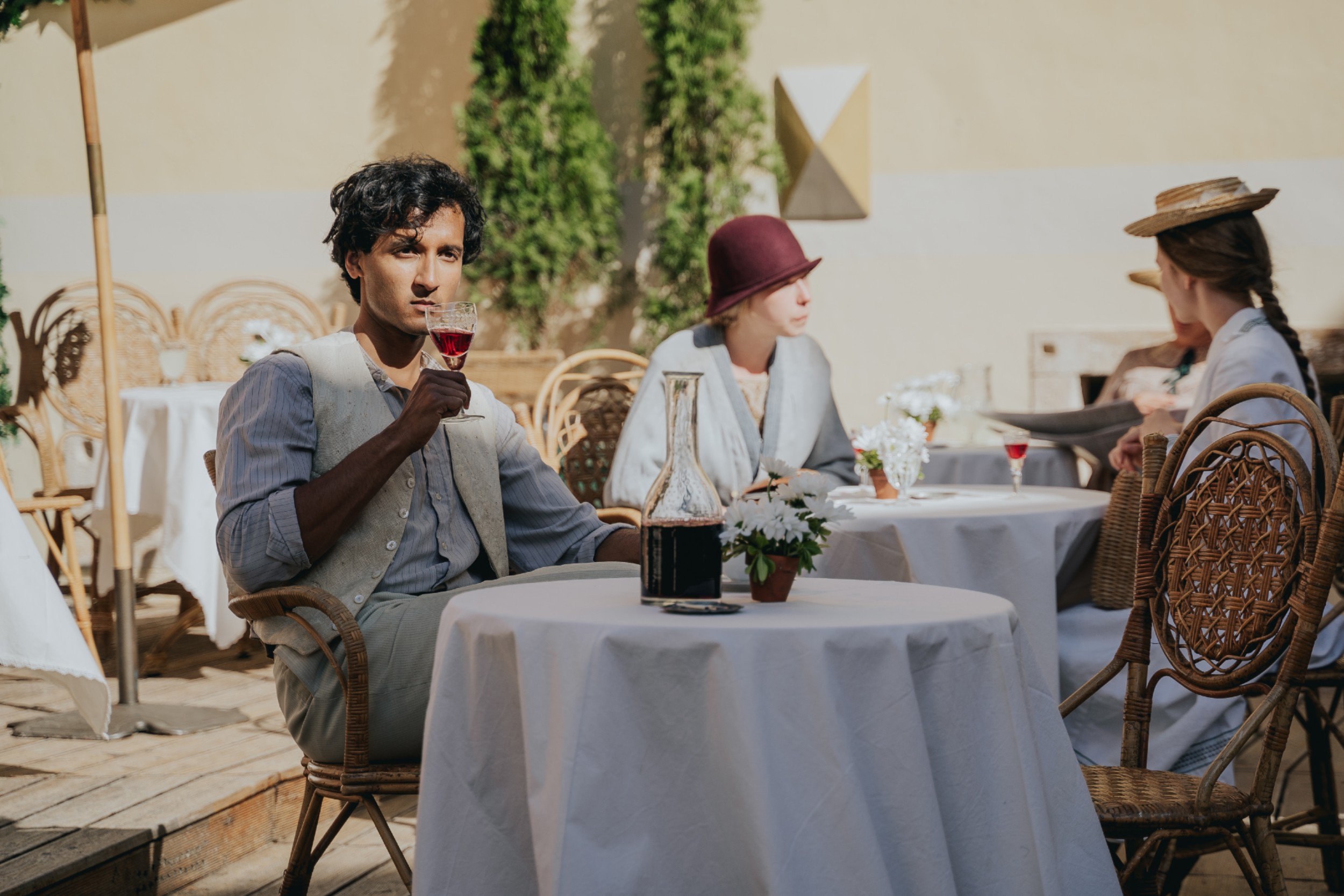 When Roberto pursues Ms. Pascal on her swim, she makes it clear their recent liaison was a one-time thing before giving a frustrated Lizzie Wingfield a pep talk to help her get her husband's attention (at least enough to get her the baby she longs for). Apparently, Miss March is on picnic duty, more pack horse than a nanny. Not content to be invisible, she changes into a bathing suit Claudine loaned her and asks Lucian to go swimming in a nearby cave. The secluded spot is romantic, but the pair resist the temptation. Afterward, Connie catches Lucian changing out of his swimsuit and sees the scars emblazoned across his back. She gasps, immediately apologizes, and runs off. Lucian is mortified that his deformities are so upsetting.
Let's take a moment here to talk about the Wingfields. When Lucian arrived home late the night before, he found the tennis player loitering in the lobby. Of course, we know he was stealing from Bella's cash box, and the following day we learn the extent of the couple's dire financial woes. After losing a wager on himself at a recent tournament, Pelham doesn't have enough money to pay his wife's bar tab, let alone the bill for their stay. Pelham tells Lizzie that his father has failed to bail them out, but he has a plan, and she should be ready to leave at short notice.
Meanwhile, the Ainsworth children's futures are being pondered by their parents. Alice's "poor me" attitude is wearing thin, complaining to her father that she's never invited to join in the fun, yet insists she is too old to go gallivanting. When the young widow receives an anonymous and extravagant jewelry gift, Bella suspects her daughter's admirer is Count Albani. A crestfallen Alice returns the diamond bracelet to the Count, telling him she can't accept it because it's inappropriate. He graciously accepts the box and says he will explain it to his son Roberto. Her face brightens at the idea that the younger Albani is interested in her, but it's too late to ask for the piece back.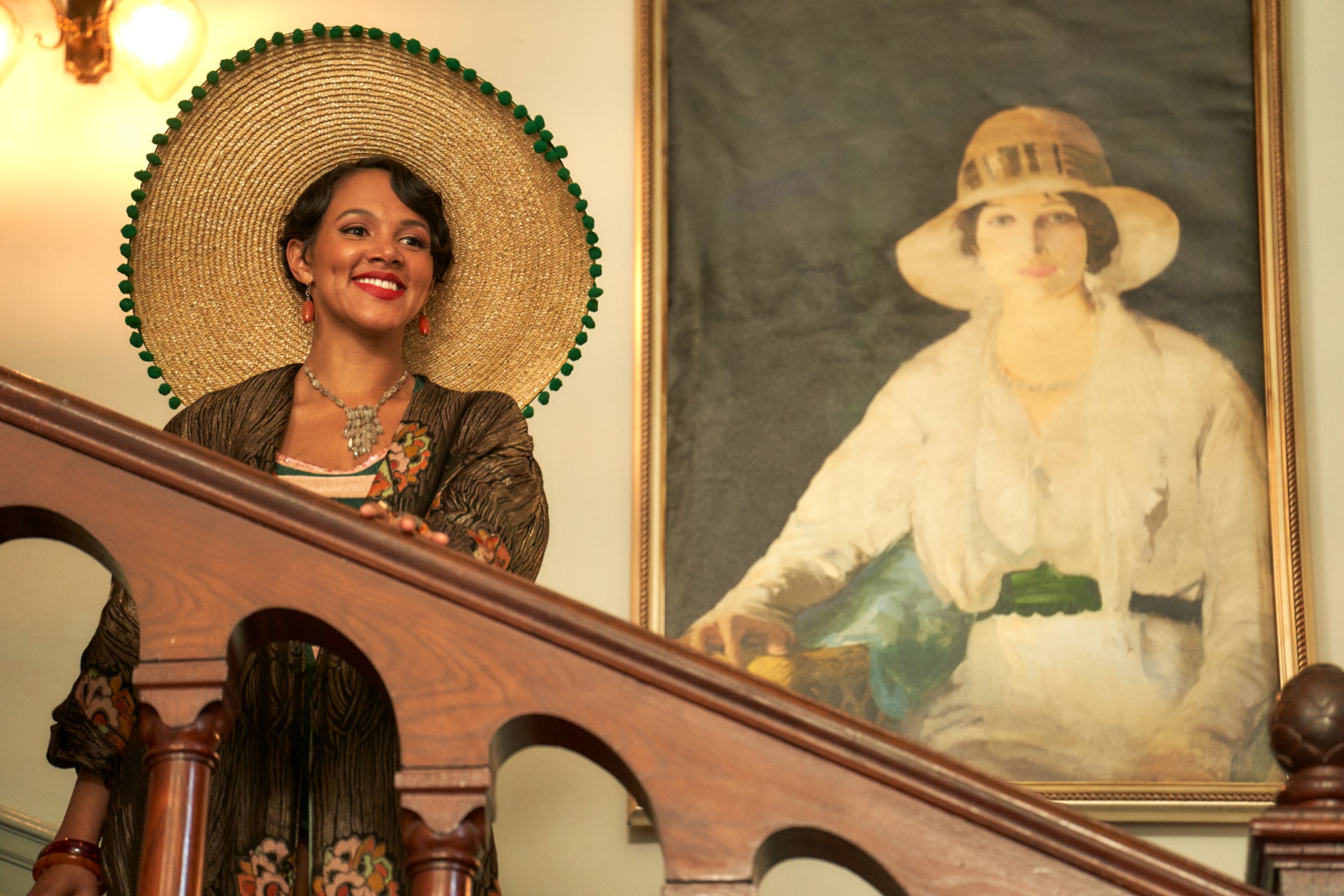 As for the matchmaking effort between the Ainsworths and the Drummond-Wards, Bella suggests that Rose may be too young, by which she means immature or sheltered. Julia disagrees, saying there's no benefit to waiting and that in the real world, money trumps love. On the subject of money, Julia and Cecil discuss particulars; a house in an elegant London neighborhood from her husband's family and an income from Cecil until the young couple gets on their feet and Lucian settles into suitable employment. How, pray tell, does he plan to finance this income?
His shady Rubens scheme, of course! Before dinner that night, Cecil gathers the hotel guests for an announcement. He unveils the previously unidentified work and reveals that, with the help of his new friend, Jack Turner, this old family heirloom should bring in at least 100,000. This news is of great interest to Mrs. Drummond-Ward, the destitute Pelham Wingfield, and the corrupt Mr. Danioni. After all, Vincenzo has recently been informed by Mrs. Ainsworth that she is done making blackmail payments to him, and he certainly doesn't intend on letting this gravy train leave without him.
He wastes no time telling Cecil about the bicycle with the hotel towel confiscated at the scene of "an illegal gathering." One of the men arrested confessed to stealing the bike for Billy Scanlon, which at least keeps Lucian and Nish out of the crosshairs. While Danioni tells Cecil that he'll let him deal with his employee, he offhandedly gives Ainsworth a letter he claims was found in the street, correspondence from Bella to her father's accountant. They are interrupted by Mr. Thorne, so Cecil pockets the letter and goes off to discuss the art deal.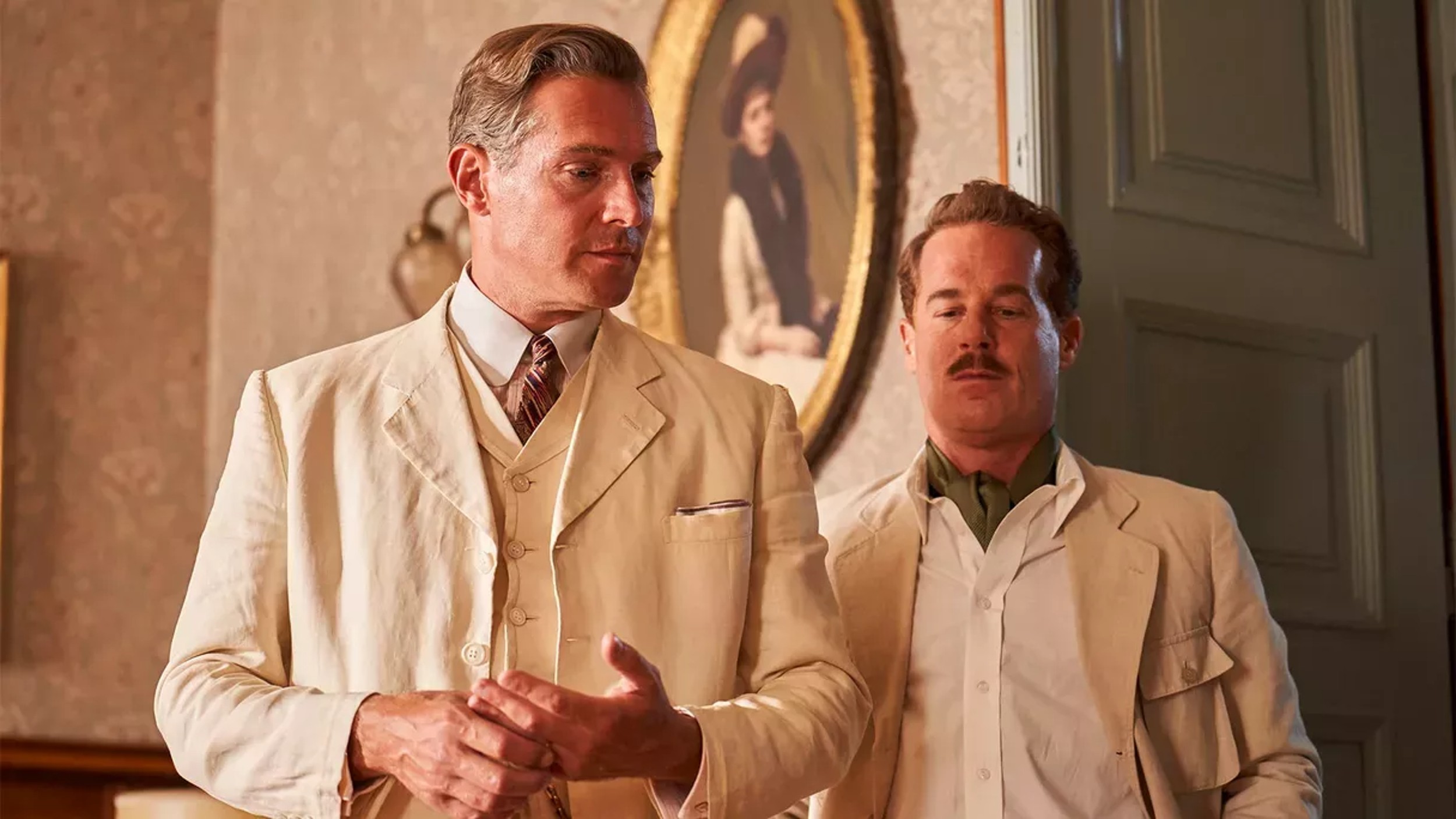 In the meantime, Billy has a clandestine delivery for Nish: A note with a Turin address and a boxful of anti-fascist pamphlets he's supposed to bring. Billy offers to hide them for Nish, for a price (of course). Connie enters the kitchen and warns Billy he's asking for trouble. Billy decides the best place to hide them is under Lady Latchmere's bed during dinner; Francesco, the horse cart chauffeur, overhears this. We know he's on the take because he's the one who intercepted Bella's letter and gave it to one of Danioni's stooges in the first episode. Silly Cecil doesn't even think he knows any English.
On the terrace, Lucian and Connie have a little heart-to-heart about their awkward encounter on the beach. She assures him that she wasn't repulsed; it only makes her want to understand what he went through and how he carries on. She also reminds him everyone has scars. He flirtatiously confides that he looked and looked, but he saw no imperfections on her.
The evening concludes with Jack leaving the painting (and a gun) with Claudine. He orders her to stay in their room and not let anyone in. She hangs out for a bit, but having arranged a seduction lesson for Lizzie Wingfield in the downstairs bathroom, she's not about to do what her boyfriend says. She departs, locking the door behind her. Moments later, we see the door being unlocked and opened by an unknown person. I have a few guesses about who it might be, but we're sure to find out next week.
---
By
for on July 10th, 2022
More to Love from Telly Visions