By
for on June 25th, 2021
'His Dark Materials' Begins Shooting Final Season In U.K.
After the pandemic upended filming for His Dark Materials Season 2, leaving it an entire episode short of the original order, Season 3 has finally put boots on the ground to start filming. The series, which the BBC renewed for a third and final season in December of 2020, has been besieged by coronavirus pandemic delays. But with the show finally ready to go into production on its adaptation of Philip Pullman's final novel of the trilogy, The Amber Spyglass, it seems like fans will probably be waiting extra long to return to Lyra's world.
On the one hand, it was luck that got fans Season 2 relatively on time in the 2020-2021 TV season. The BBC greenlit Season 2 before Season 1 premiered, and the production took full advantage, filming most of the show's second set of episodes before the first season aired. But one episode remained unfinished, a "bridge" episode that would shoehorn in James McAvoy as Lord Asriel. (McAvoy was one of the show's most famous actors, but the second novel leaves his character out entirely.) But the pandemic upended all that, and McAvoy ended up in a single scene tacked onto the final episode of the already finished set.
Unfortunately, that also left little hope that the same magic could bring Season 3 to screens in 2021. Though there were points that the show could have gone ahead in 2020, the BBC waited to renew until Season 2 was complete. With filming underway now, His Dark Materials will sit out this year and return in 2022. At least fans have a picture of Dafne Keen and Amir Wilson ready to go to celebrate: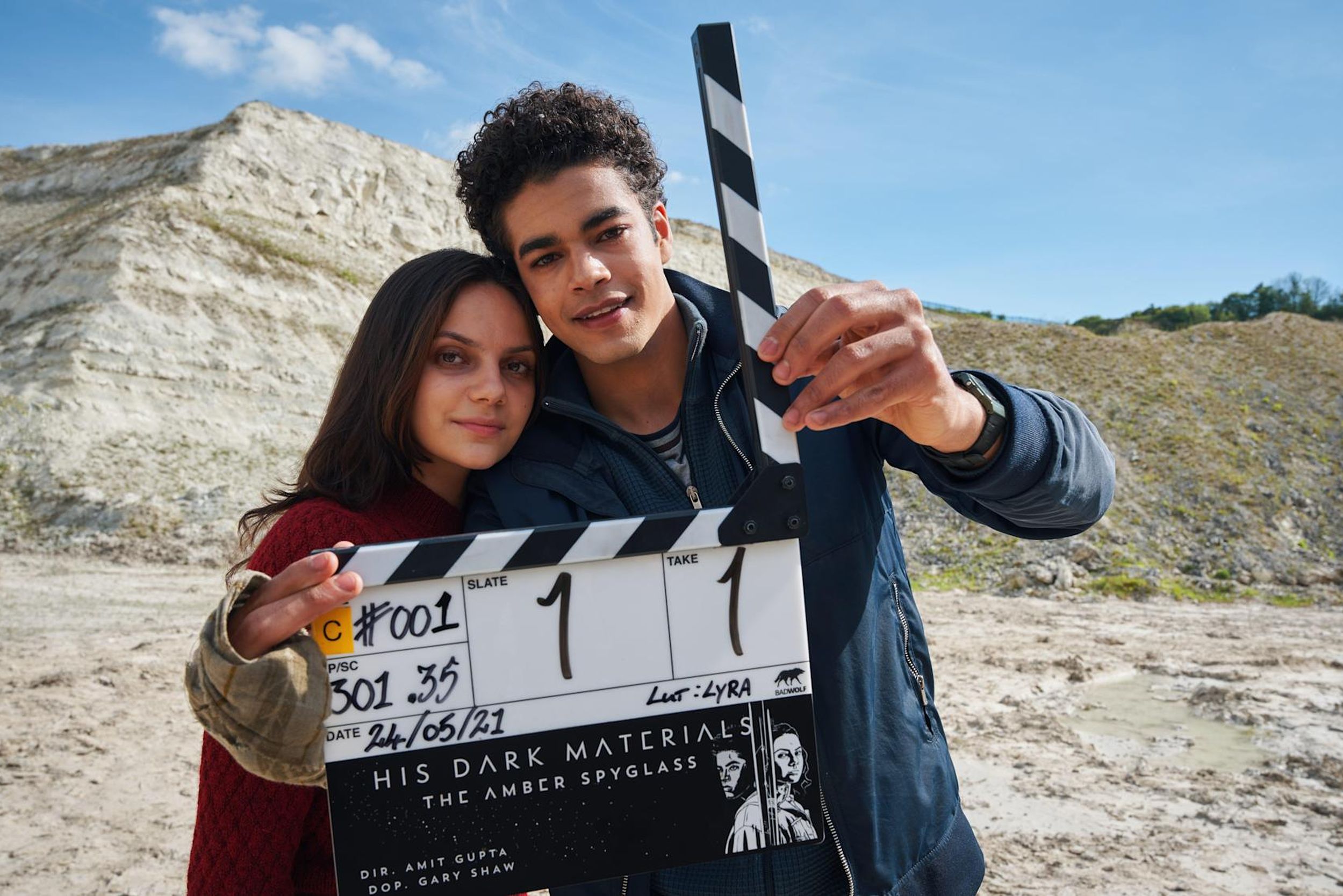 Season 3 is also expected to be the most difficult of the show's three seasons to translate to screen. Season 1, mainly set in Lyra's Oxford, is a world where souls live outside bodies as animals, but otherwise, it's relatively like our own. Season 2 was mainly set in our world, with a few dips into Cittàgazze, which also resembled the one viewers know. But Season 3 is where the Pullman books go high concept fantasy. There are Angels, Mulefa, and an entire Land of the Dead. There's a lot of CGI involved, which means that even if filming isn't disrupted, the amount of post-production to be done will take time.
Here's the final season synopsis:
At the end of season two we saw Lord Asriel call upon the angels to help him wage a war against the Kingdom of Heaven as Mrs Coulter abducted her daughter Lyra to take her to 'safety' in their own world. Season three opens with Lyra unconscious, having been given a sleeping draught by her mother, as Will, still carrying the Subtle Knife, continues his quest to find her. Will is tracked down by two angels – Balthamos and Baruch – who wish to take him to join Lord Asriel's campaign against The Authority with Commander Ogunwe. But Will is not the only one after Lyra, with Father President MacPhail continuing his mission to destroy the child of the prophecy, employing the help of his most committed follower, Father Gomez. Meanwhile Oxford physicist Mary Malone reaches another parallel world – that of the Mulefa, a strange animal-like species. They tell her of a cataclysmic phenomenon in their world. 
With multiple new worlds, including the Land of the Dead, returning characters and featuring strange new creatures the Mulefa and Gallivespians, the third season will bring Philip Pullman's masterpiece to a dramatic conclusion.
At least the cast will be up to the challenge. Along with Keen, Wilson, and McAvoy, the rest of the core cast is expected to return, including Ruth Wilson, Simone Kirby, Will Keen, Jade Anouka, and Ruta Gedminstas. They'll be joined by several new faces, including Adewale Akinnuoye-Agbaje (Lost) as Commander Ogunwe; Jamie Ward (The Durrells) as Father Gomez, and newcomer Amber Fitzgerald-Woolfe as Ama. Plus, the rebel angels (Balthamos, Baruch, and Xaphania) will be played by Kobna Holdbrook-Smith (Capital), Simon Harrison (Endeavour), and Chipo Chung (Into the Badlands).
There is no premiere date as yet for His Dark Materials Season 3 on HBO.
---
By
for on June 25th, 2021
More to Love from Telly Visions