By
for on October 16th, 2014
Helen Mirren Will Bring the Queen to Broadway in 2015 with 'The Audience'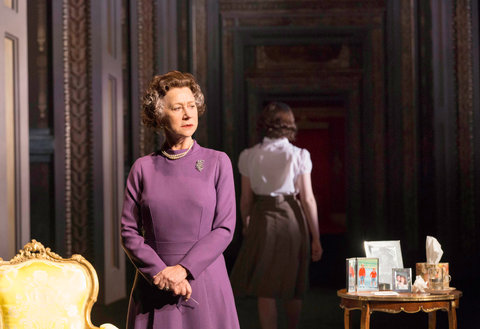 Theater lovers of America, it's okay if you're sometimes secretly sad that we so infrequently get the chance to see the many great British productions that go up in the West End. Sure, sometimes you get lucky and are on a UK vacation right when something grand is on, but given the sheer volume of long-running shows and ever-changing limited engagement options in London, well, we all know we're missing out on something incredible pretty much nearly all the time. 
Thanks to the heroic efforts of outfits such as the National Theatre Live program or various Fathom Event promotions, we do occasionally get the opportunity to see simulcasts of particularly popular British theatrical productions on a significant scale in America – both Helen McCrory's Medea and Gillian Anderson's A Streetcar Named Desire were recently screened nationwide, and Danny Boyle's brilliant production of Frankenstein is about to get another round of encore runs in honor of Halloween (and the fact that the Benedict Cumberbatch-led production consistently sells out houses all over the country). But, as much as we love it, it's just not the same.
However, sometimes, a particularly popular or acclaimed British production will be picked up and recreated on Broadway, giving American fans with the ability and desire to go to New York the chance to see the show in person for themselves. Most recently, Harry Potter star Daniel Radcliffe reprised his leading role in The Cripple of Inishmaan last winter, but come 2015, the Great White Way is going to get a little bit more regal. 
Yes, the great Dame Helen Mirren is set to recreate her buzzy, Olivier Award-winning turn as Queen Elizabeth in Peter Morgan's play The Audience on Broadway.  The original production ran in London in the Spring of 2013 and Mirren's performance generally won all sorts of accolades. The US restaging of the play will begin previews at New York's Gerald Schoenfeld Theater on February 17, and open on March 8. The limited engagement is scheduled to run through June 28. Geoffrey Beevers, Michael Elwyn, Richard McCabe, and Rufus Wright will all also cross the pond to reprise their roles from the original production. The rest of the company is as yet TBA.
The Audience marks Mirren's first appearance on Broadway since she played opposite Sir Ian McKellen in the 2001 revival of August Strindberg's Dance of Death. Two-time Tony-winner Stephen Daldry will again direct the show.
The play centers around enters on the weekly meetings (audiences) given by Queen Elizabeth to her prime ministers, from her accession in 1952 to the present day. These audiences are private and strictly confidential, and the play imagines what those conversations might have been like. Since the Queen has had twelve Prime Ministers thus far during her reign – there are certainly plenty of stories to go around. From Winston Churchill to David Cameron, each Prime Minister has used these meetings differently, and while politicians come and go through the revolving door of electoral politics, the Queen remains constant. 
The role requires Mirren to play the Queen through many decades of her life, from a fresh-faced twenty-something monarch new come to the throne, to an octogenarian with six decades of experience as a ruler under her belt, and everything in between.
I had the pleasure of seeing The Audience when I was in London last year, and it's quite wonderful. It's got a surprising amount of humor, some deeply wrenching emotional moments, real live corgis and some of the most fantastic costume changes I've ever seen, as Mirren switches from decade to decade on stage. (And no, it's not at all in chronological order, either.) I'd highly recommend it if you're anywhere near or have any plans to be in NYC next Spring.
Anybody want to start planning a road trip? Would you like to see The Audience? Is there a particular British show you wish had been restaged in America?
---
By
for on October 16th, 2014
More to Love from Telly Visions