By
for on April 20th, 2023
Acorn TV & AMC+ Release 'Happy Valley' Trailer For The Final Season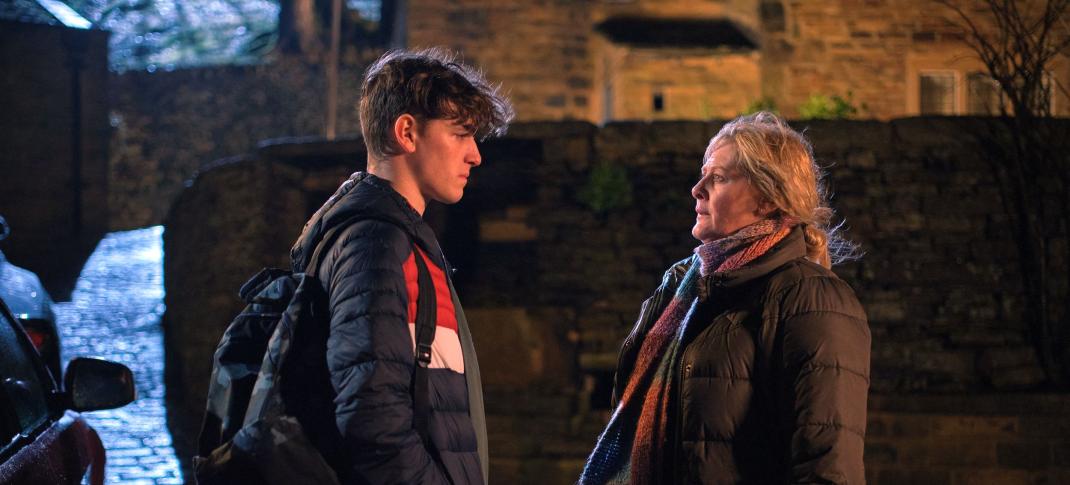 Happy Valley's final season debuted in the U.K. on New Year's Day, but we here in the states still have it to look forward to. AMC Networks, which helped co-produce the long-awaited final installment, initially said it would stream on AMC+, but that was back in 2021. Since then, the upstart confederation of small-time niche offerings has seen its fortunes fall, and the parent network has started streaming titles across multiple services. Happy Valley marks one of the first to span three places — AMC+, Acorn TV, and BBC America — a sign of how popular the show is expected to be.
Seasons 1 and 2 of the series initially aired in 2014 and 2016, respectively, and gained popularity in America via Netflix, which brought over BBC programming by the truckload back then. Sarah Lancashire (Julia) starred as PC Catherine Cawood, still coming to terms with the suicide of her teenage daughter Becky over being raped and raising the child who resulted from that act, Ryan, with her sister Clare. When Tommy Lee Royce, the man who raped Becky, gets out of jail, Catherine resolves to watch him and put him away as soon as possible.
Season 2 picked back up 18 months later, with Royce back in jail and Cawood with a commendation for her work. But when Royce's mother is murdered, Catherine is the main suspect and is forced to try and prove her innocence while also working to uncover a significant drug trafficking operation. Seasons 1 and 2, six installments each, are available to binge on Acorn TV and AMC+. For those who have cable, they'll air on BBC America in a 2-episodes-a-night mini-marathon from Monday, May 8 through Wednesday, May 10 at 11 p.m. ET. Season 2 will follow the next week in the same format and timeslot, Monday, May 15 through Wednesday, May 17, 2023.
Here's the final season's synopsis:
In the epic and unmissable final season, Sergeant Catherine Cawood discovers the remains of a gangland murder victim, sparking a chain of events that unwittingly leads her straight back to murderer and rapist Tommy Lee Royce, Catherine's grandson Ryan is now sixteen and has ideas of his own about what kind of relationship he wants to have with Tommy, the man Catherine still refuses to acknowledge as his father. Still battling the seemingly never-ending problem of drugs in the valley and those who supply them, Catherine is on the cusp of retirement. Will she solve this final case?
The core cast of Happy Valley is back, with Lancashire joined by Siobhan Finneran (Downton Abbey) as Clare, James Norton (Grantchester) as Tommy Lee, and the now-grown Rhys Connah (The Runaways) in his childhood role of Ryan. Charlie Murphy (Obsession) and George Costigan (So Haunt Me) also return as Ann and Nevison Gallagher. Derek Riddell (The Missing), Karl Davies (The Tower), Rick Warden (A Spy Among Friends), Vincent Franklin (Bodyguard), Susan Lynch (Unforgotten), and Con O'Neill (Chernobyl) also return. The final season will include Amit Shah (The Long Call), Mark Stanley (Sanditon), and Mollie Winnard (All Creatures Great & Small).
The six-episode season was written by creator Sally Wainwright (Gentleman Jack), who also split helming duties with directors Patrick Harkins (Guilt) and Fergus O'Brien (The Tourist). Wainwright and Lancashire executive produced the final series, with Faith Penhale and Will Johnston for Lookout Point, Ben Irving and Rebecca Ferguson for the BBC, and Jessica Taylor.
Happy Valley Season 3 premieres across three of AMC Network's brands, with Acorn TV and AMC+ streaming the first episode on Monday, May 22, with BBC America doing a linear airing at 10 p.m. ET. The series will run as a weekly release across all three, with new episodes arriving on Mondays through June 26, 2023.
---
By
for on April 20th, 2023
More to Love from Telly Visions