By
for on August 25th, 2014
Five Reasons 'Happy Valley' Is Worth Watching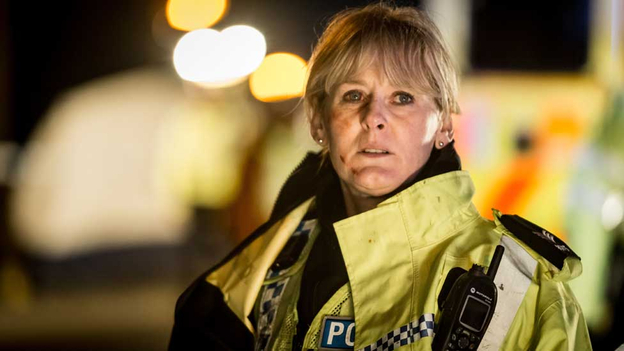 This past spring all my social media feeds and the British entertainment websites I frequent were overflowing with praise for the BBC crime drama Happy Valley. I was intrigued and wondered when or if this word-of-mouth hit would reach our shores. Last week Netflix brought the most talked about British drama of the year to American audiences and I'm here to tell you it's lived up to the hype.
Before we get started let me clarify that the title of the series is deceptive. Happy Valley is not a quaint and pleasant dale nor are many of its inhabitants very cheerful.  In fact, it's named for the area's rampant drug problem. Happy Valley is not a cozy mystery program and can be graphically violent at times.
That being said let's get on with the reasons you should want to give this series a go. 
First of all there's the writer of Happy Valley, Sally Wainwright. PBS viewers are already familiar with Wainwright's work as creator and writer of Last Tango in Halifax and Scott & Bailey.  Wainwright is known for writing strong female characters that must juggle career and family and sometimes fall short. Her shows address social issues and human foibles in a very authentic way. And almost always, her stories take place in her native Yorkshire or in the North at least.
Happy Valley features a first-class cast from top to bottom. Some familiar faces include Siobhan Finneran aka Downton Abbey's O'Brien, Steve Pemberton of League of Gentleman and Whitechapel fame, and young Irish actress Charlie Murphy who has appeared recently in Love/Hate and The Village. James Norton, who looks like a posh public school boy and appears in the Jane Austen-inspired sequel Death Comes to Pemberley, plays a surprisingly menacing kidnapper as well.
But most of the kudos for this series must go to Sarah Lancashire who portrays our heroine, police sergeant Catherine Cawood. Though you may recognize Lancashire as Caroline from Last Tango, you will find her new role to be much less refined and a bit bolder. Catherine has her demons, but her intentions are always generous and honorable. Believe me; you want a police officer like this on your local beat.  
As I mentioned earlier, Yorkshire is a frequent setting for Sally Wainwright's pieces and Happy Valley is no different. The series has been shot all over the picturesque expanse of West Yorkshire in locations such as Huddersfield, Sowerby Bridge, Heptonstall and Calderdale. Rural districts, urban tower blocks, comfortable suburban neighborhoods and lovely historical villages all feature in the Happy Valley landscape. Between the vistas and the accents, Yorkshire is definitely on my bucket list of places to see. 
Another aspect I really liked about Happy Valley was how it portrayed the police. Most crime series you watch these days focus on abuse and corruption and I don't doubt it's a very real problem. However, the officers at Catherine Cawood's station are genuinely trying to make a difference through community policing. Armed only with batons (yes, even in this day and age, police constables do not carry guns) the officers go out on traffic stops, domestic disputes and increasingly frequent drug-related calls never knowing for sure if their lives will be threatened.
While there is one incident in which Sergeant Cawood is asked to look the other way by her superiors, this show is primarily a look at what good, honest coppers are up against on a daily basis.  In a community overrun with drugs, their battle is uphill and their efforts are admirable.
Finally, I like that Happy Valley is just as much about family dynamics as it is a crime drama. Catherine Cawood has undergone a very tragic loss in her past. This, in turn, has made her relationships with all the people she's close to a bit tricky to say the least. She's listened to her heart and made decisions with which others have not fully agreed. Let's just say family reunions can be a bit frosty at the Cawood abode.
If you're thinking Happy Valley is just another cop show, it is more accurately a show about a woman who happens to be a cop.  It's a compelling story well told through great writing and superior acting. The scenery's not bad either. If you had a chance to give this one a look, please share your impressions/opinions with us in the comments. 
---
By
for on August 25th, 2014