By
for on May 9th, 2023
Everything to Remember From 'Happy Valley's Landmark Debut Season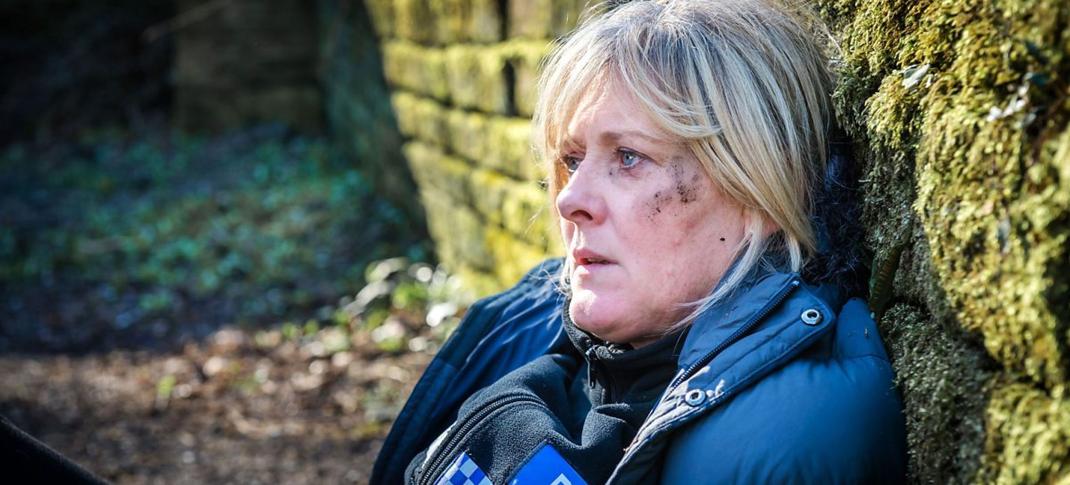 Nine years ago, Sergeant Catherine Cawood burst onto our screens, chirpily and snarkily trying to dissuade someone from setting themselves alight on a council estate. Since then, things have gotten a lot more dark, traumatic, and emotionally tense for the West Yorkshire police detective, all triggered by the release of Tommy Lee Royce, who raped her daughter Becky, caused her suicide, and eventually learns that Becky gave birth to their child while he was in prison for a different sentence.
Sally Wainwright's gripping, era-defining British police drama was a landmark procedural that had us hooked from the first episode – before Season 3 airs later in May on Acorn TV, here's everything that went down in Season 1.
Catherine (Sarah Lancashire) lives with her recovering drug addict sister Clare (Siobhan Finneran) and her grandson Ryan (Rhys Connah) in Calder Valley, Yorkshire – a sleepy town gripped by a drug problem and enough miscreants to keep the small police force busy. Her ex-husband, Richard (Derek Riddell), is a modest journalist, and it's clear something was irreparably broken when Becky killed herself, especially apparent in the way that Richard and the rest of Catherine's family still can't seem to face Becky's son, Ryan. Still, it doesn't stop Catherine and Richard from covertly sleeping together behind his new wife's back. 
Lancashire delivers a tour de force performance as Catherine, packing as much bite and sternness into the thick Yorkshire dialect as possible. She's witty and snappy, but always compassionate; there's a kindness in the ways she (sometimes) treats her younger staff. But the way she views her unruly grandson is complicated by the constant reminders of her grief, fearing Ryan will grow up to be like his dad. The news of Tommy's release from prison affects her in endlessly thorny ways, ones that are only hinted at by her constant fixed, tight-lipped expression.
It takes less than an episode for Tommy to get involved in another heinous crime. A mealy-mouthed accountant, Kevin Weatherill (Steve Pemberton), is frustrated that his boss, Nevison Gallagher (George Costigan), won't grant him a raise to put his kids through private school, so in a very Fargo-inspired move, he brokers Nevison's daughter Ann (Charlie Murphy) to be kidnapped by local caravan-park owner/drug smuggler Ashley (Joe Armstrong) – with Kevin getting a cut of the ransom money. Pemberton's brand of sniveling, mealy-mouthed characters can often verge on the grating, but he's refreshingly restrained as Kevin, showing a lot of pointed, self-interested scheming and groveling.
Together with fellow laborer Lewis Whippey (Adam Long), Tommy kidnaps Ann and keeps her in a dilapidated house in Calder Valley – but Lewis is increasingly concerned with Tommy's predisposition for violence. Tensions between the criminals grow after Tommy rapes Ann in the basement she's trapped in, but soon they relocate to one of Ashley's caravans after Catherine is spotted in the area looking for Tommy. 
Catherine won't learn of the kidnapping until over halfway into the series, which means Happy Valley risks having its protagonist a bit dramatically passive, but there's a lot of tension in Catherine's self-elected mission to trace Tommy's movements post-release. More than once, she comes agonizingly close to discovering the kidnapping even before she knows it exists, always aware that her obsession toes the line of unethical police work.
She forces her way into the abandoned criminal safe house and discovers evidence of Ann's captivity, but because she obtained unlawful entry, she can't immediately sound the alarms to hunt down Tommy. Eventually, Nevison's wife Helen (Jill Baker) tells Catherine about Ann's kidnapping, and detectives get involved in hunting down her whereabouts. Kevin is questioned about his role in the kidnapping, as he's acted as the go-between for delivering ransom money to Ashley, and the details of his story don't quite check out.
After Tommy finds out that Ryan is his son from his addict mother, Catherine visits her home to, well, blatantly intimidate her – and discovers Ann locked up in her basement. She sets her free – but is brutally attacked by Tommy in the process. He flees, leaving Catherine bleeding and unconscious on the street as police arrive. Kevin and Ashley are arrested, and Ann starts recovering, but Catherine can't rest until Tommy Lee Royce is behind bars.
 A manhunt begins for him and Lewis, with the police eventually discovering Lewis' rotting body in a flat (Tommy overheard Lewis float the idea of turning him in). Tommy holes up in an empty canal barge and coaxes Ryan to spend time with him there after school. Ryan faces increasing alienation from his family; even though Richard softens after insisting he didn't consider Ryan his real grandson, Catherine's adult son Daniel (Karl Davies) still has serious unresolved anger over his sister's death. It's no wonder that Ryan is drawn to someone who promises to care for him in an uncomplicated, understanding way.
But after Ryan brings a disbelieving friend to meet his real dad, Tommy's paranoia takes hold of him, and he tries to set the barge alight with him and Ryan in it. Catherine and Clare find out from Ryan's friend where he's been spending time after school and get to the scene just in time for Catherine to wrestle her grandson free and beat Tommy into submission. She hands the scene over to the police as Tommy begs to be killed – is this something resembling closure for the grieving mother? It's a stellar six-hour opening act to the Happy Valley saga, which will only turn up more ugliness and pain as it goes along.
All six episodes of Happy Valley Season 1 are available to watch on Acorn TV, as well as AMC+, and airing on BBC America.
---
By
for on May 9th, 2023
More to Love from Telly Visions