By
for on January 1st, 2015
Happy New Year! Here's What We're Looking Forward to in 2015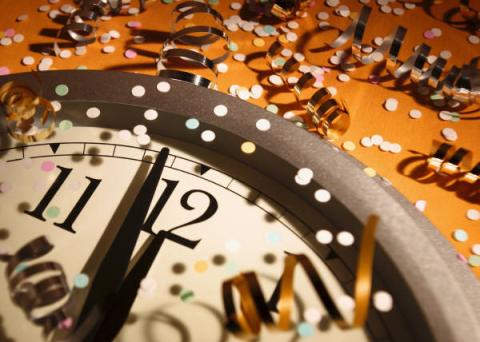 Happy New Year, Telly Visions readers! From our family here to yours – we hope you all have a wonderful 2015; we're wishing you a year full of love and laughter and, of course, as much great British television as you can possibly cram in to 365 days. Luckily, it appears as though we're going to be quite spoiled for choice in the New Year.
Just a few of the awesome things we have to look forward to include: 
Downton Abbey. The world's most popular costume drama comes back to America in just a few short days, and it's basically the most wonderful time of the year to be an Anglophile, because all your friends suddenly get on the "British TV is the best thing ever train".  
All eight episodes of the recent fifth season, including the just-aired Christmas special will premiere on Masterpiece and everyone you know will suddenly become obsessed with the state of Mary's love life and whether Mrs. Hughes and Carson will finally get it together. It's all going to be awesome, whatever happens. Watch a preview of Series 5 and stick around for our regular recaps, which kick off this weekend as soon as the latest episode airs. (The Series 4 set is here, if you need a refresher.)
Broadchurch. The second season of last year's most popular murder mystery comes with its own set of difficult questions - can creator Chris Chibnall capture lightning in a bottle twice? Is there more story to tell in Broachurch now that Danny Latimer's murder has been solved? Why is David Tennant's DI Alec Hardy even still in town?
The first season of the crime drama was so addictive and so well-plotted that it seems natural to give Series 2 a chance - especially since so much of the cast - Tennant, Olivia Colman, Arthur Darvill, Jodie Whittaker and Andrew Buchan are all back. And, let's be honest, it can't be worse than American remake Gracepoint, right? 
Wolf Hall. This upcoming adaptation of Hilary Mantel's best selling Tudor-era novls is probably the thing I'm most excited for in the first quarter of 2015. Mantel's books have won the Booker Prize twice for a reason, and her portrayal of Thomas Cromwell is a unique and interesting one. (It's as much more human than he is normally portrayed, let's just say that.) This BBC drama, which bows in the UK in late January and comes to America on Masterpiece on April 5, boasts a seriously all-star cast, including such notable names as Mark Rylance, Damian Lewis, Claire Foy, Jessica Raine, Jonathan Pryce, Mark Gatiss and many more. Watch the trailer and see what you think. 
Jonathan Strange and Mr. Norrell. Susanna Clarke's massive (and massively popular) fantasy epic is finally getting a dramatization this year- and in all honesty a seven-part television series is a much better fit than a film. Adapted by Doctor Who's Peter Harness, the drama stars Bertie Carvell and Eddie Marsan as two ninteenth century men in an alternate history where magic is widely acknowledged but rarely practiced.
I am not even sure how to explain this story without giving things away, but suffice it to say that I consider the novel one of the most fascinating and orignal tales I've read in many, many years. Here's hoping this adaptaion - which so far looks incredibly spot on - will be worthy of its source material. 
Mr. Selfridge. This show really grew on me during Series 2, so I'm intrigued to see where it goes now that historical events (the death of Selfrige's beloved wife Rose) have necessitated something of a darker season. (And this upcoming third season looks pretty dark if the trailer is anything to go by.) 
Outlander. Confession time: This fantasy series, which tracks the story of a 1945 woman who is accidentally sent back in time to the Scottish Highlands of 1743, is my newest guilty pleasure. Between the dramatic storylines, beautiful scenery and surprisingly compelling characters, I'm hooked.
It also doesn't hurt that stars Caitriona Balfe, Sam Heughan and Tobias Menzes are all fantastic in the lead roles and somehow make a love triangle that spans several hundred years work. (I haven't read the books. I'm dying to know what happens next.)  The second half of Season 1 is due to return to cable network Starz in April. 
Humans. Creepy but oddly realistic sci-fi is my jam, and I miss having Merlin's Colin Morgan on my TV regularly. That it and and of itself is probably enough for me to give AMC's upcoming new science fiction drama a try, but luckily it actually looks pretty interesting.
The drama is set in a near-future world where humanistic robots are used to perform everyday domestic tasks, and explores lots of thorny ethical issues when these creations seem to be becoming more and more human. Ooooh. In addition to Morgan, the rest of the cast is top-notch and includes William Hurt, Katherine Parkinson, Rebecca Front and more. 
Call the Midwife. Because everyone needs a good, cathartic emotional cry, which is what this . The fourth season of Call the Midwife will be the show's first without star Jessica Raine, but let's be real, as long as Miranda Hart's Chummy is involved, well, we're all here for that. The drama recently aired a Christmas special, and wil return for Season 4 this winter in the UK and in March in the US.  
Sherlock. We don't know if we're getting a Christmas special or a random one-off installment, but we can rest assured that new Sherlock is happening at some point this year. As is generally par for the course with this show, we have no idea what the story will be (though there have been some cryptic hints) or how it will connect to existing Series 3 plots or even why the only promotional image released so far features stars Benedict Cumberbatch and Martin Freeman in period garb. But there's new Sherlock happening this year, so that makes 2015 a winner already. 
What would you put on your Must See in 2014 list?
---
By
for on January 1st, 2015