By
for on November 26th, 2014
The First Image from the 'Sherlock' Special Has Arrived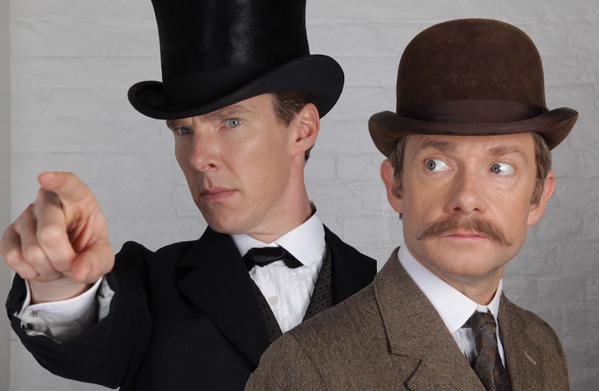 So, apparently I should write more features about Sherlock because it seems to invite some kind of cosmic magic wherein I have to write another new piece within 24 hours because some new bit of information has surfaced.
I mean, I'm okay with that if y'all are.
Anyway, what's up today is that it looks like the first read through of the "Possibly Non Christmas" Christmas Special (there appears to be some debate about this) took place, and in honor of this momentous occasion the first official photo from the forthcoming one-off special has been released.
And it's… rather not what anyone expected.
So, yeah, official read through, is an actual thing that's happening, per the Twitter accounts of executive producer Sue Vertue and star Amanda Abbington. 
This is what we've been doing today! Later on a pic of Sherlock and John as they'll appear in the Special #221back pic.twitter.com/Aq4vncKpKy

— sue vertue (@suevertue) November 25, 2014
The Game is On... Again... pic.twitter.com/FC9bBRs1Wo

— amanda abbington (@CHIMPSINSOCKS) November 25, 2014
There don't appear – at least not yet – to be any bizarre photos featuring Benedict Cumberbatch and Martin Freeman engaging in any rehearsal-based silliness like last time around. But, there is an official picture, and it's strange enough that it probably makes up for it. Without further ado… 
#221back #Sherlock #notkidding pic.twitter.com/Lx6q8DZ2aV

— sue vertue (@suevertue) November 25, 2014
Why are the leads of our very modern day Holmes adaptation wearing very Victorian- looking garb? Dream sequence? Fancy dress party? Murder mystery dinner? Time travel thanks to a convenient TARDIS appearance? Who knows. (And, of course, the production folks are keeping mum on the subject.)
(I mean, I thought we'd finally got rid of that horrible moustache on poor John? Even in what appears to be Photoshop form…)
Whatever it is, this – combined with some tidbits recently dropped by co-creator Mark Gatiss -  is probably more than enough to keep the fan speculation whirring along merrily until filming begins in January.
Any guesses as to the source of these outfits? 
---
By
for on November 26th, 2014