By
for on November 12th, 2022
'The Great British Baking Show' Semi Finals Release The Krokan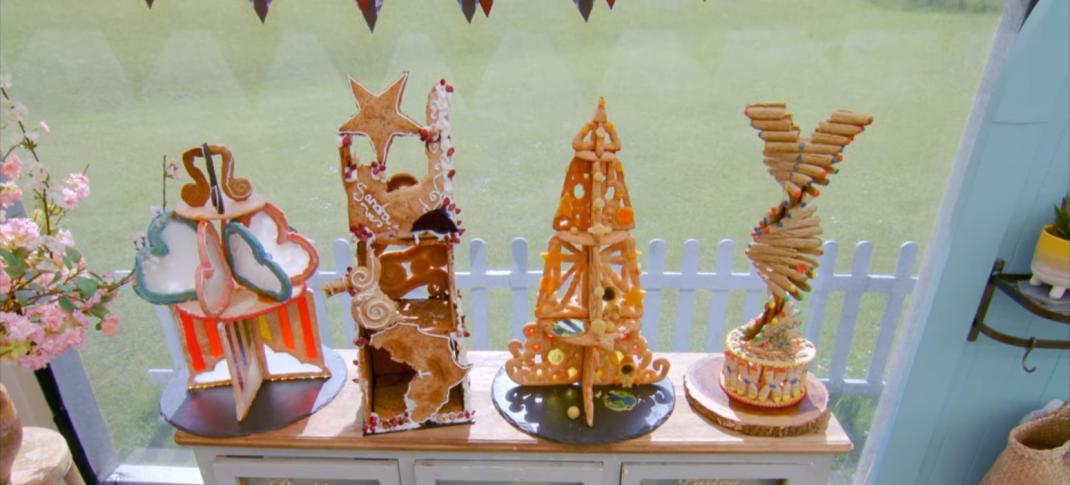 Netflix has a problem. Ever since the streaming service woke up one morning to find that the Walt Disney Company was terminating its contract to give Netflix exclusive first streaming rights — one that took years to hammer out and implement and had been in effect for all of a year — and launching Disney+, it's been in a state of semi-panic. The company has poured billions of dollars into making content, regularly releasing 40-60 new titles (not episodes, but *titles*) every month. That means that sometimes, Netflix steps on its shows with... its own shows.
Such is the case of The Great British Baking Show's semi-finals, which we are recapping a day late due to Lacy and I dealing with The Crown. (Her review is up, and my official review can be read here.) But never fear! Though we are a bit off schedule, GBBO is not. These are the semi-finals; therefore, it is Patisserie Week, the show's go-to theme for the penultimate episode for every season save two. (Season 4/Collection 2, when the show called it French Week instead, and Season 6/Collection 3, when the semi-final was Chocolate Week.) 
As I noted last week, this season has not been GBBO's best. There has been very little suspense from week to week over who would exit the tent; it's merely been a matter of how the contestant in question melted down. Even this week feels very rote; Syabira and Abdul are apparent shoo-ins, leaving the two at risk of going as Sandro and Janusz. The former has been trying too hard and doing too much while the latter has been consistently solid but never spectacular, and both have reached as far as they can go, so it's merely a matter of who Paul bullies Prue into dismissing.
This week's Signature Challenge is what's known as a "Mini Charlottes." You may recall the show has down the full-sized version; the Charlotte Royale, with was the Technical Challenge for the French Week Semi-Finals, where Marry Berry's recipe was provided. These are delicate cake creations with homemade ladyfingers around the outside, with mousse and Chantilly cream layered inside. As always, the Signature is judged on a pass/fail metric.
Sandro Caramel Nutty Mini Charlottes (Pass): There is nothing mini about those Charlottes, but Prue loves his sponge layer so much that she steals some for later.
Janusz Plums in Chocolate Mini Charlottes (Pass): The chocolate isn't set, but otherwise, it's delicious
Syabira Peanut & Berries Mini Charlottes (Pass): It's peanut butter and jelly flavored. Paul acts like this is a revelation instead of standard kid's lunch in the U.S.
Abdul Pistachio Tiramisu Mini Charlottes (Pass): It's a bit messy because he didn't finish getting his ribbons on it, but the bake itself is done and fantastic.
Everyone accepts they passed without handshakes while Janusz digs into one of Sandro's hearty maxi-mini charlottes to celebrate.
Prue sets the show's penultimate Technical Challenge of the season. It's to make four identical Chocolate, Hazelnut, and Raspberry Vertical Tarts. A "vertical tart" sounds downright odd until the show moves to the explanation tent and viewers see the "vertical tart" as a tart shell circle standing on end with the filling carefully stacked in layers inside. Janusz notes that the shell circle reminds him of a Pâte Sablée, a very stiff tart shell. (That tracks.) The worst part is moving them to the altar.
Let's see whose tarts stand up and whose are a vertical drop.
4. Sandro: The pastry is too thick, and the jelly isn't set.
3. Janusz: Underbaked shell means the whole dessert is too soft.
2. Abdul: One fell in transit, but otherwise, these are decent.
1. Syabira: Perfect looking, but the mousse is too thick.
Syabira gets the win here by default, though that's not the end of the world. Considering the challenge, she'll take it.
This week's Semi-Final Showstopper Challenge is the nordic dessert, the Krokan. It's a tall pastry with many tiers, usually for weddings. However, these are not the thick full cake layers like a traditional European wedding cake, and more like a lightweight croquembouche, except instead of little balls in a triangular stack, the layers are open and airy with thin, vertically-constructed pieces. It's a bit like if you took a pastry and used it to engineer a fantastical skyscraper. 
Traditionally, the Krokan pastry is made of almond flour, with melted caramelized sugar glue, decorated with crisscross patterns and marzipan roses. The Showstopper doesn't require it to be traditional, but it does need to use almond-based pastry and sugar, both as glue and decor, with marzipan decorations of some kind.
The themes they celebrate are up to them, with our two top contestants choosing to celebrate humanity's ambitions, while the bottom dwellers try to appeal with personal designs. (Janusz's celebration of the LGBTQA+ is incredibly touching, considering that GBBO has recently leaned into following the Tory political erasure of the community.)
Abdul To the Stars It is gorgeously intricate without being overwhelming. Prue says it feels like sacrilege to break off pieces and eat them. But it's worth the sacrifice, as Paul and Prue agree, it tastes fantastic.
Syabira The DNA in You If Abdul's was intricate; Syabira's is a stunner. The show is so into the details it doesn't give an overall shot during the judging, which is a shame because it is a work of art. This is one of those moments where you wish Paul weren't pushing her so hard because she doesn't need it.
Janusz Brighton Pride Paul doesn't comment on the theme at all, which is notable. He merely remarks that the upper tiers are messy, and Prue chimed in that some layers are overbaked while others are underbaked.
Sandro Where it Started and How It's Going Paul calls it mad, like a Monty Python Krokan, but he doesn't hate it, even though parts fell off before it got to the judging. He did nail the actual bakes, which considering how many there were, is saying something.
Syabira winning a fourth Star Baker seems a shoo-in. However, they give it to Abdul; he deserves it, though less from this week in particular than for his overall growth from week to week over the season. As for Sandro and Janusz, this is a case of who will bring better drama, and Janusz's steadiness works against him. He's out, while Sandro's ambitions will try to rise one more time for the finale next week.
---
By
for on November 12th, 2022
More to Love from Telly Visions