By
for on November 4th, 2022
Panic! At the Pastries in 'The Great British Baking Show's Quarterfinals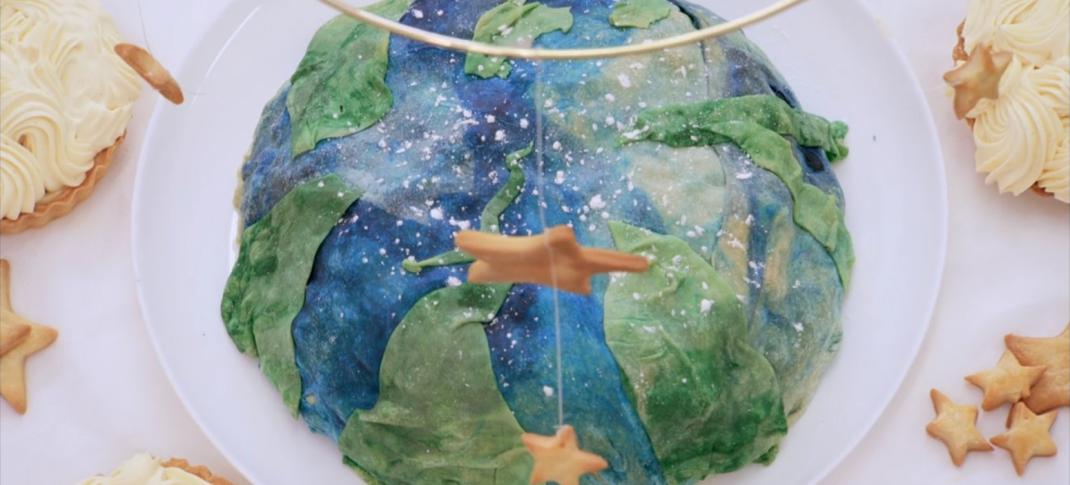 It's the Quarterfinal round of The Great British Baking Show, one of my favorite weeks of the competition. Mainly because what other competition show gives itself the kind of airs that they call their Top Five Week "The Quarterfinals," like it's a major sporting event? Even American Idol, in its ratings death star heyday, never dared. But I don't just love this week for its bold upper-crust stylings. I also love it because it's the most challenging week ahead of the traditional Pâtisserie semi-final.
Week 8's Quarterfinal round is the last of the weeks where the challenge isn't traditionally set in stone. Quarterfinals have covered everything from classic episodes like "Tudor Week" to a more complex version of Dessert Week to something genuinely challenging like Alternative Ingredients. (I refuse to call it "Freeform.") It's been a while since Pastry landed so late, but there may be a reason the show chose to return to it. The last time Pastry landed as the Quarterfinal round was in 2019's 10th anniversary season, the last one filmed pre-pandemic.
Since this is the show's return to pre-pandemic form, they want to return to the last time they were here. (Well, they've mostly gone back. The tent moved back, and everyone gets to go home on weekdays anyway. The lack of sending camera crews to contestants' homes is still glaring.) So let's see how flaky our contestants can get.
This week's Signature Challenge is to make a dozen sweet vol-au-vents, a style of appetizer popular in the 1970s U.K. Any contestant who's never heard of vol-au-vents did not do their homework studying previous seasons. (Seriously, I do not understand why that wouldn't be the first thing one would do if cast.) The show has done this challenge before, though with savory flavors, as the Showstopper in Pastry Week in Season 6/Collection 2, aka Nadiya's Season.
As always, the Signature is judged on a pass/fail metric.
Abdul Coconut & Berry Vol-au-vents (Fail) Flat, pale, too many flavors, and underbaked to boot.
Sandro Key-Lime Vol-au-vents (Fail) Dark, heavy, and overbaked, but the flavor delivers.
Janusz Strawberries & Cream Vol-au-vents (Fail) Slightly pale and raw inside, and the flavors are bland.
Maxy Summertime Fine Vol-au-vents (Fail) Dry and raw, the flavors at least work, but otherwise, a disaster
Syabira Citrus Dreams Vol-au-vents (Pass) It's underbaked but not raw, and the flavor and texture are correct.
Wow, Paul is just brutal this week. I get he's pushing Syabira, but this is overly heavy-handed. Even so, it is shocking how bad the results were, and it calls into question the entire set of quarterfinalists. Not that those who left were somehow better, but it's starting to be unavoidably obvious this season is not GBBO's best.
Prue set this week's Technical Challenge; she warns there are 29 ingredients in this recipe and to get the balance right. What pastry has 29 elements? The answer is spring rolls. Wait, what? At least Matt and Noel realize they should emphasize the baked part here — the spring roll shell — which is deep-fried. (Americans are going to be puzzled by that because our Americanized Asian food usually refers to those as "egg rolls" and the unfried versions as "spring rolls." But in this case, we have no room to talk, as that's as incorrect as the British take on Mexican.)
Speaking of Mexican Week, this is the third time this season we are presented with a Technical Challenge that is not a bake. Tacos were, of course, the most obvious, mainly because Paul, who set them as a challenge completely, seemed to miss the baked part of the challenge, the tortilla, which was the part he was supposed to be judging. (It also did not help that he did not seem to know the word for them.) The S'mores were also a bizarre choice, and once again, the part that was supposed to be baked, the graham cracker, erm, "digestive biscuit," also failed to be the part judged. Let's see how badly this goes.
5. Maxy: Tiny without enough filling.
4. Syabira: Shell is raw; insides are good.
3. Abdul: The shell is a little bubbly.
2. Janusz: He's one short.
1. Sandro: The best of the batch.
Poor Sandro wins the technical by default. Meanwhile, Maxy is starting to look like she's about the default to going home.
This week's Showstopper Challenge sounds ridiculous, asking for "a 3D Storybook Pie Scene" based on the contestants' favorite fairytale or nursery rhyme. But there's a good chance this could ming up a real winner, as all the bakers start pulling out entire binders and files that go on for pages and pages of whimsical pieces pie parts. (Pie pieces parts? Pieces part pies?)
Considering how badly the Signature went and the Technical failure (which was not wholly the contestants' fault), let's see if this week can pull out a fairytale ending or if this will be the kind of nursery rhyme where Paul and Prue's horses and the tent's hosting men cannot put this week back together again.
Janusz The Very Hungry Sausage Dog The fish is a little ill-defined, but the dog is adorable if a bit dry and less a pie than a sausage roll. (Listen, it's a dog. Dogs are totally sausage rolls.) The apple dessert pies that are flowers are also a bit dry.
Abdul Adventures of a Pie-rate I love his boats, even if his Kraken and other characters are rough-hewn. His pies are delicious, and his crumble is nice and light.
Sandro Caterpillar Pie Scene It's pretty to look at, and the sheer amount of pies on the plate almost covers that some of them have cracks. Those are because they're overfilled and feel less like pies and more like wrap sandwiches. The dessert pie is sadly tough, but his ice cream is excellent.
Maxy Spicy Twinkling Stars The "Half Globe" in the center is sadly more of a trapezoid, though perhaps the Flat Eart Society would appreciate it. The little stars and twinkle pastries are cute, but it feels like she did half of what the others did, especially right after Sandro's giant tray of bakes.
Syabira Jack & the Beanstalk It's so cute, and unlike some others, she aced the pastry choice because it stayed nice and soft with the buttery grease while holding shapes. She also was smart about her two-tiered structure, putting most of the edible parts on the top (unlike Janusz, who put his around the base), giving an impression of being suspended in midair. The judges are also madly in love with her filling flavors.
I feel a little bad because Star Baker is going to Syabira again, and it's not even a contest, while Maxy is out, and it's not even close. By this point which is leaving should be more of a competition, and though it's clear the show wants to give this to Syabira, it's also hers to lose with two more episodes.
---
By
for on November 4th, 2022
More to Love from Telly Visions