By
for on October 28th, 2022
Custard Week Firms Up 'The Great British Baking Show's Top Five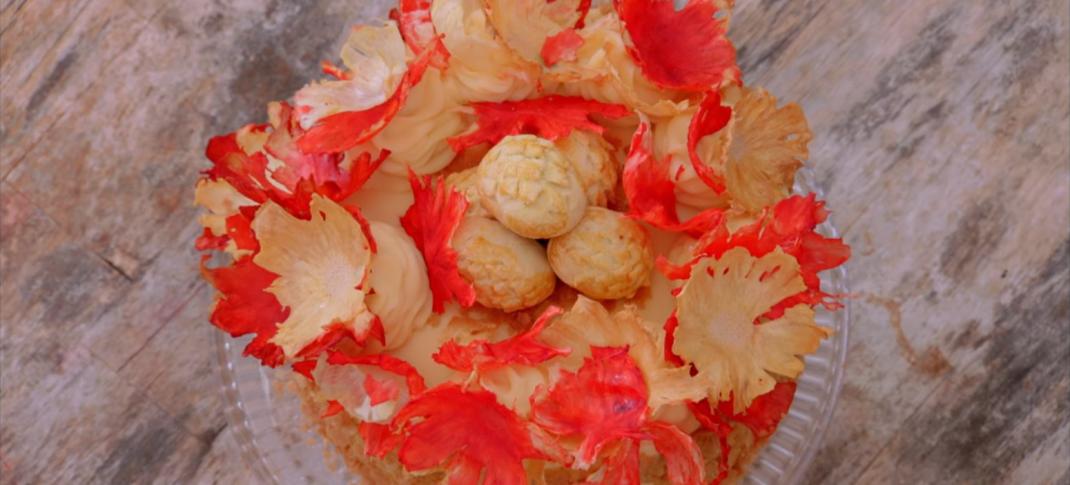 Since moving to BBC One with Season 5 (and hitting American shores on PBS with it renamed Season 1), The Great British Baking Show has always attempted to add in one theme week that's a little on the conceptual side as the show narrows it down to their best bakers. From "Advanced Dough" to "Batter Week," having an offbeat theme to throw the contestants a curveball has been part of the competition. Since transferring to Channel 4 and Netflix those themes have ranged from "Spice Week" to "Festivals," and now for the last episode before the finals of Season 13/Collection 10, "Custard Week."
Initially, custard, as we know it was a famous pie filling in the Middle ages; the word "custard" comes from the French 'croustade' referring to the crust of the creamy tart. Formed from the coagulation of egg yolks, custards were typically shades of cream or yellow. (Elizabethans added marigolds to make them yellower.) Though today they're mainly thought of as a sweet dessert filling, the savory custard is a thing — think French quiche or Japanese chawanmushi.
However, nowadays, sweet custards, especially in the U.S. and the U.K., are made at home as the base for one of the most popular Western desserts: ice cream. Though GBBO is thankfully not filming in July and August this year, global warming and hotter summers almost guarantee that everyone's favorite frosty dessert will make an appearance in some form in the tent this episode.
This week's Signature Challenge is something called "Floating Islands." This 18th-century dish originated in France as a bread floating on heavy cream with fruit confection and traveled directly to America in that form as a July 4th dessert. The British version, though it claims to be the same as the French one, is entirely different, made up of meringues poached on a type of custard known as "crème anglaise" in the U.K. it is far closer to the french dessert known as "Œufs à la Neige," which translates to "Eggs in Snow." As always, the Signature is judged on a Pass/Fail metric.
Syabira Mojito Floating Islands (Pass) Paul complains it looks like fried chicken in sauce, but Prue isn't having it, and both agree her flavors are spot on.
Abdul Cherry, Orange & Pistachio Floating Islands (Pass) They're super pretty, and the orange is perfect though the caramel weighed down the meringue.
Maxy Blueberry Lagoon Floating Islands (Pass) They're messy and ugly, but the flavors are lovely.
Janusz Morning Vanilla Latte Floating Islands (Pass) They're pastry window ready, and his custard is perfect.
Sandro Cherry, Almond & Hazelnut Floating Island (Pass) They are a bit over-decorated, and Sandro brandied to woo Prue, but he fails on that front.
Kevin Everything Coming Up Roses Floating Islands (Pass) It's watery, and the meringue collapsed, but the flavor squeaks him by.
Kevin is the weakest link in the tent at this point; his islands were the only ones that looked collapsed. Meanwhile, I'm starting to wonder what Janusz has to do to get a handshake because perfect isn't good enough for Paul.
Prue sets this week's Technical Challenge, and she says to "keep your cool," which is a big old hint that this is the Ice Cream challenge. The bakers are to make six ice cream cones dipped in modeling chocolate and nuts and topped with one scoop of pistachio and one of praline. However, it's not JUST an ice cream challenge. The contestants will be doing this challenge staggered, so they all have time to use the single ice cream machine and let their product harden without too many hot crème anglaise heating the fridge at once.
Initially, everyone is thrown out of the tent, but Sandro. Janusz joins him 5 minutes in, then Syabira, Maxy, Kevin, and finally Abdul. Kevin is the only one who has made custard-based ice cream, but even he is nervous. But he's the only one to know the crème anglaise initially goes in the fridge, not the freezer, and by the time several ice creams are in, the ice box is 4°C/40°F, or your average fridge temp instead of a freezer's 0°C/32°F, which screws over at least two contestants.
6. Syabira: She's serving soup in a cone.
5. Janusz: It's a melted mess.
4. Abdul: It's less melted than most, but his cones are burnt.
3. Kevin: It's also not set, but he did get the cone right.
2. Maxy: She lucked out and got her praline ice cream decently set, but her pistachio was liquid.
1. Sandro: As the first one in the tent and into the freezer when it was the right temp, his ice cream came out perfectly.
That was kind of unfair in how it played out. They should have staggered them further or not at all. But at least the weather wasn't a factor in terms of heat. (Instead, it was storming when the judging ended, and Paul had to shout over the thunder.)
The Showstopper Challenge is to make a Custard Gâteau, aka a Custard Cake. Though this sounds like it should be a "Gâteau Magique" in France, a "Magic Cake," where the layers go in the oven looking flat and then rise as they bake, magically turning themselves into a cake, this is more like a giant Leche Flan separated by puff pastries or sponge layers. Either way, this requires the custard to set hard without being grainy, which feels like a disaster waiting to happen.
The flavors are up to the bakers, as are the designs. Though it seems like contestants were at one point under the impression these were going to be "cakes that are meaningful" because several of them call the cakes tributes to those no longer with us who encouraged them on their baking journeys.
Let's see whose cakes were set up for success and who, besides Kevin, who wound up with almost half the ten helping him finish, melted under the pressure.
Abdul Peach & Raspberry Mille-feuille It's gorgeous to look at, and unlike some of his other beautiful bakes, the taste matches the look, though the pastry layers are a touch underbaked.
Janusz Neapolitan Custard Gateau It looks like the traditional Neapolitan trio of vanilla, chocolate, and strawberry, but the pink is actually ruby chocolate. The custards sadly are all too thick, and Prue complains the flavors aren't light and fresh enough.
Maxy The Promised Land The Afrocentric design of the cake makes Paul visibly uncomfortable, which Prue does her best to cover. Paul decides that he will judge it as "not celebrating the custard enough" in order to diss it, even though it's clearly gorgeous and tasty.
Syabira Piña Coladas Anyone? Prue is stunned that she iced it with custard instead of buttercream and that there's "so much custard." Even Paul is taken aback at how well she conquered the brief, and that the alcohol flavors are spot on. 
Sandro Tribute to a Friend This is next level. Like, this is "a wedding cake someone paid $$$$ for" next level. The piping, the color contrast, the gold flake; the whole cake is just a stunner. Each layer is a different flavor, the bottom layer is the best of the three, and the middle is a bit dry, but Prue says it's a triumph.
Kevin My Honey Valentine His poor custard failed to set so much that he did 't even stack the layers, and the decorations were mostly done by Syabira, Janusz, and Maxy as he flailed in the final minutes. Matt helps him bring up the multiple cake platters, and Prue and Paul kindly find things to praise about the custard and flavors.
This is a week where Sandro probably should get a Star Baker, but the judges decide to reward Syabira for a second week in a row instead. As for who is going home, there's no question it's Kevin who won't be back for the Quarter Finals next week.
---
By
for on October 28th, 2022
More to Love from Telly Visions