By
for on November 17th, 2023
It's Paul's Party & You'll Cry If He Wants You To on 'The Great British Baking Show' Season 14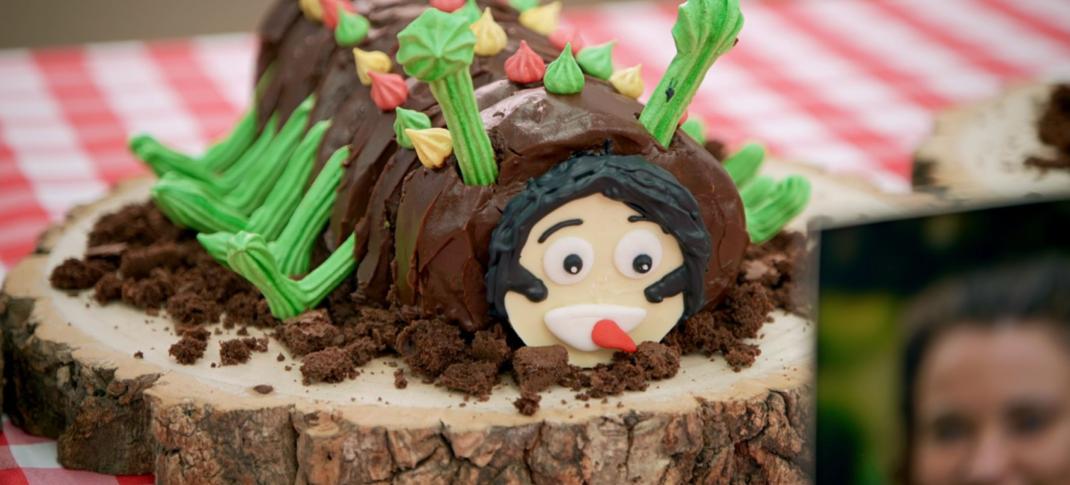 My favorite thing about reality competition shows, not just The Great British Baking Show, but all of them, from the nationalist contests that spawned American Idol to the early years of Project Runway when it truly was The Greatest Show on Earth, is that every week is a new week, and you're only as good as the last thing you produced. That even goes for heavy-handed thumb-on-the-scale judges like Paul Hollywood, who has done quite a bit this season to undermine what was a fascinating set of contestants and whittled them down to a Top Three we could have predicted in Week One. But it's a new week, a new theme introduced for the first time in place of the never-well-executed national theme weeks; the sun is shining, and Noel Fielding is about to show off his blow job skills, or lack thereof. On the bouncy castle, obviously! 
You think I'm being dirty? Alison Hammond has turned this tent into the most double-entre-filled set since Sue and Mel refused to go with the dough when the show moved to Channel 4, and God bless her for it. You heard me; God Bless her and her small sausage, large spoon, no holes-barred hilarity this season. If we're going to have to put up with a tent of folk kowtowing to Paul at every turn (though I do love that as the seasons go on, Prue Leith gets a little bit pluckier and grows a bit more backbone every year), I will have my ridiculous laugh out loud guffaws as the boys in the tent blush bright.
And "Party Week" (or "Party Bakes Weerk" as it was initially deemed, and Noel still calls it) looks like it will be filled with bad puns, terrible jokes, and accidental suggestive comments galore as the bakers lose their heads just a little from quarterfinals stress.
The Signature Challenge for this season's Quarterfinals is a dozen sausage rolls. Pastry and fillings are entirely up to the bakers, as long as the latter includes sausage and that sausage-laced filling is wrapped in pastry before it is baked. One should note that sausage rolls are not the most popular party food, at least not anymore, not among young people, but Paul and Prue don't seem to know that. (Heck, Paul seems to think this is the best challenge ever.) Prue at least recognizes that though the pastry is "any kind you like," the default will be rough puff due to the time limit and the nature of the bake at hand. Also, the show makes sure to tell us that climate change is working against the bakers this fine May weekend and that the tent is warm, which means everyone will have butter and lamination meltdowns. As always, the Signature is judged on a Pass/Fail metric.
Tasha Cider in the Park Sausage Rolls (Pass) The pastry is slightly undercooked, but the insides are finished, and the sausage is perfect. Paul says to pop them in the oven for another ten and serve them for lunch.
Dan Dumplings in Disguise Sausage Rolls (Fail) They look like a McDonald's apple pie and taste like the British idea of a carton of Chinese food. Even Paul can't go for that.
Josh Turkey & Cranberry Christmas Sausage Rolls (Pass) His butter melted out, his lamination failed, and his filling's dry, but Prue argues he still deserves to pass on flavor, and Paul acquiesces.
Cristy Cranberry & Sage Sausage Rolls (Fail) They are visibly undercooked and barely done inside but edible enough to be judged wanting, even if Prue is kind about her flavors.
Matty Classic Sausage Rolls (Handshake) He went for the classic, and he did it well. Paul is so relieved someone gave him an actual sausage roll today, he sticks out his hand.
Matty's handshake was less about perfection and more about someone actually making Paul a goddamn sausage roll. But considering he legit never imagined he'd get a handshake in the first place, Matty is absolutely thrilled to take what he can get.
After last week's utter disaster,  Paul somehow got to set the Technical Challenge again this week. (That's not fair!) Paul declares everyone will know this one; it's famous. He tells the bakers to enjoy it. He might as well have said outright he screwed up, and this is an apology Technical. It turns out it's a "Chocolate Caterpillar Cake," which, if you don't know, is a chocolate Swiss roll filled with chocolate meringue buttercream covered in chocolate ganache icing and decorated with a white chocolate disc with a chocolate caterpillar face. These are historical bakes... if you consider 1990 to be historic. The actual name is "Colin the Caterpillar" cake, which GBBO obviously can't use for trademark reasons. They're a Marks & Spencer staple; just about everyone in the U.K. under the age of 45 has had one for their birthday, and many over the age of 45 have as well, if not at somebody else's birthday. Hell, I've had one.
5. Dan: The Very Hungry Caterpillar before it ate everything, all Swiss meringue, no cake.
4. Josh: His caterpillar's short a few legs, and his cake is short a bit of moistness
3. Matty: His Punk Caterpillar's a bit overdone
2. Cristy: Her features are less done, but her cake is better
1. Tasha: Noel the Caterpillar is the most handsome and tastiest bug of the bunch.
Tasha deserved to win this Technical, her Noel was spot on, and her cake was perfect. But we need to talk about Dan because, like last week, the week before, and the week before that....and all the way back to Bread Week, to be honest, when he served the judges a Showstopper full of raw dough, we all know he's not going home. And yet, he failed the Signature, outright failed. And not only did he fail this Technical Challenge, he clearly did not take it seriously from the moment it was unveiled. This should be the moment when Paul admits he was wrong. He should never have kept Dan over Abbi in the first place. And yet, we know whatever happens, Matty, Josh, or Cristy will be out before Dan even has a prayer of being bounced.
The Showstopper Challenge is kind of a nebulously titled one; it's an "Anything But Beige" Buffet. Alison describes it as "a colorful and highly decorative display" which should include a mixture of sweet and savory "party bakes." They have four and a half hours to "reinvent" the "party buffet's reputation" as a "beige and bland spread of cream-colored bakes." I don't disagree with this notion, though I will point out that the Wedding Industrial Complex is the problem here. What the show is doing is fighting an uphill battle against an entire industry that says that super-colorful buffets of cakes and pastries are the domains of five-year-olds. For a buffet of sweets to project elegance and grown-up ambiance, these magazines and websites tell us you need a white or ivory cake of many levels, and everything around it dyed to match.
What I'm saying is that I am a million percent here for this challenge. Let's see who carefully crafted colorful cakes crack the code of conduct and who colors too far outside the lines.
Cristy's Marvellous Sweet Factory Buffet: She relied too heavily on her blue shop window to provide color; her bakes are still beige. All her bakes are also "rough and ready," as Paul notes. Each of the bakes are flawed, underbaked or overbaked, and while Cristy manages to muster up a little backbone, saying that her Willy Wonka-esque concept calls for unevenness, she's basically wilting under Paul's glare.
Matty's Sports Buffet: It's not the worst thing Matty's turned in as a Showstopper, by a long shot. Some of his "sports balls" are pretty decent-looking. That being said, what stands out is how easy he made this for himself; almost everything he made is a ball. Cricket balls, basketballs, round, draw a line on it, poof, ball. The only things that are not a ball are the cupcakes, and those are grass. It's impressive if you are impressed by how to elide the rules.
Tasha's Birthdays on the Farm Buffet Compare that to Tasha's farm, where she formed tiny pigs with little snouts out of milk bread, a berry and brightly colored cookie tractor set, and tiny little crops out of chocolate. Yes, the chocolate is brown, and the pigs are brownish pink, which falls within the beige family. But she challenged herself here, making things that were hard and pulling some of them off.
Dan's Prehistoric Party Poopers Buffet: I am not inclined to give Dan the benefit of getting out of a string of failures here, but at least his showstopper is clever. The dinosaur theme is smart, the fossils are cute, the stuffed feet are creative, and I love the softboiled egg; that's probably the most appetizing thing served today by anyone. Preue points out he did six things, which is twice everyone else, and that if he's cut at least two, they might have come out better.
Josh's It's Christmas!!! Buffet: Is Josh auditioning for the Christmas special? What is happening here? At least whatever is happening here is the neatest and best of the bunch. Paul is once again totally shocked, shocked at how tasty they all are and how perfectly piped it all is, almost like he's surprised to discover Josh exists in the tent at all and is not sure how he's still there. Prue laughs at Paul's befuddlement that he can't find anything wrong with Josh's showstopper, and she's not wrong.
Not that Josh will get Star Baker; Paul can't have that. He already gave it to Josh once; that was plenty. But it cannot give it to Dan; that would be ludicrous, and he can't give it to Tasha, which would probably be weird, too. Best give it to Matty, since they can't send Josh home. That way, Matty's safe, and they can send Cristy home. Trust Paul to always get rid of women over men when push comes to shove.
---
By
for on November 17th, 2023
More to Love from Telly Visions