By
for on November 4th, 2023
'The Great British Baking Show's "Botanical Week" Sees One Contestant Finally Get His Flowers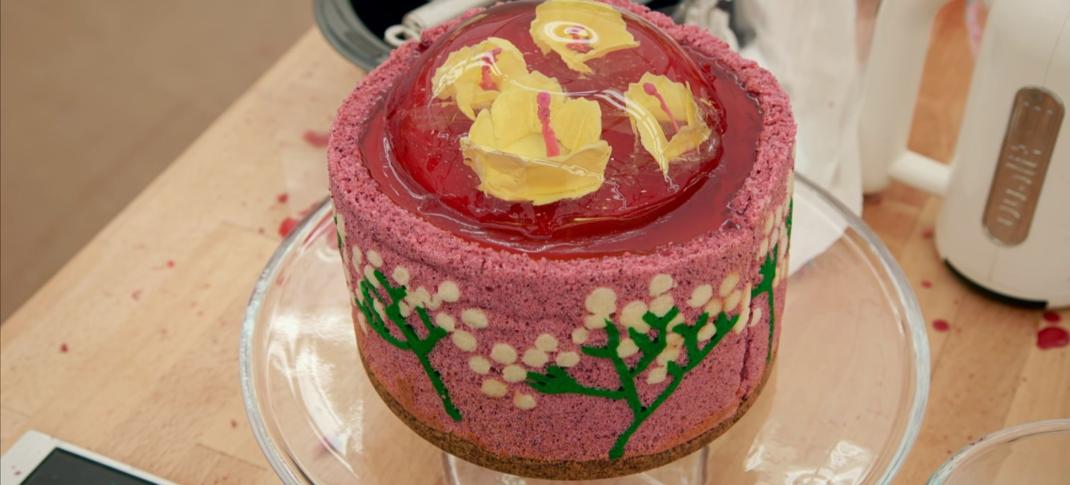 The best part of the new intro sketches isn't that they are funny. (Though Noel eating a plate when told, "Go on, eat the whole thing," is classic vaudeville schtick, and goddesses help me, I cackled.) It's that Alison makes sure they are helpful and informative. After all, "Botanical Week" is not exactly an intuitive theme. The series has only ever done it once previously, back in the BBC Days, and it was done on the exact same week — Week 6 — in Season 7, aka the one where Candice of the Lipstick won. (Congrats if you had National Theme Week replaced by a theme revived from the BBC Days on your Bingo Card.)
Sue and Mel didn't really explain why "Botanical" Week was supposed to mean then, but Alison does here; it's a celebration of all things floral: edible flowers, sure, but also natural flavors from flowering pants (think berries, citrus, and fruits, like apples and pears), plus spices, of which the British have a whole history of conquering the planet to get access to and then not actually putting in their food. No wonder Noel is going to start eating the table out of frustration.
So, with Botanical Week finally properly explained and Noel getting a laugh out of me for once, and not by accident, let's get to the Signature Challenge.
Alison and Noel are batting a thousand with the jokes, calling this Botty Week and making butt jokes when the challenge is a dozen identical spiced sticky buns. It's also very obviously Easter Weekend at the time of filming because everyone is dressed up under their aprons. Now, as a bread challenge, chances are that Josh and Taasha will do well since they were high scorers on Bread Week. But don't worry, the other two challenges won't be, so those less proficient at bread (Dan) won't have to be given a "Paul's Favorite" pass again. As always, the Signature is judged on a Pass/Fail metric.
Tasha Yultide Spiced Buns (Pass) Prue exclaims that they are Christmas in the mouth. Paul nods approvingly. His favorite has passed.
Dan Dreaming of Greece Spiced Buns (Pass) Those figs are unfortunate, even though Prue likes them and they're very uneven, but the flavors are good
Dana Bun in a Million Spiced Buns (Fail) Her buns are different shapes and sizes, and the flavor's wrong.
Saku Swedish Cinnamon Spiced Buns (Pass) They look lovely, the knot work is excellent, and the flavor is spot on.
Josh Lemon & Blueberry Spiced Buns (Pass) Prue thinks they look unusual, but Paul says they taste like iced buns, which is high praise.
Cristy Maple, Pecan & Cinnamon Spiced Buns (Pass) Consistent and lovely tasting, Prue threatens to steal the leftovers.
Matty Rum Drunk Hot Cross Spiced Buns (Fail) It's way too dense, and there's no flavor.
The high pass rate is a sign we're reaching the end of the mushy middle section of the competition. Dana's not long for the tent; she might get lucky and survive this week, but chances of her making the Top Five are low. Matty has a Paul's Favorite stamp on him, though, even though he probably shouldn't go much further, that might carry him beyond a few who should, like Saku.
Prue sets this week's Technical Challenge, telling the tent to "Be BOLD with their Botanicals!" before sweeping grandly from the tent. Upon her (and Paul's) exit, Alison reveals this week's Technical is a Lemon and Thyme Drizzle Cake. Somewhere in North Westeros, Sansa Stark, First of Her Name, Queen of the North, is squealing in front of her television and texting her ex-husband in King's Landing that he has to make sure her brother watches this week's episode. (He won't, but Sam will, and he and Tyrion will see a dozen identical ones are sent up North with Bran's sig attached.)
Sorry, wrong streaming service. I don't know where that piece of Game of Thrones fanfiction came from. Let's see who pleased the Queen in the North and who is going to be sent over to the Eyrie to hang out in the sky cells.
7. Tasha: Icing's clumsy, overbaked
6. Dana: It got stuck on the mold, and the flavors are weak
5. Saku: Lemon is raw, a little dark
4. Matty: Not thoroughly mixed, not enough thyme
3. Dan: Good definition, but the drizzle's too thick
2. Josh: Very neat, icing is perfect, weak on thyme
1. Cristy: Practically perfect and smartly decorated
Cristy lands her first in the Technical, while Tasha comes in dead last, and the sky cells await. Well, not really, she'll be fine; she did well in the Signature. If anything, this is looking very much like Dana's last rodeo.
This week's Showstopper Challenge is to create an imaginative "Floral Dessert." Now, this can technically be any kind of dessert, but the main element has to be a baked item, so a cake/biscuit/bread/pastry centerpiece around which the rest sit. Prue and Paul add that the baked item needs to be layered with fillings, though what those fillings are is up to them. Floral is the keyword in flavor and design, and as Prue notes, this is a balancing act because it's very easy to go from not enough to too much with the tiniest amount. Josh is not wrong that with all the syrups and spices, the tent looks like a potions class; all that's missing are the wands.
Let's see who manages a bit of floral magic and who wound up serving a pile of soap and cat pee.
Tasha's Elderflower & Hibiscus Jelly Cake Her jelly topper is genuinely spectacular. While the cake wrap had a very visible line where it joins, Paul admits that's par for the course unless you work your design to hide it, which is simply beyond an amateur to do. Prue says it takes heavenly.
Saku's Earl Grey & Hibiscus Jelly Cake Her jelly dome is top-rate, and the pastel colors are perfect easter fare, something Paul eludes to without saying outright since this is airing in October/November. The mousse is just set, which is excellent. Sadly, her flavors are too mild.
Dan's Sunny Meadows Opera Cake Prue stands there stiffly after taking a bite and then says it's over-perfumed, aka it's a beautifully made bar of soap. Paul tries to stutter something nice about the grass tasting like grass, but I'm sorry, who wants a cake that tastes like grass?
Matty's Blackberry & Elderflower Cake Prue straight up says it's not a showstopper, and Paul has to agree. The cake inside is also not impressive, despite Paul's calling the layers nicely separated. Prue sniffs that this is a lemon cake and thus does not fit the brief. Also, his custard is stodgy.
Josh's Rhubarb, Raspberry & Hibiscus Charlotte Russe It is a gorgeous creation, even if the ladyfingers split at one spot. That flower jelly topper is perfection. The inside set at the exact moment it needed to be, soft without rubber. Prue says all he needed was a ribbon to hold his ladyfingers in line.
Dana's Stop and Smell the Rosé The box is perfect. Too bad the box was not the challenge. The cake inside suffered because of all the time she spent on the box. It sat in the fridge for far too long, and the jelly got solid, the cake got dense and mushy, and the whole thing has the mouth feel of a three-day-old bake.
Cristy's Elderflower, Strawberry & Rhubarb Jelly Cake Cristy starts to apologize, and Paul stops her. The judges taste it and, without knowing what, recognize something went wrong. Prue says, "You were on to something perfect," and then diagnoses why it failed; her ganache was too thick and her jelly layers not even. No apologies are needed. 
Any chance of Cristy getting Star Baker again is out, which means Prue and Paul are handing it to Josh, and, to quote Lizzo, it's about damn time. As for who goes home, despite Saku being convinced it's her time, it's not; Dana is done here.
---
By
for on November 4th, 2023
More to Love from Telly Visions