By
for on October 27th, 2023
Twice the Eliminations & Twice the Pies in 'The Great British Baking Show's "Pastry Week"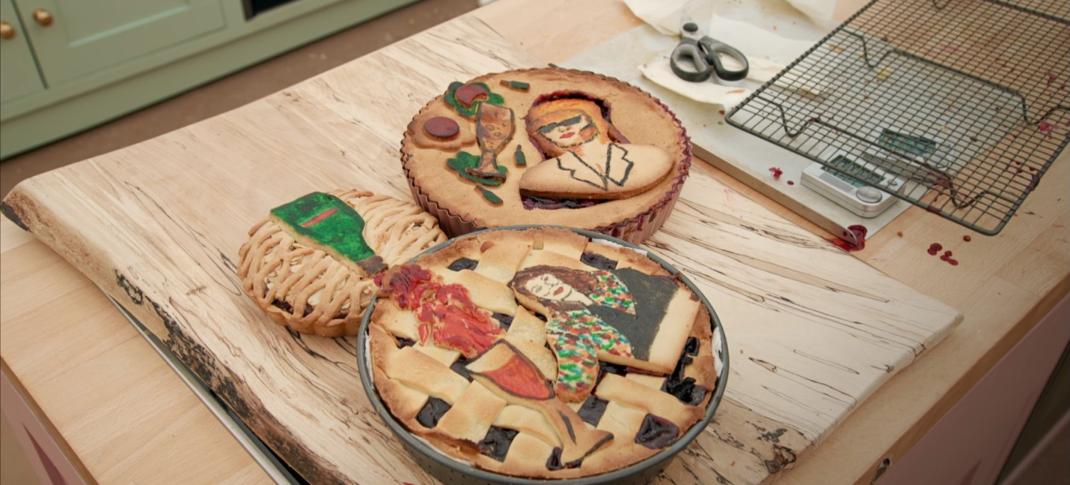 It's Pastry Week in the tent, and while that sounds like an easy week, it's not necessarily a picnic. However, the good vibes flow with Noel and Alison, and a mishap winds up with Prue wearing her own cake as a jaunty hat while reading in the sunshine. It is remarkable how little these opening sketches have changed -- pure is still the silent, obedient butt of jokes, and yet how much more good-natured they feel coming from Alison and Noel instead of three men picking on one tired-looking school marm figure.
As everyone will recall, last week, Chocolate Week was negated by Tasha going home ill partway through the Technical Challenge. (By the way, it was pointed out to me by a viewer that one reason they might have done Chocolate Week so early wasn't to screw with the contestants but to try and land cooler weather which failed. Climate Change Hates Chocolate Week.) The result was that no one went home, which means this time out, two people will be sent home over rough puff, cracked pastry crusts, and the dreaded soggy bottoms, just as the empire intended.
So, let us settle in the grass with a book and blanket, dig out the wine and fruit for this picnic, and see the challenges on the menu.
Everyone is back in the tent this week and ready to tackle the Signature Challenge. This week's pre-practices challenge is to make one dozen individual savory picnic pies (aka hand pies). Flavor combos are entirely their choice, but the crust must be a hot water-based one, which is a euphemism for a lard crust, as such fats are not considered high class in this 21st century. (Even though fat equals flavor, and British food is famously lard-based.) Adding eggs is optional. As always, the Signature Challenge is rated on a pass/fail metric.
Matty Spanakopità Picnic Pies (Pass) The lids are too thick, but the flavors are strong.
Tasha Sausage, Apple & Cranberry Picnic Pies (Pass) Her pastry recipe gets high marks, as does her filling
Saku Spicy Tuna Picnic Pies (Fail) Too pale, soggy bottom
Dan Lamb Keema Picnic Pies (Pass) The sides are cracked, and it's dense, but the flavor saves him
Dana Spud-tacular Picnic Pies (Pass) They're super pretty, even if the walls are uneven
Rowan Pork & Sweet Potato Picnic Pies (Fail) They look incredible and have a lovely flavor, but the tops and bottoms aren't staying on
Josh Post-Match Picnic Pies (Pass) The sausage filling shrank on him, but the flavor is good enough to overlook that
Nicky Pork & Cheese Picnic Pies (Fail) She used a mold, which failed her. The pastry is way too thick, and the inside is liquid
Cristy Creamy Mushroom & Leek Picnic Pies (Handshake) Practically Perfect.
Cristy is floored, but her little pies were tiny but perfect, and they got the moisture right, too, which was vital. Meanwhile, Nicky has reached the end of the line, and one can only hope this double elimination is setting up to put her out of her misery.
Paul sets this week's Technical Challenge, and once Alison has swept him and Prue out of the tent, she announces that it's a Dauphinoise Pithivier. (Yes, Dan looked around like she sneezed.) Noel explains it's a rough puff pastry with creamy potato, caramelized onions, and blue cheese sauce on the side. A Pithivier is a round, enclosed pie made by baking two disks of puff pastry with a filling decorated with spiral lines and scalloped edging. It's made traditionally for Ephipany and is named after the French town of Pithiviers. As Paul explains, it's not really whether or not the bakers have heard of this (and most of them have not); it's just a rough puff pastry test.
Let's see who grated their way to the top of the altar and who grated their knuckles into the dough.
9. Nicky: Flat, undercooked, and breadlike
8. Josh: Flat and pale
7. Matty: Good height, but totally raw inside
6. Saku: Good color, but the pastry's undercooked
5. Cristy: Good pie, but no height.
4. Rowan: Good flake but uneven.
3. Tasha: Good height but rough and undercooked
2. Dana: Good color, good dome, good flavor
1. Dan: Perfect in every way. (Alison asks if there's a body in there; it's so tall.)
Nicky needs to be done here while Dan is working his way back into Paul's good graces. Dana is also having a much better week than she has since arriving; it's nice to see her thrive for once.
For the Showstopper Challenge, where we return to, you guessed it, pies! This has been Pie Week in all but name; I suspect the show is just afraid of ever calling it Pie Week since the debacle in the show's original Season 3 on the BBC, the one where the Showstopper was "American Pies" where the pies baked were just about anything but. (Looking back, it was their first fail at a National Theme and perhaps a warning sign they should have heeded much earlier.) Anyway, the Showstopper is to make a Decorative Sweet Pie Display consisting of three different pies encased in decorative, rich, sweet pastries that must be highly decorated.
Prue says it "would be nice" if there were at least two flavors of pie, but that's not a requirement. Even so, a few are doing three flavors of pies. It's good to see the bakers challenging themselves and taking risks as they grow more comfortable in this environment without being pushed into it. 
Cristy's Autumnal Lattice She did a three-tiered display that looks like something you'd see in a pie shop window in autumn. Her flavors are all autumn-themed as well, as are her fruits and colors, and all three of her pastries held up well.
Tasha's Sea or Ski? Paul dings her for not glazing the pies so that the pictures she made look a bit matte and unfinished (especially the pecan pie, which was last out of the oven and barely was finished in time.) I will not ding her for thinking American pecan pies have whiskey because people think weird things about us and alcohol. (But pssst, they don't.)
Dan's Journey Around South America These are quite jaunty-looking, but the flavors are not working. The pastries are all very sweet chocolate, vanilla, etc. But they don't match the fruits plopped inside them, as if Dan didn't quite think through how they would blend together because he was so focused on how they would look.
Dana's The Apple of My Pie Dana's concept is clever. She did a pie base with a tree on it, growing little pies. The problem is that the pies themselves are not as well thought out as the design and the base is sadly underbaked.
Matty's Ski Trip Matty's pie tops cracked and broke coming out of his pie tins. Paul is kind and says it's a bit rustic, but Prue is not even going to let him baby one of his favorites and calls out that the top is raw, noting where things are undercooked. She does give praise where deserved, though, and this is why we like Prue.
Saku's Pie Chart Oh my god, it's so CUTE. Unfortunately, it is a case of looks over substance, as the first pie is undercooked. The second is blessedly better, much to Prue and Paul's relief, because it's obvious they're charmed by it.
Josh's From Flour to Flower I continue to argue that though Josh is forgettable as a contestant, his bakes make him a dark horse this season. These sunflower pies put the show and stopper in showstopper. The flavor is spot on, to the point that Paul and Paul can't fault it in the slightest. They seem a little shocked.
Rowan's Lattice Fabulous Pasty's drunken liquid, Edina, you can't get out of the tin. I mean, I don't know what the judges are talking about; as far as I'm concerned, he captured them perfectly. 
Nicky's Gran's Garden Trio Prue is very kind, saying how Nicky managed to "jolly it up" before Paul sighs that he never had a dry apple pie before. Can we be done here? I think we can.
Despite Josh deserving Star Baker, he is once again named skip, with Paul and Prue giving it to Cristy, which is really and truly, well, fine. As for who is leaving the tent, let us sign with relief that Nicky is finally moving along to her wee home back to whence she came, while Rowan will also exit the tent, which is for the best, as he was not long for the competition either.
---
By
for on October 27th, 2023
More to Love from Telly Visions