By
for on October 20th, 2023
When 'The Great British Baking Show's "Chocolate Week" Goes Pear-Shaped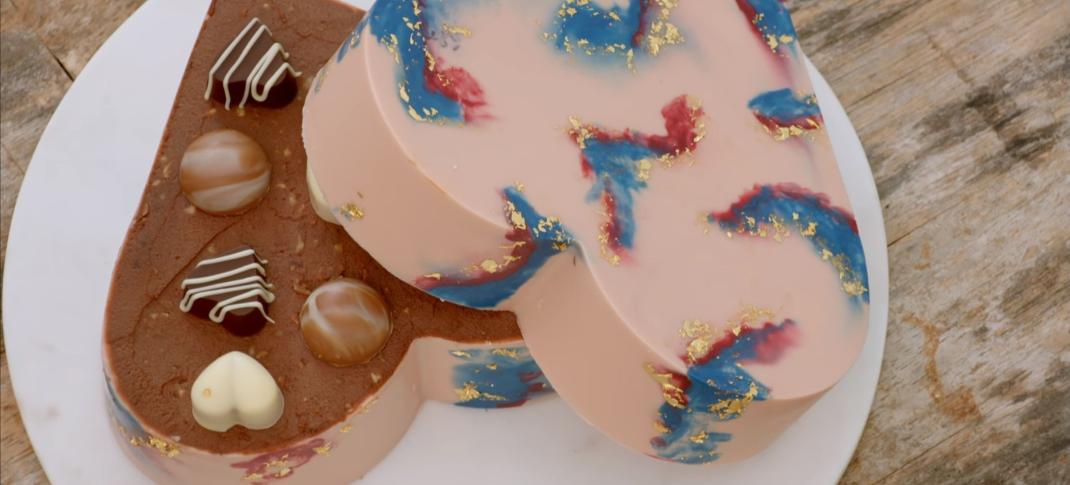 It's Chocolate Week on The Great British Baking Show, one of the most brutal weeks the series does regularly. We know this because back in the old BBC days, Chocolate never showed up until the latter half of the season, and during Channel 4's "GBBO-but-Nailed-It!" phase, they would rush it up, so it came practically at Week 4. Oh, dear, it is Week 4, and the Chocolate is already here? That's never a good sign. At least Alison's complete comfort in insulting Noel is here to make up for what could be a total catastrophe.
The clips at the top of the episode hint that it will be a bit of a meltdown, too, even if Chocolate Week is being filmed in April instead of July and August now that the series has returned to its regularly scheduled spring filming. But just because the contestants don't have to fight the weather and climate change while competing under hot television lights doesn't mean this will be easy. Chocolate is one of the most complex mediums to work with; one might argue caramel is technically more manageable, though it's just as demanding; it at least is more manageable to salvage when things go pear-shaped.
However, a reprieve may be coming because even though the Signature Challenge starts normally, the first day does not end as anyone expects.
This week's Signature Challenge is a "luxurious" chocolate torte, a flourless chocolate cake. As Prue notes, it's not technically flourless, as much as wheat flourless. It can use other flours (almonds, etc.); the point is that it is not supposed to have a lot of gluten, so it doesn't rise very much. That's how it keeps the dense, thick texture and the super-chocolate mouthfeel. Add in chocolate ganache icing on top, and you get this chocolate-on-chocolate luxurious sensation of eating something super decadent. As always, the Signature is judged on a Pass/Fail metric.
Nicky Dreamy Chocolate Torte (Pass) It's officially the prettiest thing she's made yet, and for once, the taste is just as good.
Matty Hazelnut & Chocolate Torte (Pass) The sides are melting, but the top is pretty, and the cake tasty.
Dana I Cherry-ish You Chocolate Torte (Pass) The height is impressive, if shortlived, and the taste is spot on.
Josh Raspberry & Chocolate Torte (Fail) The sides are mush because it's melting inside, and the slice is liquid pudding.
Cristy Cherry & Chocolate Torte (Fail) Her collar didn't come out right, her leaf molds failed utterly, and the cake is dry.
Dan Chilli & Chocolate Torte (Fail) The cake is gluey, and the alcohol flavor is overwhelming
Tasha Ginger, Almond & Dark Chocolate Torte (Fail) The cake is too wet and pudding, and again, too much alcohol.
Saku Chocolate & Raspberry Torte (Fail) Paul hates she wrote her name on it. Prue says it's too much; she can't eat a whole slice.
Rowan Mocha Chocolate Torte (Pass) The only flourless cake in the tent, Roawn pulls it off beautifully: elegant, light, perfectly balanced taste.
From zero to hero for Rowan. Had Paul hated him less up until now, he might've landed a handshake. Less surprising on the Tasha fail, she struggled in Cake Week; they're not her forte. I'm slightly surprised they failed Dan, but I think Paul is still mad about last week. Or maybe I am. (I'm totally still mad about last week.)
Prue sets this week's Technical Challenge, which (once the judges are dispatched) is a half-dozen individual-sized white chocolate cheesecakes with black currant jelly topping. British-style cheesecake is a little different from New York Cheesecake but much closer to our version than the French basque cheesecake. (Basque cheesecake has no crumb base and is poured wholesale into parchment paper in a springform mold and baked sans water bath.) British cheesecake uses an oat biscuit base instead of graham cracker, and instead of swirling chocolate and cheese as we would, the chocolate is more of a "filling."
However, this is where things go sideways. Around the halfway point, Tasha starts looking peaky and putting her head in the freezer. The others also complain it's hot, but she legit collapses at her oven, suffering a migraine, and medical straight walks her out of the tent. She was sick during the week, and though she protests she'd recovered (and tested negative for COVID) — medical is firm she is not fit to continue today. Once again, hiring Alison ahead of this season was a godsend, as I cannot imagine Noel or (god forbid) Matt handling this situation with any grace.
Let's run down these cheesecakes, minus Tasha's, which remain incomplete in the oven.
8. Saku: Rushed, overbaked, melted
7. Cristy: Melted, grainy
6. Josh: Overbaked, over-caramelized
5. Dana: Overbaked and the jelly is rubbery
4. Nicky: The base is uneven, but the filling's ok
3. Rowan: Melted, but the inside's ok
2. Matty: A dip in the middle, but otherwise alright
1. Dan: The only ones that came out correct
Before we reach the showstopper challenge, the check-in with the judges has Paul tell us that Tasha's gone home and won't be back this week. On the one hand, I'm sorry to hear that, it sucks to be sick, and I'm sure she felt pressured not to call in, especially after last season's Bread Week debacle, where two contestants called out. Conversely, everyone in the tent can breathe easier; the Showstopper Challenge no longer matters. This overly early Chocolate Week horror choice has been saved from itself; with Tasha not competing in two out of three challenges, there's no way anyone is going home now.
For the final, and now completely irrelevant, Showstopper Challenge, the bakers are to make an edible chocolate box with a chocolate cake inside, along with a set of molded, filled chocolates. I take it back about this season trying to make it easier on the bakers. This is the sort of challenge that should be coming around the Quarter Finals, not Week Four. Good god, these bakers should be absolutely thanking Tasha for going home sick. At least Rowan should anyway, as He. Hasn't. Practiced. (His dissertation was due this week! He just graduated. Like, literally this week! Yes, absolutely, blanket pass for everyone. All together now: THANK YOU TASHA.
Let's see what people came up with anyway, and celebrate what they managed to create at their skill level.
Matty's Chocolate Box Cake The box is not shiny, but the Swiss cheese holes are adorable, and it's well-engineered. The cake inside is shiny, though, and I love how he took his filled chocolates and used them as cake decor along with the raspberries.
Dan's A Treasure Chest of Delight Chocolate Box Cake Dan was a whiz at decor, so it's no surprise this challenge was one he landed well. The sugar sand is a nice touch, as is the passion fruit icing on his cake, which looks like a gold treasure. 
Dana's Once Upon a Time Chocolate Box Cake She didn't finish, but what she did mage is deeply impressive because making the chocolate sphere is super difficult, and honestly, that she pulled that off alone is enough. The horses she did manage are cute as buttons, as are the decor bits around the one side. And her cake is yummy.
Rowan's Grandpa's Paints Chocolate Box Cake He also didn't finish, but for a Showstopper that he never got to practice, it's not that bad for a first spin. I love that his little chocolates are the opposite color of the flavors; I don't care that it's accidental; it's funny. And his cake is delicious.
Josh's Chemistry Centenary Chocolate Box Cake Josh remains a dark horse this season. His box isn't shiny, but the math equation decor is adorable, as is the matching piping on his chocolates. His cake is also tasty, even if it's designed to make Paul say, "I've got too many nuts in my mouth." Or maybe because of that.
Nicky's This is No Ordinary Chocolate Box Cake It's a slightly simpler version of Matty's idea, but she got her box to be shiny. She only managed three filled chocolates, but they are perfect, and her cake is moist and rich.
Cristy's For Love Chocolate Box Cake I would complain it's a bit 1980s in its design, but that's trendy, so I won't. Besides, we are celebrating. The box is well-made, has zero cracks, and it's beautifully shiny. Her cake looks delicious. Her chocolates look professional.
Saku's Time for Cricket Chocolate Box Cake She and Cristy were both smart, treating the bottom of their boxes like collars and then decorating the top. Her cricket field is also adorable. Her cake flavor is beautiful, and her chocolates are cute as buttons.
The bakers seem unaware they're not going home, which is silly because they've watched reality shows. The only question is who gets Star Baker, which by rights should be Matty or Josh this week, as both did well across the board. The answer is Matty. (Sorry, Josh.) As for who's out, no one, of course, but there's a double elimination to come next week as a result.
---
By
for on October 20th, 2023
More to Love from Telly Visions