By
for on September 5th, 2021
'The Great British Baking Show' First Teaser Heads Back To The Tent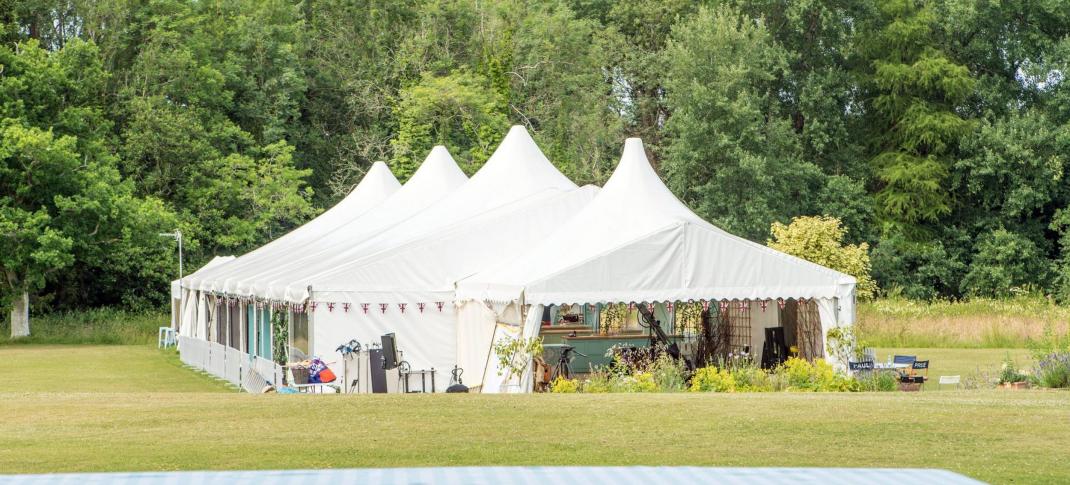 The Great British Baking Show is officially a fall staple for Netflix. It makes sense for American audiences to make everyone's favorite soothing baking series coincide with the cooling-off of the south since that is when Apple Pie season begins, leading directly to pumpkins, Thanksgiving, and the holiday season. But for both sides of the pond, the return to the tent, and the good feelings of amateur bakers struggling to produce cakes and biscuits worthy of a Hollywood handshake, is one everyone looks forward to, no matter what time of year.
This season is the show's 12th in the U.K. and the tenth to make it to the U.S. (Though since Season 3 is off under its own banner on the streaming service, this is called "Collection 9.") Much like last year's pandemic-produced affair, filming did not happen in the usual April-May-June period, since once again lockdowns delayed everything. Instead, Love Productions formed a Bake Off Bubble in July (one assumes the show once again used  Down Hall Hotel in Bishop's Stortford), and filming began post-European Championships. Filming took place over a much shorter one-month period, only ending recently. 
But though this season will once again feel tougher on the contestants than usual, fans still cannot wait to get back to the broad lawns of Berkshire's Welford Park shining in the sun, the mixers churning with butter, and the contestants anxiously kneeling in front of their ovens. The first teaser was very welcome indeed.
Loaf is in the air...

The Great British Bake Off. Coming Soon. #GBBO pic.twitter.com/34ERXP54U1

— British Bake Off (@BritishBakeOff) September 2, 2021
As usual, fans will have to wait until closer to the show's premiere to learn who will compete in the tent. Both Paul Hollywood and Prue Leith will be back as judges this year, with hosts Matt Lucas and Noel Fielding minding the contestants and encouraging them not to cry. There are also holiday episodes to come, and like every year, they'll arrive in early December with two installments, one from Christmas 2020 and the other from New Year's Day 2021.
The promo, which was released by Channel 4, does not list a release date. But the coming soon suggests there will be on in the next few weeks, indicating the new season will arrive at the end of September/beginning of October, much like last year's Bake-Off Bubble edition. Though neither Channel 4 nor Netflix has said anything, fans assume that the episodes will premiere on Tuesday in the U.K. at 8 p.m. BT and arrive at 3 a.m. ET the following Friday on Netflix for American viewers.
Loaf may be in the air, but bakers better hold on to their buns, until all our pastry dreams crumb true. Nearly all available episodes of The Great British Baking Show are streaming on Netflix. Seasons 4-11 are listed under Collections 1-8 (though not in numerical order). Season 3 is under Great British Baking Show: The Beginnings, and the Channel 4 Christmas and New Years' editions are under Great British Baking Show: Holidays. The original BBC holiday specials where Paul Hollywood and Mary Berry team up, Great British Baking Show: Masterclasses, are on PBS.org.
---
By
for on September 5th, 2021
More to Love from Telly Visions