By
for on July 14th, 2021
'The Great British Baking Show' Has Finally Started Filming A New Season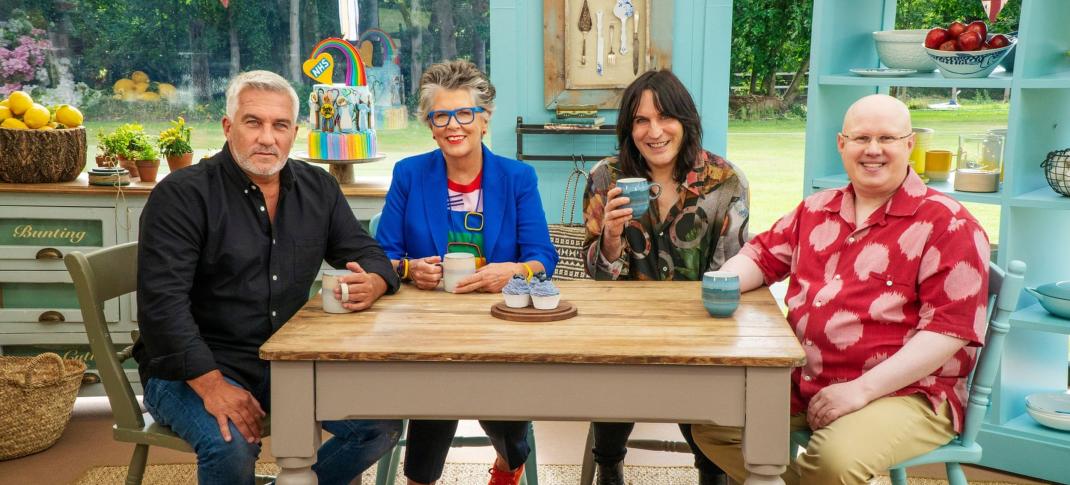 Since 2010, The Great British Baking Show has been one of the most comforting series on television. First overseas in its home in the U.K., then over here, first on PBS and then on Netflix, this kinder, gentler reality series about those who like to make cakes and cookies for fun has been a national pastime. And with the pandemic, the series has become even more popular, as U.K. fans turned to it in lockdown, while Netflix viewers did watch-alongs here in the States. It was such a staple even American TV shows like This Is Us showed their characters watching at home.
Filming the show in pandemic conditions last year was not easy. The show is usually taped over a ten-week span starting in April, giving the contestants plenty of time between bakes to practice at home. But COVID precautions, like the show's famous "Bake-off Bubble," scrapped contestants' abilities to go home. More importantly, filming was delayed by lockdowns, moving it from the gentle springlike temperatures in England to the heat of summer and a far shorter filming schedule of just five weeks over July and August. The result got fans the series only a few weeks later than usual, but with a much more stressful feel.
Viewers have been waiting to see how GBBO would fare in 2021, and things were not any kinder this year than last from a scheduling perspective, with yet another lockdown keeping filming on hold throughout the spring months again. When the lockdown lifted, filming for several series and films on hold jumped into action in June, like the Downton Abbey movie sequel. But GBBO did not. Fans have been keeping a sharp eye out ever since for evidence the show was coming back at all.
But now, in mid-July, Paul Hollywood has revealed the tent is back up and the bakers are in it.
        View this post on Instagram                      
The Great British Baking Show will be back, and probably in the same spot on the calendar where it debuted last year, at the end of September. For those smarting over the Euros loss this past weekend, it was a nice consolation prize. But it was also a warning for those concerned with the feel of last season's hotter and more rushed competition. That kind and gentle feeling will likely still be somewhat absent, as filming will once again be more brutal, hot, and limited than in non-pandemic times.
What fans can hope is that the production took some of those fan criticisms to heart. For example, chocolate week, which was difficult in the best of circumstances, was an outright trainwreck on the hottest day of the year in 2020. (Climate change is not the friend of chocolate either, especially in August.) Hopefully, this season's challenges will take the reality of the English summer in mind, and an English summer beset by warming temps at that. Perhaps it will also consider making some of the challenges easier since the contestants can't go home and practice in their kitchens for an entire week each time. 
And for heaven's sake, someone, anyone please fix the Noel-and-Matt hosting situation. Please and thanks.
---
By
for on July 14th, 2021
More to Love from Telly Visions