By
for on August 21st, 2017
'The Great British Bake Off': The Changes Explained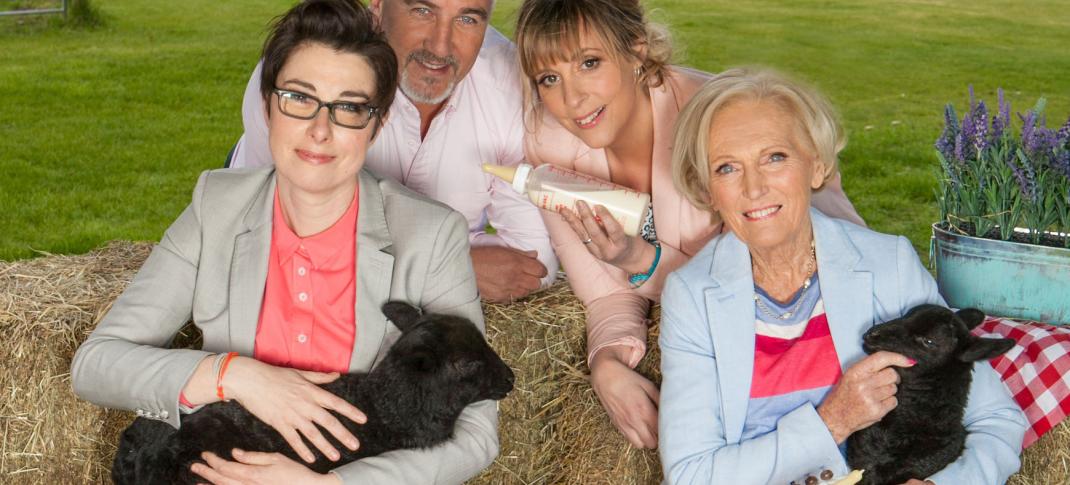 In case you hadn't heard, The Great British Baking Show (aka The Great British Bake Off in the UK) has come to an end. At least in its currently familiar BBC form.
If you are a GBBS devotee, you know that the season finale aired on PBS earlier this month. Since only the four most recent of seven BBC seasons have been broadcast in the US, it is possible that one of the first three seasons could be picked up by the network. But after that, things seem to be up in the air.
Why, you ask? Well, you may recall that about a year ago the owners of the show, Love Productions, decided to move house from the BBC to a rival and higher paying commercial network, Channel 4. The relocation caused something of a casting mutiny with co-presenters Mel Giedroyc and Sue Perkins and judge Mary Berry all abruptly quitting the show, citing their displeasure with the producers' choice of greed over loyalty. The three women have been replaced, but not without some controversy.
What we do know is that the debut of Channel 4's The Great British Bake Off is set to air in the UK on August 29th. Introduced to TV audiences with this fanciful animated trailer and featuring a song by none other than Sir Paul McCartney, apparently some viewers found it creepy or disturbing. Personally I thought it was playfully creative and wasn't unsettled at all by the alleged "vomiting" donut. But you can judge for yourself.
So the question is, after all this upheaval, where do things stand with the original cast members?
Paul Hollywood has followed the show to Channel 4 and will continue his judging duties with a new partner and culinary guru in her own right, Prue Leith.
The South African-born Leith is a Cordon Bleu trained chef with quite an extensive resume.  She has been a caterer, restaurateur, food columnist, cookery school founder and novelist. No stranger to television, Prue has also presented numerous gastronomic and business-related shows since the 1970's.
Joining the judges and providing stress relief for the bakers will be a new presenting duo - renaissance woman (and successor of Stephen Fry as host of QI) Sandi Toksvig and surreal stand-up comedian, actor, artist and celebrity comedy panelist extraordinare Noel Fielding.
Regarding those who made the decision to remain loyal to the Beeb and leave the Bake Off, no worries. The ladies have landed on their feet.
Friends since university, Sue Perkins and Mel Giedroyc have been writing and presenting together beginning in the early 90's. And while they aren't exactly joined at the hip and take on plenty of individual projects, viewers obviously love the witty, silly duo who calmed and consoled many a distressed baker over the years.
Last month, it was reported that Sue and Mel will host a reboot of a popular BBC game show, "The Generation Game," that first aired in the 1970s. "Pairs of family members across generations will battle it out in a series of fun performance and task based games with the ultimate goal of facing the legendary conveyor belt, and taking home an array of fabulous prizes."
As for celebrity chef and national treasure Mary Berry, she's had very little leisure time since she departed the tent last year. She has already hosted two shows for the BBC, Mary Berry's Secrets From Britain's Great Houses and Mary Berry Everyday.
Now it's been announced that a third program, entitled Britain's Best Cook, will be hosted by Mrs. Berry. Mary sounds more than ready to take on another competition format. "I am never more at home than when I have my judging hat on," she said. "This series is going to encourage proper home cooking, which I have always championed, and I cannot wait to start."
At this point, PBS has not publicly revealed any decisions about whether it will broadcast the new Channel 4 Bake Off nor any of Mary or Mel and Sue's current and upcoming television projects. As far as I'm concerned, what's happened has happened. I wish everyone involved the best of luck with their reboots and new endeavors and if I have the opportunity to watch any of their shows, I will go in with an open mind and fresh eyes.
What's your take on the casting break-ups and shake-ups? Will you watch the revamped baking show if it comes to PBS? Share your opinions and concerns in the comments section if you please!
---
By
for on August 21st, 2017
More to Love from Telly Visions