By
for on March 19th, 2017
Meet the New 'Great British Bake-Off ' Presenters!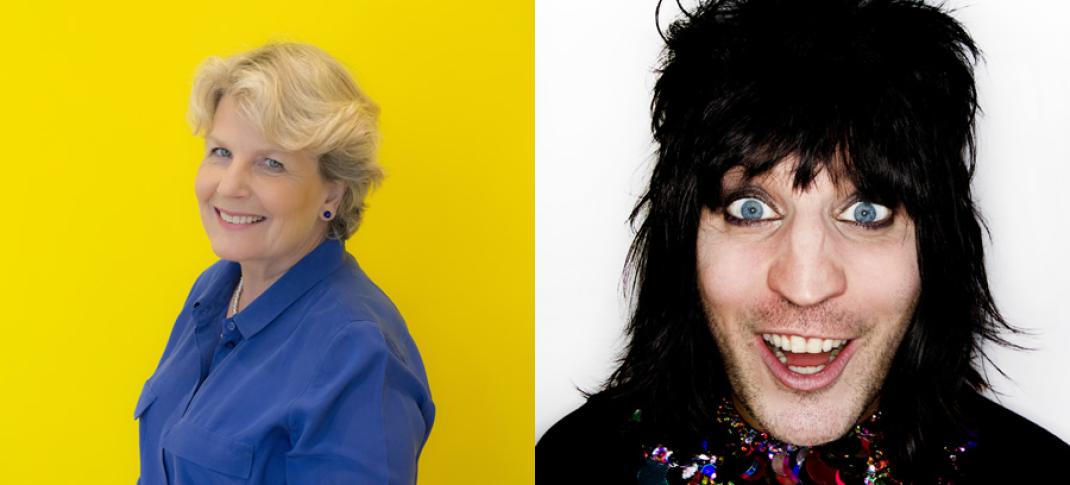 Attention, Great British Bake-Off fans! If you're like me you have been apprehensive about who will take the place of our beloved baking show gals, Mary Berry, Sue Perkins and Mel Giedroyc. You may even have sworn off the show all together for pulling up stakes at the BBC and going to the highest bidder, Channel 4.
Well, this afternoon the show's officials finally announced their rebooted line-up. The new presenters have been revealed to be Sandi Toksvig and Noel Fielding!
Toksvig is a renaissance woman - playwright, novelist, and new QI quizmistress. And if that's not impressive enough, in 2015, Sandi co-founded a new political party in the UK, The Women's Equality Party. Accompanying today's news, Sandi had many kind words for her new co-host and the show in general.
"It is an extraordinary honour to part of this national treasure of a show," said Toksvig. "Noel Fielding is one of the nicest guys in show business. The first time I met him I felt like I had met a rather wayward cousin whose take on the world made me laugh. The only down side is that he has much better dress sense that I do.
"I spend my daytimes on Channel 4 already so it will be a treat to be there in the evenings. I am so delighted to be working with Love Productions and Channel 4 on this best of British show."
Fielding is best known for his work as part of the surreal comedy troupe, The Mighty Boosh, and the sitcom series of the same name which has a large cult following.  Noel is also a frequent guest on many British comedy panel shows and was a team captain for five seasons on the music based show, Never Mind the Buzzcocks. Noel's comments about his new gig were typical of the quirky comedian.
"GBBO is one of my favourite shows. I've always loved brightly coloured cakes and Sandi Toksvig so this is a dream come true for me! It's basically the double."
The pair will join stern judge Paul Hollywood, who came with the show from BBC One. Finally, previously rumored contender Prue Leith, a restaurateur, cookery writer, author and television presenter, has also been confirmed as the judge to replace Mrs. Berry.
Hollywood and Leith both expressed their anticipation to work with the new team and to get back to work in the tent. Prue said, "I cannot wait to see what the real stars of the show – the bakers – are going to create for us. It is such an honour to be part of The Great British Bake Off team."
So what should we expect from the new hosts? Well, personally I'm not that familiar with Ms. Toksvig's work but her if her aforementioned resume is any indication; I foresee some witty cultured repartee.
Noel Fielding, on the other hand, I know quite well and I'm fascinated to discover what he'll bring to the tent. His wardrobe is legendary as he frequently wears sequined capes, colorful ponchos and fedoras with bunny ears. Then there's his whimsical storytelling style wherein he re-enacts a dream about being a tea bag or transforms into Old Gregg, a lonely fish/man who drinks Baileys from a shoe.
But don't worry too much. Noel has an art school background so he is visually creative which will be a plus when discussing showstopper bakes. Also when I saw his live show last year, I was pleased to find that he has a great talent for spontaneous banter with the audience. He was funny with people but kind, not snarky or cruel. If the bakers let him, I'm sure he could be a comforting presence. Freaky, but comforting.
If you'd like to see how Noel and Sandi will look side by side, this is the best I can do for now – a clip from QI.
At this point, there's no way of knowing if or when we'll be able to see this new incarnation of the baking show in the US.  All we can be sure of for now is that The Great British Bake Off will begin in the UK on Channel 4 later in 2017 with a brand new series featuring 12 amateur bakers. 
---
By
for on March 19th, 2017
More to Love from Telly Visions