By
for on August 24th, 2023
'The Gilded Age' Season 2 Will Take Us Back to Old New York This Fall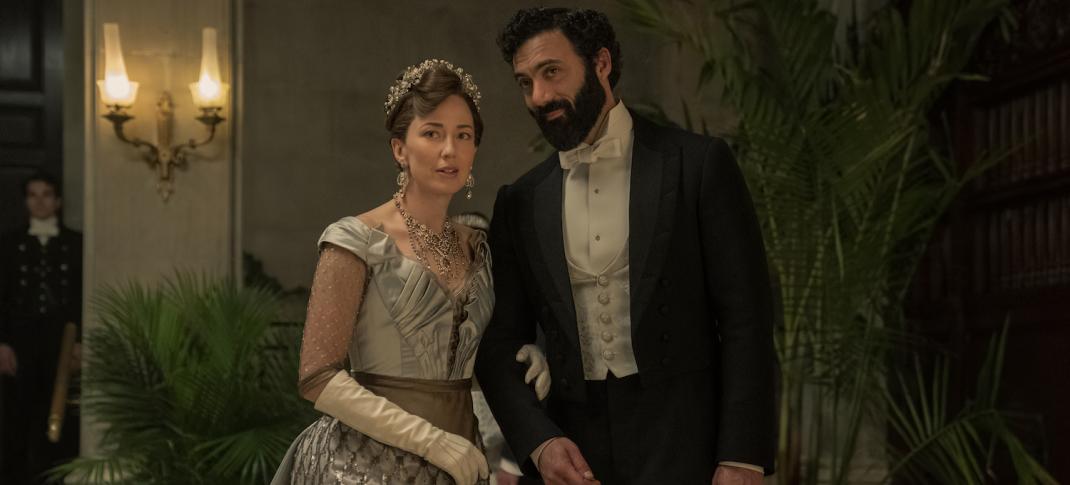 Julian Fellowes' ambitious American-set period drama The Gilded Age is finally set to return this Fall, dropping us back into the highly entertaining (and seemingly neverending) battle between the old money snobs and nouveau richer strivers of late-nineteenth-century New York. And while Fellowes' American answer to Downton Abbey may occasionally feel closer to the backstabbing schemers of Gossip Girl than the stiff-upper-lip stoicism of the Grantham family, that doesn't mean it's still not wildly fun to watch. 
From the unapologetic social climbing engaged in by industrialist billionaires George (Morgan Spector) and Bertha Russell (Carrie Coon), the dry disapproval of anything that might be called modern by widower Agnes van Rhijn (Christine Baranski), or the do-gooder impulses of young newcomer Marion Brook (Louisa Jacobson), there's plenty to enjoy here. (And, of course, all the lavish costumes and elaborate hats look as though they will remain 100% on point.) Fans can expect to see Bertha continue to butt heads with society HBIC Mrs. Astor (Donna Murphy) in Season 2, as she schemes and plots to not only make New York's old guard accept her and her family but carve out a place for herself among its leadership. 
I wouldn't bet against her, is what I'm saying. 
Series executive producer David Crocked told Vanity Fair that the primary arc of Season 2 would follow a story of "dueling opera houses", as Bertha doesn't take kindly to her rejection from the highbrow Academy of Music, the venue that most of Manhatten's elite choose to patronize. Furious, she decides to back the upstart Metropolitan Opera with her wealth and patronage instead.
"The opening nights of the 1883 season — and the first ever opening night of the Met — fell on the same night," Crockett said. "So you have this very clear choice for all of New York society: Are you going to go the old money route or the new money route? It's a great engine for a classic clash." 
(And...we all know how that turned out, don't we?)
By all accounts, the series' eight-episode second season is going to be bigger and grander than its predecessor in every way. After the Season 1 finale, the show promoted most of its supporting and recurring actors to series regular status, meaning that its main cast now clocks in at over two dozen strong.  The drama also added 11 additional new faces to its ensemble, including Robert Sean Leonard (House) as the head of the church attended by Manhattan's elite and Laura Benanti (Gossip Girl) as the wealthy young widow who hires new architect Larry Russell to design her Newport mansion. 
The series' massive ensemble also includes Cynthia Nixon, Denée Benton, Ben Ahlers, Michael Cerveris, Kelley Curran, Taissa Farmiga, Jack Gilpin, Simon Jones, Sullivan Jones, Celia Keenan-Bolger, Debra Monk, Kristine Nielsen, Kelli O'Hara, Patrick Page, Harry Richardson, Taylor Richardson, Blake Ritson, Douglas Sills, Erin Wilhelmi, Nathan Lane, Audra McDonald, John Douglas Thompson, Ashlie Atkinson, Nicole Brydon Bloom, Christopher Denham, David Furr, Ward Horton, and Matilda Lawler. (Whew!)
Here's the Season 2 logline, which offers a bit more detail about what we can expect from the series' return.
The American Gilded Age was a period of immense economic change, of great conflict between the old ways and brand new systems, and of huge fortunes made and lost. Season two of THE GILDED AGE begins on Easter morning 1883, with the news that Bertha Russell's bid for a box at the Academy of Music has been rejected. Through the eight episodes of the season, we watch as Bertha challenges Mrs. Astor and the old system and works to not only gain a foothold in Society, but to potentially take a leading role in it. George Russell takes on his own battle with a growing union at his steel plant in Pittsburgh. In the Brook House, Marian continues her journey to find her way in the world secretly teaching at a girls school while much to everyone's surprise Ada begins a new courtship. Of course, Agnes approves of none of it. In Brooklyn, the Scott family begins to heal from a shocking discovery, and Peggy taps into her activist spirit through her work with T. Thomas Fortune at the NY Globe.
The series is created, written, and executive produced by Fellowes. Sonja Warfield also serves as writer and executive producer while Michael Engler is both a director and an executive producer. Gareth Neame, David Crockett, Bob Greenblatt, and Salli Richardson-Whitfield also executive produce. The show is a co-production between HBO and Universal Television.
The Gilded Age Season 2 will premiere on Sunday, October 29 at 9:00 p.m. ET/PT on HBO and will be available to stream on Max. Season 1 is already streaming on Max. 
---
By
for on August 24th, 2023
More to Love from Telly Visions