By
for on May 19th, 2022
Production Begins on 'The Gilded Age' Season 2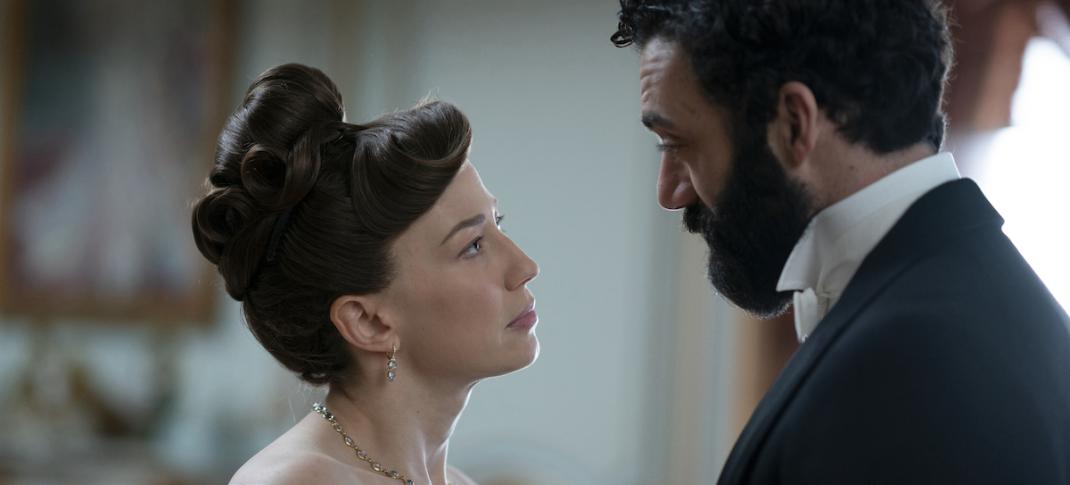 Production on Season 2 of the period drama The Gilded Age has officially begun, with shooting taking place in Rhode Island and New York state.
The series hails from Julian Fellowes and is his long-awaited attempt at making an American version of Downton Abbey, set among the old money snobs and nouveau riche strivers of late-nineteenth-century New York's uber-rich. The Gilded Age may not have quite found the right way to balance its sprawling cast and its upstairs versus downstairs stories. However, the period series boasts enough lavish sets and sumptuous costumes to make it a more than pleasant Monday night diversion, and a proper addition to the HBO lineup. 
Premium cable network HBO announced the start of filming on social media with a behind-the-scenes shot featuring stars Morgan Spector and Carrie Coon as railroad tycoon George Russell and his wife, Bertha. She is determined to take her place among the elite of New York society. (Basically, they know what the people want, and it is everyone's favorite robber baron romance, is what I'm saying.) Season 2 will also star Christine Baranski and Cynthia Nixon as Agnes and Ada, the old money family across the street who are not so fond of the social climbers.
The rumors are true. #GildedAgeHBO has begun production on Season 2. pic.twitter.com/yT5DL4QyoV

— HBO (@HBO) May 16, 2022
Hard to believe that pristine white ruffled number is an understated look for Mrs. Russell, huh? Agnes would need smelling salts.
There's little indication of how much time has passed since Season 1 concluded. But, regardless, Bertha has plenty to be happy about since when we last saw the Russells, she had just thrown a glamorous ball with everyone who was anyone in New York society in attendance. (Even if she had to essentially blackmail some of the most influential into coming. Details, details)
The HBO production has been pretty busy since the Season 1 finale. The series promoted a dozen recurring actors to series regular status and added 11 new faces to the cast, including Robert Sean Leonard (House) as the head of the church attended by Manhattan's elite and Laura Benanti (Gossip Girl) as the wealthy young widow, who hires new architect Larry Russell to design her Newport mansion.
Yes, you read that right; that means The Gilded Age boasts upwards of two dozen primary cast members, with over a dozen more hanging around in supporting roles when its second season begins. (Plus carryover secondary characters from Season 1 like Nathan Lane's Ward McAllister.) I have no idea how we're meant to even keep track of all these people's names next year, let alone how the series intends to give them all any sort of meaningful roles to play. 
Since filming has only just started, we don't know when we can expect Season 2 on our screens or what its major storylines will involve. But it seems a similar springtime airdate is increasingly probable since its first outing was a solid ratings performer in that timeslot. 
The Gilded Age Season 1 is currently streaming on HBO Max.
---
By
for on May 19th, 2022
More to Love from Telly Visions