By
for on April 15th, 2022
'The Gilded Age' Expands Its Cast for Season 2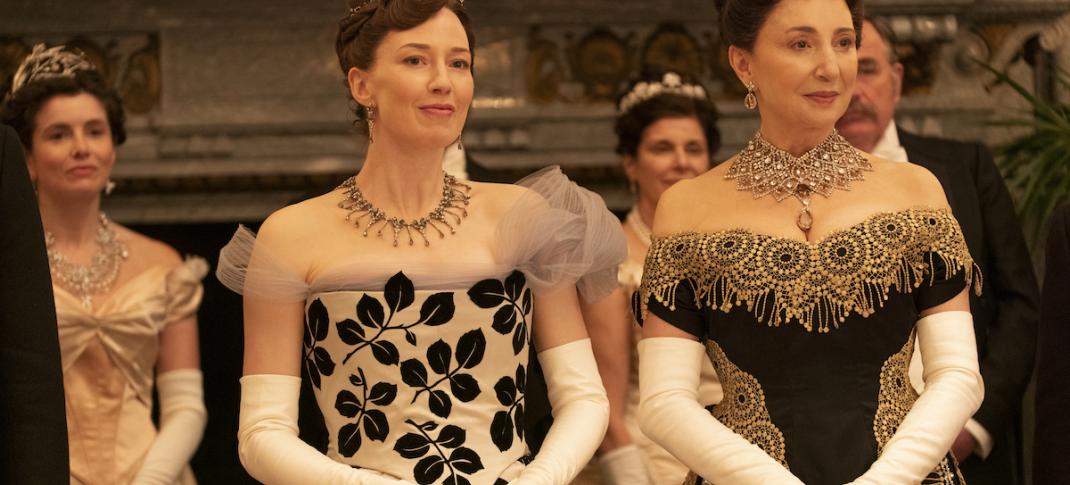 If you thought the first season of HBO period drama The Gilded Age had a lot going on in its first season, well, just get ready for Season 2. Ahead of the start of production on the drama's sophomore outing the cable network has decided to expand its cast in a big, big way, promoting over a dozen formerly recurring actors to series regular status, hitting that the drama will not only continue to depict the status competition between Manhattan's moneyed elite but dig even further into the lives of its downstairs characters. 
(Your mileage may vary on whether you think that's a good idea or not.)
Thirteen recurring cast members will now be regulars, including Kelli O'Hara as Aurora Fane, Donna Murphy as Mrs. Astor, Debra Monk as Armstrong, Kristine Nielsen as Mrs. Bauer, Taylor Richardson as Bridget, Ben Ahlers as Jack Trotter, Kelley Curran as Turner, Douglas Sills as Baudin a.k.a. Borden, Celia Keenan-Bolger as Mrs. Bruce, Michael Cerveris as Watson, Erin Wilhelmi as Adelheid Weber, Patrick Page as Richard Clay and Sullivan Jones as T. Thomas Fortune.
They'll join Christine Baranski as Agnes Van Rhijn, Cynthia Nixon as Ada Brook, Louisa Jacobson as Marian Brook, Blake Ritson as Oscar Van Rhijn, Carrie Coon as Bertha Russell, Morgan Spector as George Russell, Taissa Farmiga as Gladys Russell, Harry Richardson as Larry Russell, Denée Benton as Peggy Scott, Simon Jones as the Van Rhijns' butler Bannister, and Jack Gilpin as the Russells' butler Church. 
All told that's two dozen major characters on the canvas, which begs the question: Is there really story enough for all these people?
The identities of some of these faces may provide a preview of some of the plots we can expect to see: The presence of Curran's Turner certainly implies that she's not quite done serving as an antagonist for the Russell clan. Now that Bertha Russell essentially strong-armed her into attending her season-ending ball, it makes sense that Murphy's Mrs. Astor might graduate from being a nebulous background power broker to a three-dimensional woman. A romance between Peggy Scott and Jones's  T. Thomas Fortune seems more than likely. And the presence of so many servant characters certainly feels like the show leaning into a more American Upstairs Downstairs feel.
On the plus side, at least we won't have to deal with Marian's jerk ex in Season 2. Thomas Cocquerel, who played opportunistic lawyer Tom Raikes, won't be back next season. Small mercies, I suppose. Does this mean Marian might finally notice the handsome man who literally lives next door? (I'm always in favor of more screentime for Harry Richardson, is what I'm saying.)
Since production is only just gearing up, there's no firm word yet on when we can expect to see The Gilded Age's second season arrive on our screens, but a similar Spring 2023 timeslot feels fairly likely
The Gilded Age Season 1 is currently streaming on HBO Max. 
---
By
for on April 15th, 2022
More to Love from Telly Visions