By
for on May 27th, 2015
Get Your First Look at 'Vicious' Season 2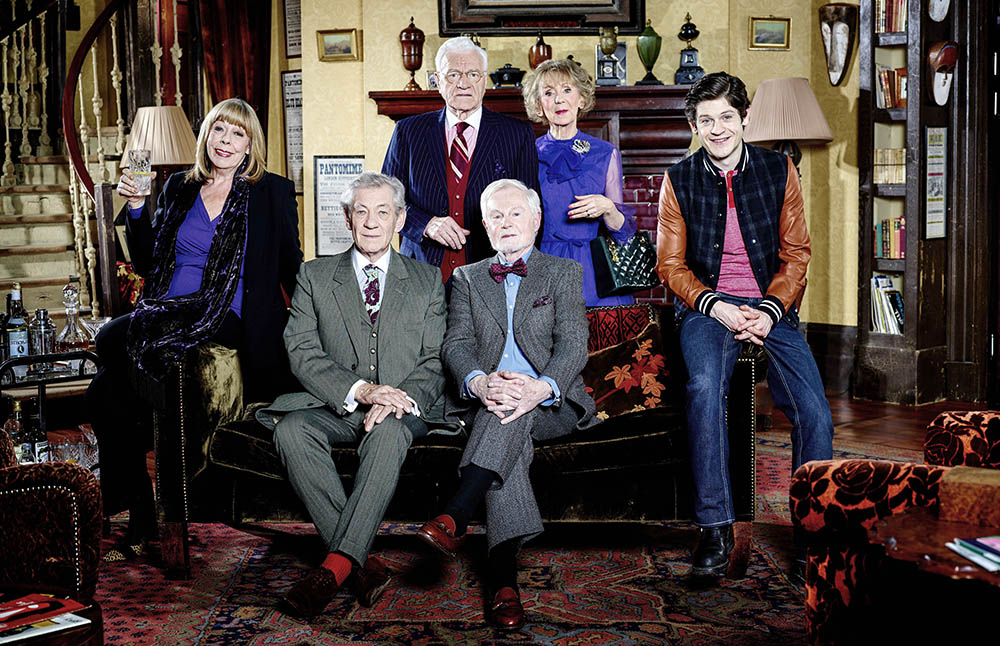 The highly anticipated second season of Vicious, the ITV sitcom which stars acting legends Sir Ian McKellen and Sir Derek Jacobi as a bickering, co-dependent gay couple, is almost upon us. It seems like we've been waiting for this forever, which in some ways, we have, since Series 2 was commissioned in September 2013 and the first season originally aired here in the US last summer. So, yeah, bring on new episodes! We are sooo ready for them. 
The second season will once again be comprised of six half-hour episodes. McKellen and Jacobi are both returning (obviously) as the titular "vicious" couple, along with regular cast members Frances de la Tour (as Stuart and Freddie's BFF Violet) and Iwan Rheon (as Ash, their younger upstairs neighbor). 
Per the official press release, Season 2 will see Stuart and Freddie attempting to deal with many changes in the lives of their friends. Violet has married a mystery man who now seems to have gone AWOL. Ash is all loved up with new girlfriend Jess (played by guest star Georgia King). And ditzy Penelope and no nonsense Mason continue to be baffled by everyone around them. Throughout the new series we'll see our family of friends try ballroom dancing, discover what the inside of a gym looks like and try sushi for the very first time.
Plus, we're apparently also going to meet Violet's sister this season, and she'll be played by the always amazing Celia Imrie. What's not to love?
Watch the brand new ITV trailer below:
"Not many comedies can claim to have two knights and a three-time Olivier Award winner amongst its stellar cast," said Elaine Bedell, ITV's Director of Entertainment and Comedy. "We're delighted to have Vicious back on ITV for its second series".
I actually ended up really enjoying the first season of Vicious. To be fair, it's not perfect by any means, and there are certainly some problematic elements, but overall, it's fun, and the comedic chemistry between Jacobi and McKellen is pretty great. (I also just love Violet. Love love love.) Hopefully, the new season will have successfully ironed out some of the issues from the show's first outing. Fingers crossed.
Season 2 of Vicious is set to premiere on Monday, June 1 in the UK, and will be returning to America on PBS stations later this summer (late August, but make sure you check in with your local station to confirm the exact date).
Are you looking forward to more Vicious? 
---
By
for on May 27th, 2015