By
for on May 18th, 2016
'Vicious' Finale Special to Air This Summer on PBS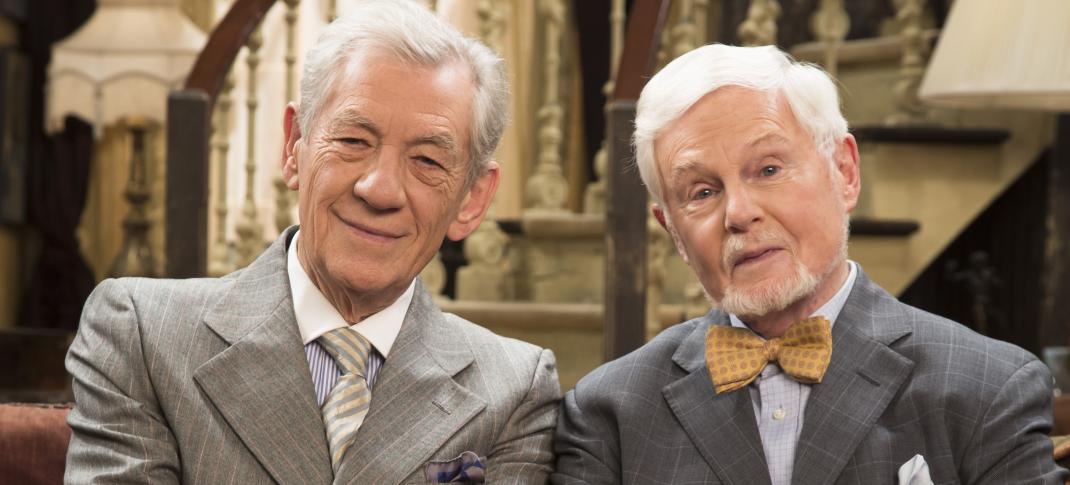 Comedy series Vicious will air its last episode this summer.
The news the show would not be returning for a third season was announced by ITV late last year, though the cancellation blow was somewhat softened by the fact that it was given a final, extended one-off episode to wrap everything up. And, at last, now we have an official airdate for the series' swan song.
The comedy will officially bow out with a one-night, series finale special that's set to air on Sunday, June 19 on PBS stations nationwide. Reminder, however: June is a pledge month for most PBS stations, so it's highly likely your particular station may be moving this broadcast around on its schedule. Make sure you check your local listings! (WETA folks, we'll be airing this on WETA UK that day!)
The sitcom stars acting legends Sir Ian McKellen and Sir Derek Jacobi as a bickering gay couple who've been together for over fifty 50 years, and follows their various domestic and personal adventures, which usually involves appearances from their dramatic best friend Violet (Frances de la Tour) and aggressively normal upstairs neighbor Ash (Iwan Rheon).
The news of the Vicious' end is probably not incredibly surprising for most fans, given that ratings had been falling since its premiere, and since it boasts two leads with very full schedules, it took nearly two years to produce and air a second season. It's still a shame though, as McKellen and Jacobi were pretty fantastic together. (And, let's be real, it was kind of nice to see Iwan Rheon get to play a character who wasn't a complete psychopath like his alter ego on Game of Thrones.)
And, while it's sad that the show is coming to an end, it's nice that it's being allowed a proper goodbye, rather than just stopping and forcing us all to pretend that the endpoint from last season is the same things as a real ending.
The new special will pick up where the Season 2 finale left off, an episode in which we finally saw Freddie and Stuart get married. It will apparently follow a year in the life of the newlyweds as they navigate this new stage of their lives together.
The comedy series filmed its final episode before a live studio audience in London last December, but has not aired in the UK as yet either. (And from what I can tell there isn't a confirmed airdate for our British friends yet either. Possibly it will be close to the US one, but that's just a guess.)
Will you be sad to see Vicious end? Are you planning to watch the finale? 
---
By
for on May 18th, 2016
More to Love from Telly Visions