By
for on November 21st, 2017
Get an Early Look at the 'Call the Midwife' 2017 Christmas Special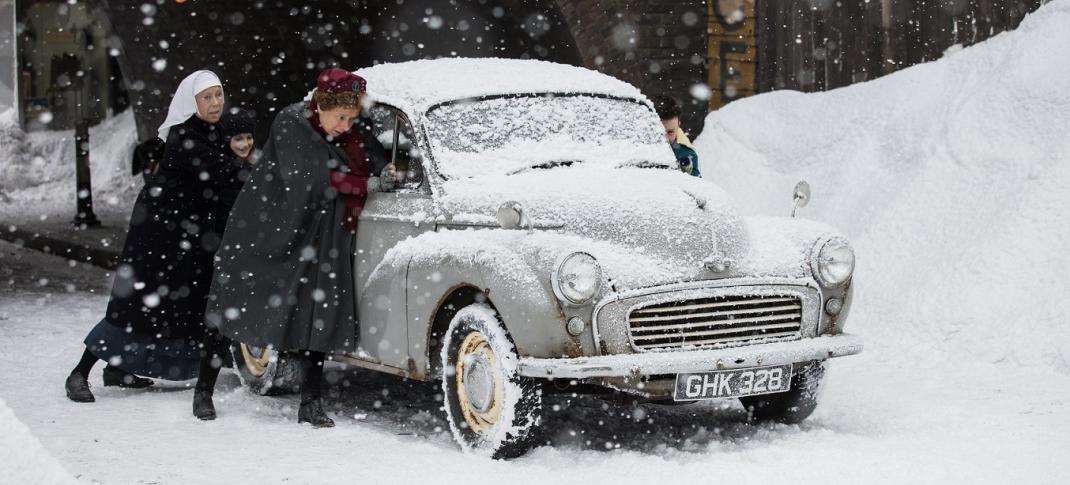 The holidays are approaching, which means it's almost time for one of our favorite traditions – the annual Call the Midwife Christmas special!
After last year's adventure in Africa, the nuns and midwives of Nonnatus House are staying a bit closer to home this holiday season. Though they'll definitely be quite a bit colder this time around. 
This year's festive special takes place in the winter of 1963, during what was popularly dubbed the Big Freeze. This was the coldest winter the nation had seen in 300 years – one which still registers today as one of the coldest on record in the United Kingdom. UK temperatures plunged, bringing the country to a standstill as lakes and rivers froze, and snow fell constantly.
These blizzard-like conditions will form the backbone of this year's holiday story, as the midwives must struggle to care for their patients while facing ice, snow, frozen pipes and downed power.
The BBC released a first look clip at the upcoming holiday installment, which features several scenes spliced together into one. We see everything from holiday stockings to hugs around a crackling fire, and of course, lots and lots of snow.
Watch for yourselves below:
The clip premiered during the BBC's annual Children in Need charity telethon. (This is the same event that also gave us a first look at Doctor Who's upcoming Christmas episode as part of its festivities.)
The Call the Midwife holiday special will air on Christmas Day in both the UK and the US. Season 7, which wrapped production a few weeks ago, will follow in 2018. (If history is anything to go by, this will mean a winter broadcast for our British friends, and a spring premiere for those of us here in the States.)
There are some big changes in store for the next season, which will follow the nuns and midwives of Poplar into the mid-1960s, as the slums of the old East End begin to clear to make way for new tower blocks.
Are you looking forward to more Call the Midwife? Let us know in the comments! 
---
By
for on November 21st, 2017
More to Love from Telly Visions