By
for on December 15th, 2016
'Call the Midwife' Christmas Special Preview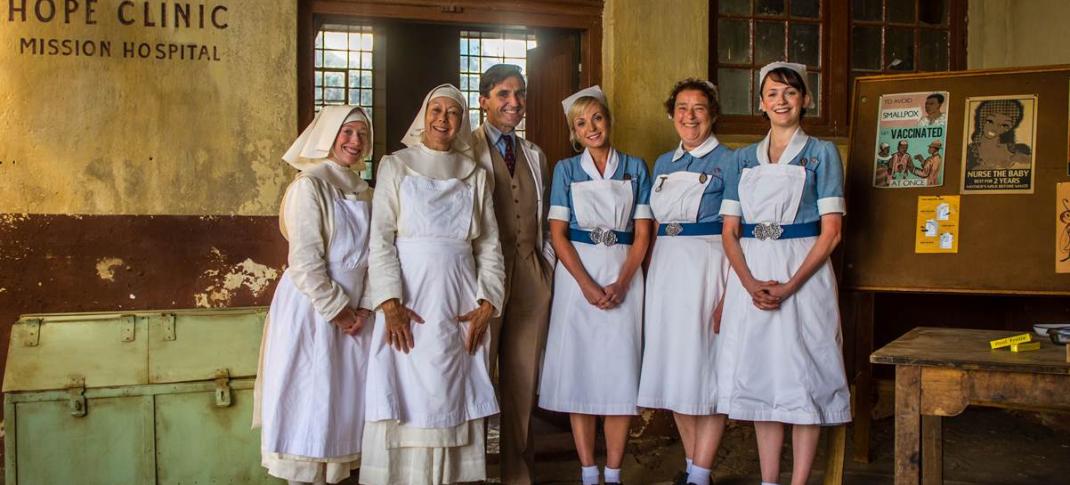 Christmas time is here and, fortunately for Call the Midwife fans, that means a holiday visit from our friends at Nonnatus House. However, don't expect a traditional wintery Poplar Yuletide this time around because the midwives and their friends unexpectedly find themselves responding to a dire medical situation in warmer climes.
Yes, our favorite nuns and midwives are going to South Africa this Christmas. 
On Christmas day Sister Julienne is informed that that a nun from their order, Mother Felicity, who headed the Hope Clinic in South Africa, has passed away. The facility is woefully understaffed and underfunded so the Church requests that a small contingent of medical personnel travel to the remote village to pitch in for a month. The group includes Nurses Franklin, Crane and Gilbert and Sisters Julienne and Winifred. Dr. and Mrs. Turner agree to run an urgently needed polio vaccination program while Rev. Hereward is chosen to disperse a mission society grant and assess the future viability of the Hope Clinic. Rounding out the party is Fred Buckle whose wartime sanitary engineering skills make him an essential asset to the clinic.
Upon arriving at their destination (the cast and crew filmed on location in Cape Town, by the way), our band of humanitarians encounter humble conditions to say the least. There is no electricity, the water is polluted and running out and the villagers live in extreme poverty. In addition, this essential medical center is staffed by a lone physician, the feisty and dedicated Dr. Myra Fitzsimmons (Sinead Cusack). Finally seeing as this is 1962 South Africa, the clinic and its patients suffer under the government policy of apartheid, the systematic practice of segregation and discrimination based on race.
What follows is a mixture of the harrowing and inspiring stories we've come to expect from Call the Midwife. The ladies are in their element dealing with births (both happy and heartbreaking), bonding with their patients and learning what motherhood means to the women in this repressed environment. As expected, the same hallmark empathy and gentle pursuit of justice that permeates every episode is present in this one as well.
And just in case you were wondering about the rest of the Nonnatus gang, Sisters Mary Cynthia and Monica Joan and Nurses Mount and Busby had to stay behind to mind the shop. Someone's got to deliver those East London babies after all. But never fear; we'll be sure to see more of them in the season ahead.
However, as we reported back in August, Miranda Hart's Chummy is indeed absent from the special although originally there were plans for her to participate in the episode and the following series.
I hope this preview has you looking forward to the upcoming special! The 90 minute episode is set to air on Christmas evening, Sun. Dec 25th at 7:30 pm. However, it's always best to play it safe and check your local PBS listings for dates and times.
May your holiday season be filled with the same spirit embodied by Call the Midwife –love, acceptance and service to our fellow man. Happy Christmas one and all!
---
By
for on December 15th, 2016
More to Love from Telly Visions