By
for on November 17th, 2017
Watch a Scene From Peter Capaldi's Final 'Doctor Who' Christmas Special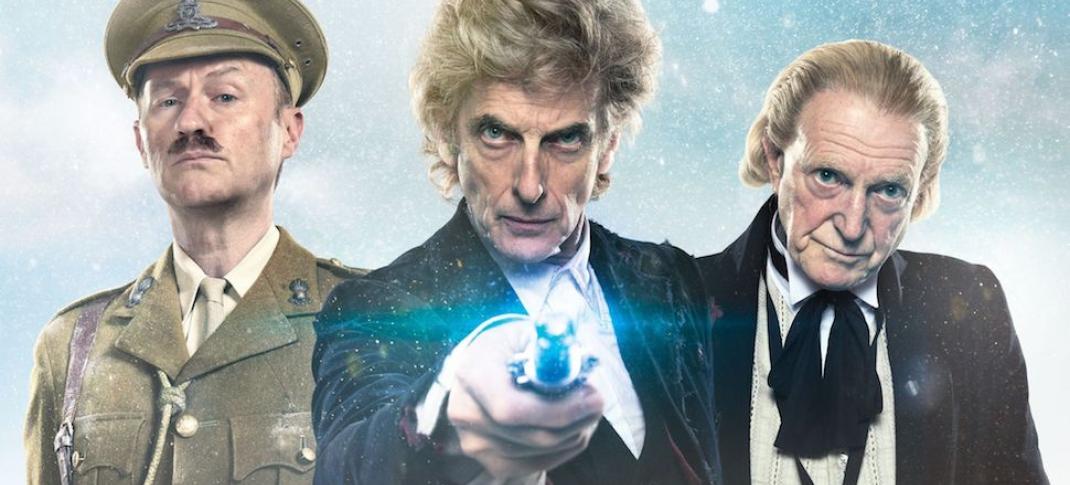 It's beginning to look a lot like Christmas, which means the countdown to new Doctor Who is on!
Of course, this year's holiday installment is a slightly bigger deal than usual, since the episode will mark Twelfth Doctor Peter Capaldi's last outing in the TARDIS and Jodie Whittaker's debut as the series' first female Doctor. Though, of course, most of us know that we'll see Thirteen for all of two minutes. But still. It will be a franchise-defining moment. 
So, no pressure, guys.
The Christmas special, entitled "Twice Upon a Time" will pick up where Season 10's finale left off. The Twelfth Doctor, fighting off regeneration, somehow runs into his original incarnation during what appears to be a moment during classic Who episode "The Tenth Planet". David Bradley will play the First Doctor, a bit of pitch-perfect casting that not only capitalizes on his resemblance to original Doctor William Hartnell, but his appearance as Hartnell in the Doctor Who 50th anniversary biopic  An Adventure in Time and Space.
The BBC put out a trailer for the holiday episode back in July. Now, thanks to Children in Need, we can finally get a look at an actual scene from holiday episode itself.
The corporation released a two-minute sneak peek as part of this year's annual CIN charity telethon. Unlike some of the casts of other series, the Doctor Who crew hasn't taken part in any of the event's famous skits in the past few years, instead choosing to drive tune in by releasing exclusive snippets from the highly anticipated holiday episode during the telecast instead.
The clip features the First Doctor's entrance into the Twelfth's TARDIS, and it's as predictably entertaining as you might expect. There's also our first look at guest star Mark Gatiss, who's playing some sort of as yet unidentified World War I captain.
The scene is full of nods to history – and to the fact that the First Doctor hasn't actually regenerated as yet, so he doesn't entirely know the rules. It's all quite funny, but there's also an undercurrent of sadness here, which will probably make you a big more emotional than you expect.
Watch for yourselves below: 
Bradley has so much of Hartnell's speaking mannerism down, it's uncanny. I'm so excited to see what he'll do in this role.
Are you looking forward to "Twice Upon a Time"? Have you figured out how to balance your emotions over Capaldi leaving and Whittaker arriving? (If so, please tell me, because I am struggling.) Hit the comments and let's talk. 
---
By
for on November 17th, 2017