By
for on April 26th, 2022
'Gentleman Jack' Season 2, Episode 1 Recap: "Faith is all"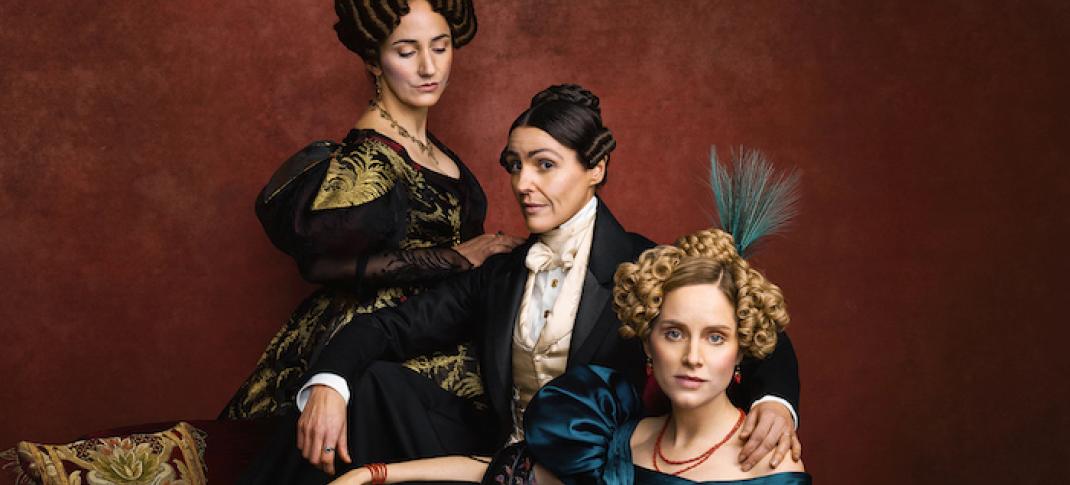 Finally, Jack is back.
Anne Lister (Suranne Jones, Scott & Bailey), industrialist, writer, explorer, and LGBTQ+ champion, bursts once more onto our small screens with Gentleman Jack Season 2. Add a wife to that list of accomplishments since she and Ann Walker (Sophie Rundle, Peaky Blinders) exchanged vows and rings at a quiet ceremony in a York church. It's not your typical 1830s love story, but  Lister was a woman way ahead of her time in so many ways. Her frank, coded diaries form the basis of this series from director/writer Sally Wainwright (Happy Valley, Last Tango in Halifax). Add gorgeous vistas (check out the Riveaulx Abbey scene), fabulous clothes, a witty script, and superb acting (Jones and Rundle are outstanding), and it's the whole package.
Dapper in masculine-inspired black, with a cane and top hat, Lister approaches Crow's Nest, Ann Walker's house. She turns on her heel and addresses us directly: "You're here. Good," before paying a call on Aunt Ann Walker (Stephanie Cole). Aunt Ann is fuming over her niece, becoming besotted with the scandalous, unnatural Miss Lister instead of trusting her own family. Even a trip to Scotland to visit her sister Elizabeth (Katherine Kelly) and her unscrupulous husband, Captain George Sutherland (Derek Riddell), did not help. Lister drops the bombshell. Ann gave £1,000 to Sutherland, and, by the way, Lister is now executor of Ann's will. Aunt Ann splutters in indignation. Why? "She likes me," Anne smirks.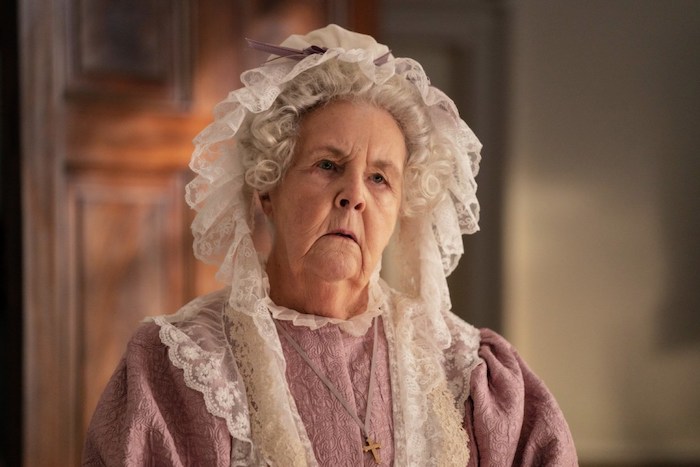 Back home at Shibden Hall, Lister's family complains about "all this banging," which accompanies home improvements made for her bride's comfort, anticipating her move into the house. Innovations include flush toilets. Soon, but probably not in his lifetime, everyone will have one in their home, the plumber comments, awestruck at the technology.
But there are problems at home too. Lister and sister Marian (Gemma Whelan) aren't fighting quite so much, maybe because Marian isn't well, but runs after Lister, trying to keep up with her manly strides, to tell her that there has been impropriety among the servants. Their housekeeper Elizabeth Cordingley (Rosie Cavaliero), was embracing one of the footmen, and it's not just the disparity in ages that's problematic. However, the family, particularly Lister, are very keen on servants knowing their place, and a relationship between an upper and lower servant is highly inappropriate. The footman is leaving, but is Elizabeth to be trusted?
Lister conducts a series of hilarious interviews with possible footmen — one doesn't talk enough, another talks too much, one is too young, another too old. But there are other problems to deal with. Lister started a coal mine only to find that the two good old boys of Halifax, brothers Christopher (Vincent Franklin) and Jeremiah Rawson (Shaun Dooley), offended by a woman adopting manly pursuits, are now robbing her coal seam. She offered to sell the mine to them, but they refused. She's sinking another shaft but finds that her coal steward, James Holt (George Costigan), did not include a drift in his plan, as required, to control drainage. "Sort yourself out," Lister tells him.
At least the land steward, Sam Washington (Joe Armstrong), has his head screwed on right. But her financial situation is worrying; she borrows large amounts of money and takes risks. Lister needs to pay off debts and amass capital, and to do so, she intends to sell one of her properties, Northcote, as the tenant is leaving. Lister needs to tap into Ann's capital — if she were a man, Ann's fortune would be hers upon marriage, but she's not. And Ann, fragile and easily flustered, is being evasive. You can't blame her; she may well fear Lister's fierce energy will consume her. But for Lister, the financial details are crucial. As she says, they should be united in heart and purse.
But where is Ann? Lister decided separation from the greedy and selfish Walker family, plus a trusted doctor's attention, fresh air, and pleasant occupations, would soothe Ann's anxiety and return her to health. She visits her wife at her lodgings in York, where they are both over the moon at seeing each other. They make plans to buy her a pony and hire a drawing master. But business first: Ann must evaluate her estate and divide it with her sister Elizabeth, and once that is done, they can both redraw their wills. Lister's pillow talk consists of advising Ann of the steps that have to be taken, and even that is weirdly sexy. And they're planning a trip to Paris, after which Ann will officially move into Shibden Hall.
Lister, however, has heard from her former lover Mariana Lawton (Lydia Leonard), who advises her to take things slowly with Ann. Lister is not altogether head over heels in love. While watching Ann sketch in the rain, she tells us," I am delighted with her." Not exactly the language of passion, but she's fond of her, she adds, fond enough.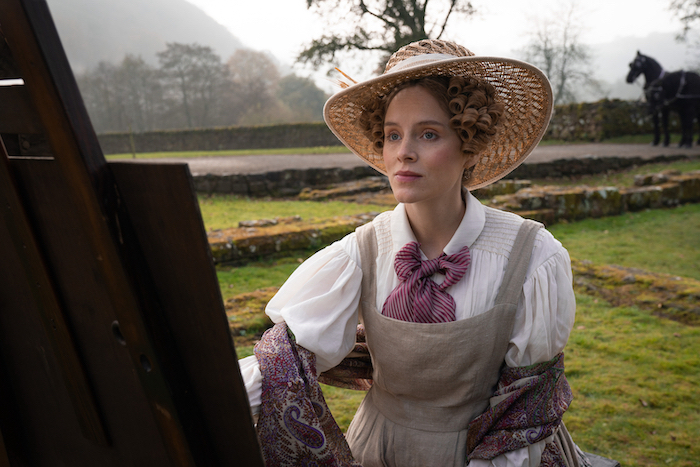 James, the new servant, meets Lister in York to collect the pony named Nero. (Its previous owner called all his pets, regardless of gender or breed, Nero.) Lister fires directions at him on how to get to Shibden, and amazingly, he arrives on time. Upon getting back, Aunt Anne (Gemma Jones) notices Lister's wedding ring, and Lister is desperate for her approval. It's as good as marriage, Lister insists. Tactfully, Aunt Anne comments Ann is fragile. (Or should that be willful?)
In a sweet, friendly scene, Lister checks out Marian's cough — a hint that she may have had contact with someone infected with tuberculosis — and gives her a clean bill of health. Ann, in York, makes blackberry syrup for Marian's cough and packs it up with some fresh asparagus. "I want you in one thousand ways," she writes. (Swoon.)
After all the paperwork is done, Lister has decided that Ann should sell Crow's Nest, which holds unhappy memories for her. Lister also hasn't been able to sell Northcote yet and puts the property up for auction, but the reserve isn't met. She suggests to her banker the family should make it into a hotel; though not everyone has realized it yet, Lister knows the railway will change everything.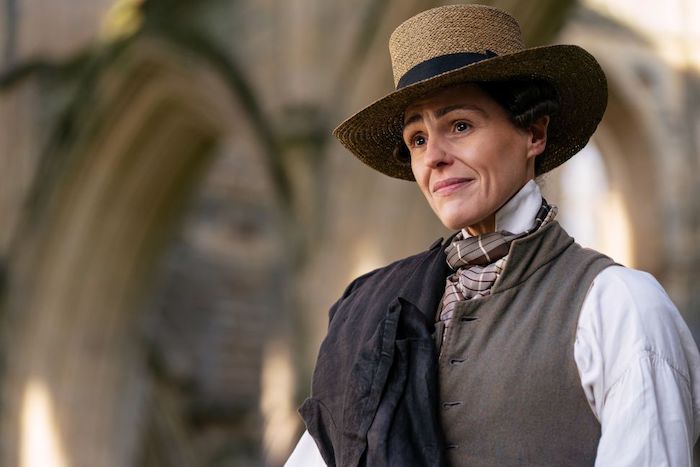 As Ann's birthday comes up, Lister gives her a seal inscribed with the family motto, "Faith is all." She suggests that rather than have Crows' Nest stand empty, her estate manager Sam Washington and his family should move in to keep an eye on it (naturally into the servants' quarters). Ann is given a warm welcome by the Listers when she arrives. By contrast, when Ann visits Crow's Nest, Aunt Ann lets rip, criticizing her and Miss Lister. Ann protests that they are both respectable gentlewomen, and Aunt Ann almost explodes. Ann returns to Shibden and rages at Lister for feeding her aunt information (which she didn't, although she did leave things open to interpretation). Lister snaps at her for speaking to her like that in front of a servant. 
But there's still trouble below stairs. The new servant, James, refuses to wear second-hand livery, and Marian calls Lister in to deal with it. Lister tells him to essentially put up and shut up, and James calls her a cheapskate. She fires him on the spot and threatens to shoot him if he lingers. This means that footman Joseph Booth (Ben Hunter) will accompany the two ladies and Anne's maid Eugenie Pierre (Albane Courtois) to Paris, thus depriving Uncle Jeremy (Timothy West) of a valet. As Marian wails squeamishly about how she couldn't possibly do it, Lister insists she will sort it out. Luckily, the alleged improper clinch between housekeeper and footman was Elizabeth comforting the young man whose mother had died.
Ann agrees to write to her sister about dividing the property after their trip to Paris. Finally, Lister writes a letter to Mariana Lawton, telling her the affair is over. Mariana is devastated. Lister then abandons cleaning her pistols, a precaution if she has the pleasure of shooting James; however, her appearance holding weaponry scares Elizabeth. For once, at a loss for words, Lister praises the most recent plum pudding, hoping to smooth it all over. And it's off to Paris, a city that holds memories for Lister of her affair with Mariana and others. What on earth could go wrong?
---
By
for on April 26th, 2022