By
for on February 23rd, 2019
'Gentleman Jack': A Different Sort of Regency Romance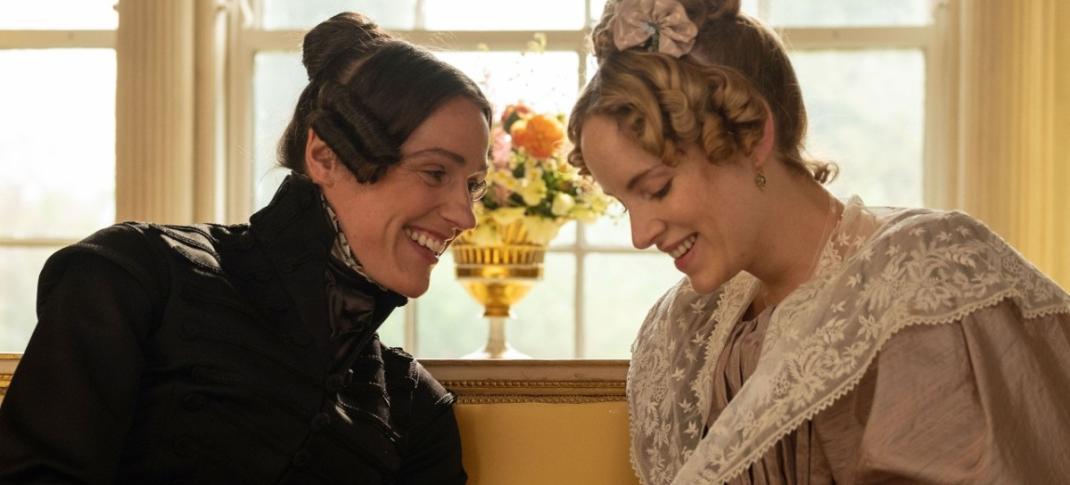 I love, & only love, the fairer sex & thus beloved by them in turn, my heart revolts from any other love than theirs… Anne Lister/Gentleman Jack
Anne Lister, diarist, mountaineer, and explorer (1791–1840), nicknamed Gentleman Jack, is once again in the spotlight, although her home town of Halifax in West Yorkshire has long championed her achievements as an industrialist and landowner. But in 1834 Anne Lister made a different sort of history when she and another woman took part in the first same-sex marriage ceremony in England at Holy Trinity Church, Goodramgate in York.  A blue plaque, the designation for a historic building, but the first to have a rainbow border, was installed in the church last year.
Gentleman Jack is a new British-American series created by Sally Wainwright (Last Tango in Halifax, Happy Valley) set to air soon on BBC One (U.K.) and HBO (U.S.), and starring Suranne Jones (Scott & Bailey, Doctor Foster). The series begins in 1832, when Anne returns from adventurous travel abroad, ready to restore her house, Shibden Hall, take on her industrial neighbors, and beat them all at their own game. (You'll recognize Shibden Hall as the creepy Tudor house where Alan and Celia in Last Tango in Halifax are accidentally locked in overnight.) But Anne needs what any gentleman in a similar situation would also want—a wife. And she finds one a few miles away, heiress Miss Ann Walker, played in the series by Sophie Rundle (Alice in Jamestown, also Happy Valley, Peaky Blinders). It's not the first British TV effort to tell her story—in 2010, the BBC aired a dramatization of her life, The Secret Diaries of Miss Anne Lister, and comedian/journalist Sue Perkins, host of the original version of The Great British Baking Show, made a documentary, Revealing Anne Lister.
From the start Lister's upbringing was unorthodox. Her father was an army captain, a member of a well-established gentry-industrialist family who lived near Halifax. Brought up with four brothers, Anne was an intellectually precocious tomboy who learned to fence and play the flute. She was sent away to a boarding school in York in 1804 where her overwhelming presence proved so disturbing to the other girls that she was banished to an attic room. Her roommate was Eliza Raine, another misfit, the illegitimate daughter of a nabob and an Indian woman. They embarked on a passionate love affair, with an exchange of rings and poetry. Unfortunately, the authorities discovered the physical aspects of the relationship, and expelled Anne. Poor Eliza, as their friendship and correspondence faded, fell into a decline and was sent to an asylum in 1816 where she lived until her death at age 68.
Back in Halifax, Anne's partners included the daughter of a tradesman, decidedly beneath her socially, as she noted contemptuously in her diary after they broke up, and, worse, dirty. But in 1813 Anne met Marianna Belcombe, who was slightly higher up the social scale, the daughter of a doctor. After some time, Marianna married for money and, despite her initial feelings of betrayal, Anne continued their relationship, this time with the added frisson of adultery. But after ten years, Marianna ended the affair, telling her that the gossip about Anne's increasingly masculine appearance was becoming embarrassing.
We know intimate details of Anne's story from the diaries she kept for most of her life. Described by novelist Emma Donaghue as "the Dead Sea Scrolls of lesbian history," her diaries consist of almost thirty volumes, over four million words, with an index (and doesn't that suggest that Anne hoped that one day others might be interested in her story?). Sexually explicit passages, written in a code of Greek and algebraic symbols, and first translated in the late nineteenth century, were considered for decades to be something of a time-bomb for both Anne's indirect descendants and the town of Halifax. It wasn't until 1988 that historian Helena Whitbread translated and published the 1816–1825 volumes, now once again in print (The Secret Diaries of Miss Anne Lister by Anne Lister and Helena Witbread (editor), Virago, 2010).
Much of the material is typical of personal writings of the period. If you've read, for instance, Jane Austen's letters, the details of travel, dining, the weather, domestic occupations, and social events will seem very familiar. But in the coded passages Anne reflects on her sexuality, expresses the torment of desire, and records her sexual encounters in graphic detail. She also sometimes uses the code for descriptions of clothing, which suggests that she may have adopted a form of male dress. She chose to dress in black with a few white touches and enjoyed a distinctively masculine appearance:
The people generally remark, as I pass along, how much I am like a man. At the top of Cunnery Lane, three men said as usual, "That's a man."
So how did she get away with this unorthodox lifestyle? She was a wealthy member of the elite and furthermore had a massive sense of entitlement, a Tory through and through. Interestingly, Anne never saw any conflict between her religious beliefs (she was a staunch member of the Church of England) or her sexual orientation. In an era where sentimental friendships between young women were common, if not encouraged, Anne's predilections for bed-sharing and affectionate night-time chats would not, on the face of it, be anything unusual..
She was the Queen Bee of Halifax, and gullible young women were apparently extraordinarily flattered to attract the notice of Miss Lister, even if they were offered more than the usual tea and cakes. As ever, the issue of consent is murky. The ruthlessness Anne displayed in her business dealings seems to have crossed over into her personal life. There is no doubt that she believed her partners to be willing, but her imposing personality, wealth, and high social status suggest more than a degree of inequality. And I can't help but imagine the poor cleric at Holy Trinity Church shaking in his shoes as he was bullied into officiating at that unusual ceremony in 1834. Yet she's an important historical figure, and learning about her certainly shook up my preconceptions of late Georgian/early Victorian history. A recent biography by Angela Steidele (Gentleman Jack: A biography of Anne Lister, Regency Landowner, Seducer and Secret Diarist by Angela Steidele and Katy Derbyshire (transl.) Profile Books Ltd., 2018) describes her as "a beast of a woman," even speculating that Eliza Raine's sad fate may have been the inspiration for Mrs. Rochester in Jane Eyre. You can read a review of it here.
In contrast, Sally Wainwright's work is characterized by warm, sympathetic portrayals of complex characters and diverse relationships, and I can't wait to see how she interprets Gentleman Jack's life. Will she bring out Anne Lister's kinder, gentler side, assuming she had one? Or will we see Gentleman Jack, fresh from another conquest, striding the Yorkshire dales while terrified industrialists, grimly clutching onto their male privileges, scatter in her path?
Let me know if you've ever heard of Anne Lister and if you intend to watch the series! 
---
By
for on February 23rd, 2019
More to Love from Telly Visions