By
for on March 3rd, 2022
The Full Trailer for Showtime's 'The Man Who Fell to Earth' is Hauntingly Alien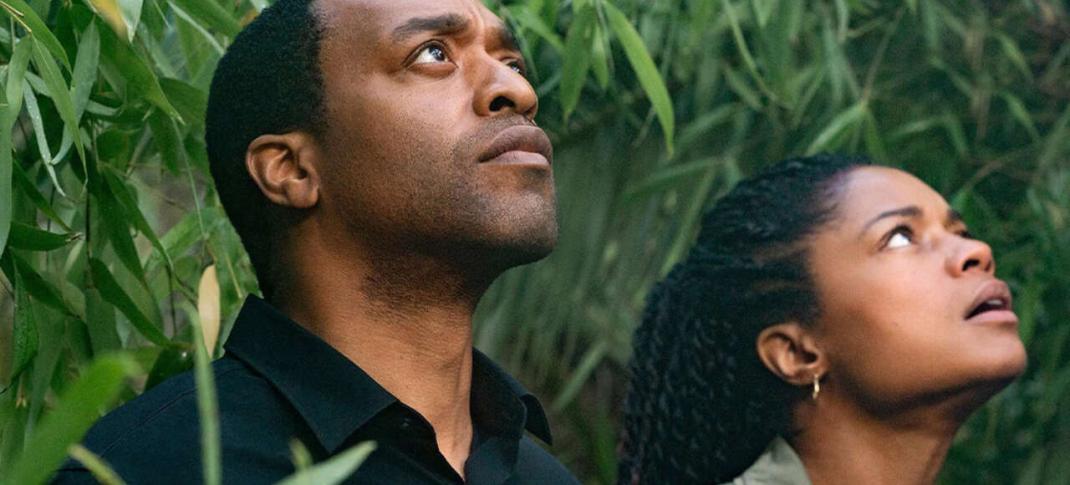 When you think of the title The Man Who Fell to Earth, your brain most likely conjures images of the cult 1976 film and rock icon David Bowie, all sharp cheekbones and shocking red hair, who starred as Thomas Jerome Newton, the titular character who became stranded on our planet. But premium cable network Showtime is hoping they can change your mind on that point with the launch of their new sequel series, which follows the story of a second alien named Faraday (Chiwetel Ejiofor) who arrives on Earth at a crucial turning point in human evolution.
After crash landing in the desert, Faraday meets Justin Falls (Naomi Harris), a brilliant scientist, talented engineer, and struggling single mom. It turns out that he's fled his dying planet, and he needs her help to save Earth from the same fate
Based on the 1963 novel by The Queen's Gambit author Walter Tevis, the original 1976 film was a fairly dark and bleak affair, as Bowie's stranded alien falls victim to alcoholism and despair. It sounds as though this new ten-part series will feature a slightly more hopeful tone, as it's clear from the trailer that Faraday and Falls form an immediate and emotional bond. The clip also features our first look at a much older Thomas Jerome Newton (played by Bill Nighy) who appears to have summoned Ejiofor's Faraday to Earth in a desperate bid to find someone who will take over his mission. (Will we find out what's been doing for the 40 years since he came to Earth? Maybe!)
Watch the trailer for yourselves below. 
"I think it's amazing and it's beautiful that Walter Tevis is having a moment right now. I wish he had more of it when he was alive so he could appreciate how much people appreciate his work," Kurtzman said during Showtime's recent Television Critics Association panel. "I think we felt a tremendous debt to honor the legacy of David Bowie, of Walter Tevis and Nicolas Roeg – of all the people who built these extraordinary stories because they clearly wrenched their hearts open to tell them. We felt like the only way to do this authentically and honestly is to do the same."
The stacked The Man Who Fell to Earth cast also includes several other big-name familiar faces, including Kate Mulgrew (Orange is the New Black), Jimmi Simpson (Westworld), Sonya Cassidy (The Woman in White), Clarke Peters (Foundation), and Rob Delaney (Catastrophe). 
The first two episodes of the series will premiere on Sunday, April 24th, with weekly releases to follow. 
---
By
for on March 3rd, 2022
More to Love from Telly Visions