By
for on January 15th, 2020
The Full Trailer for 'Miss Fisher and the Crypt of Tears' is Everything We Ever Wanted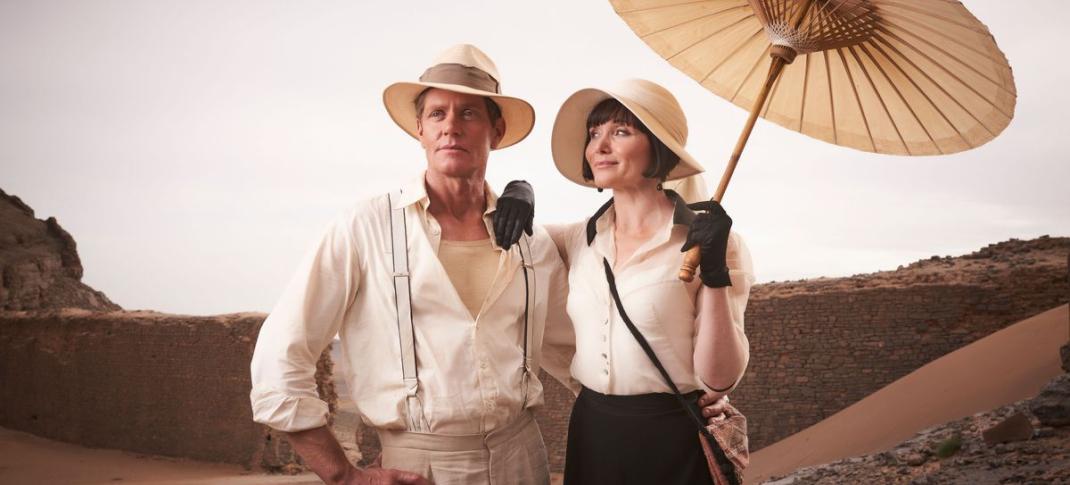 Prepare yourselves, Miss Fisher fans: The full, two-minute trailer for upcoming feature film Miss Fisher and The Crypt of Tears has arrived and it's honestly everything we could have ever wanted it to be. 
After two years' worth of speculating about whether a Miss Fisher movie would ever happen, the excitement around the Kickstarter that helped it happen, questions about the film's production schedule and general swooning over the tiniest scraps of information about it, well. This feels like a big, sparkly, impeccably dressed gift. And, spoiler alert: It looks amazing. 
The trailer features everything we've come to expect from a Miss Fisher adventure, only turned up to eleven. Sure, there's Phryne with her golden gun, wearing an array of fabulous outfits and kicking a man's butt at fencing while denouncing the patriarchy at the same time. But there's a true sense of international adventure to proceedings now, as we see shots of Phryne and Jack in London, riding camels through the desert, investigating a tomb of some sort and possibly...engaging in a horse chase? 
Anything is possible. It's Miss Fisher, after all. 
Watch the full trailer for Miss Fisher & the Crypt of Tears below for yourselves. 
The film officially premiered this January at the 2020 Palm Spring International Film Festival to three sold out showings and largely rapturous reviews from the fans lucky enough to attend. You know, if you needed another reason to get hype. 
Miss Fisher & the Crypt of Tears will be hitting theaters in Australia on Februrary 27, following premieres in both Sydney and Melbourne.
Streaming service Acorn TV, which already serves as the exclusive streaming home for both Miss Fisher's Murder Mysteries and it's spin-off series Ms. Fisher's MODern Mysteries, pre-bought the North American rights to the film before it even existed. Acorn plans to screen the film in theaters in 12 U.S. cities before making it available to stream online for all at some point shortly thereafter. (The exact date on that front is still TBD, though it's reported to be coming in March.) 
What do you all think of the new Miss Fisher and the Crypt of tears trailer? Are you looking forward to Phryne's return? Let's discuss in the comments. 
---
By
for on January 15th, 2020
More to Love from Telly Visions