By
for on August 11th, 2017
More 'Miss Fisher' Coming in 2018, As Movie Trilogy Gears Up For Filming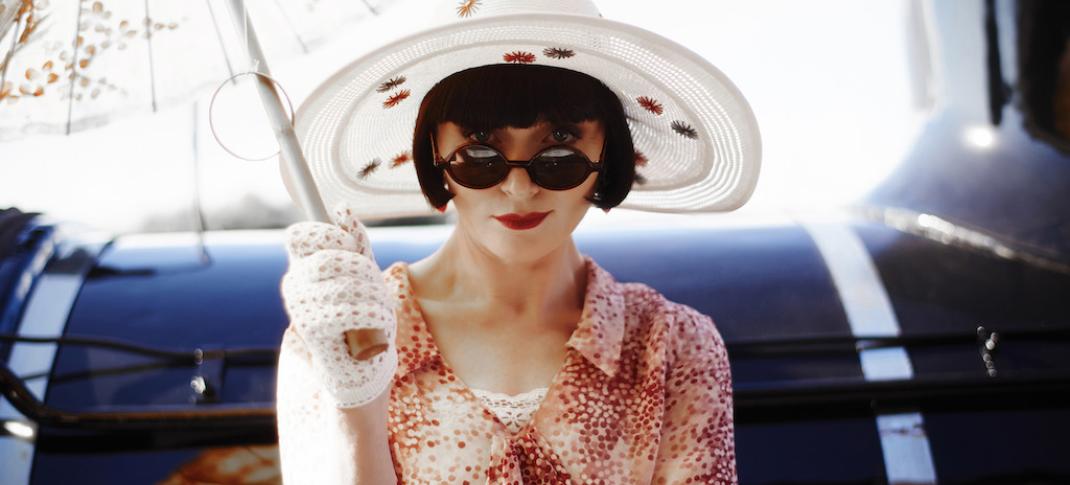 While most mystery series revolve around endless men spying, sleuthing or sitting around with their hands folded, attempting to look intellectual, the rest of us are spending time with Phryne Fisher, of Miss Fisher Murder Mysteries, where star Essie Davis outwits, out plans and outlasts those committing terrible crimes in 1920s Melbourne, while always looking fabulous in flapper styles. There have been three series of the popular show, which aired in Australia from 2012-2015 and here in the US from 2013-2016. But with no fourth round on the horizon, and Davis off doing guest stints on HBO's Game of Thrones and principle roles in STARZ's The White Princess, fans are wondering: is that the last of Phryne and her fabulous wardrobe?
Fear not! Every Cloud Productions, which produces the female-produced, written and lead show is not letting Miss Fisher fade away. A movie is confirmed to be in the works, with a planned release date in the back half of 2018. Even better, there's a title and script, which Davis and costar Nathan Page showed off on Facebook.
Currently the intention is to have Miss Fisher & The Crypt of Tears, the first of of a planned three-part trilogy, begin filming at the end of 2017, when Davis and Page have space in their schedules to do so. Filming will not take place in Australia however, but will be moved to London to accommodate Davis' recent relocation to the UK.
Speaking to The Daily Telegraph, the move to the UK would likely spur Miss Fisher to turn into a globe trotting crime solver:
"We want it to be like the Indiana Jones movies. We might not have Steven Spielberg's budget but that is what she (Phryne Fisher) is — an action hero. She got to be able to fly the world. It could be Miss Fisher and the Crypt of Tears so she has to go to Arabia. We'd love to go to India. We have fun thinking about the destinations."
But that's not all. With the original Miss Fisher series moving away from TV serials and into movie land, that leaves a hole in the schedule for the production to aim for a secondary series: Miss Fisher's First Murder Mysteries. Unlike the original show, which was based off author Kerry Greenwood novels, these would be new stories created from whole cloth, taking us back to Phryne's early days. Such reboots have worked for ITV's Inspector Morse series (Endeavour, the new season of which is coming later this moth to PBS.) ITV also recently attempted the same for Prime Suspect, but with far less success.
But Greenwood has given producers Deb Cox and Fiona Eagger her blessing to go forth, trusting them to handle her character properly.
Here's the current synopsis of the planned prequel according to Eagger:
"That will be a younger Phryne Fisher. She is 18, her family has come into money, and she's in the UK at a finishing school. She gets word that her best friend from Melbourne is charged of murder and is heading for the gallows. She escapes (from the finishing school) and comes back (to Australia) to save her friend. On the run is where she learns a lot of her (sleuthing) skills.
Would a prequel series be as big of a hit at the original? For that we'll have to wait and see if the Australian Broadcasting Corporation (which aired the original series and is helpign to finance the movies) will decide to come on board.
---
By
for on August 11th, 2017
More to Love from Telly Visions