By
for on March 11th, 2013
Sherlock Series 3 Production is Finally Underway!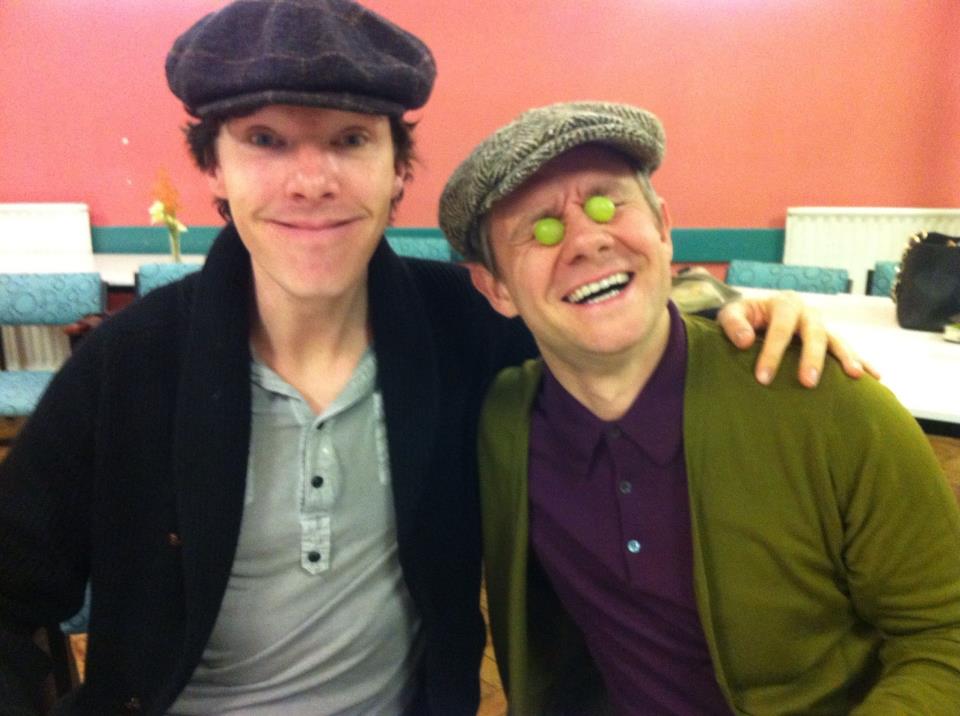 Nope, that's not a typo in the headline – the event we've all been waiting for is finally happening – production on the highly anticipated third series of Sherlock is officially underway! While actual filming doesn't commence until next Monday (March 18), the cast assembled for a read-through of the script of the first episode slated to be shot for the new season. No idea what episode they read today, but since co-creator Mark Gatiss has traditionally been the fastest writer to finish his Sherlock scripts, the smart money is on this being the one based on reunion story The Empty House, whatever they choose to call it. (Start stockpiling your tissues now, maybe?)
The best part of all of this is that finally there is actually some new Sherlock information to report – carry on reading for some new production details, casting tidbits and a slightly larger version of what is possibly the best new photo ever (which you can see to your left).
Series 3 is Real! Table read-throughs are generally the first time all the actors with speaking roles are together before a project beings filming, to run through all the dialogue before rehearsal officially begins. Gatiss himself confirmed this official "beginning" of Series 3 via Twitter and, predictably, the internet fans everywhere promptly (and understandably) freaked out.
Luckily, some fabulous folks from BBC One happened to attend the start of production, and tweeted the following (amazing and ridiculous) photo from this morning's activities featuring stars Benedict Cumberbatch and Martin Freeman.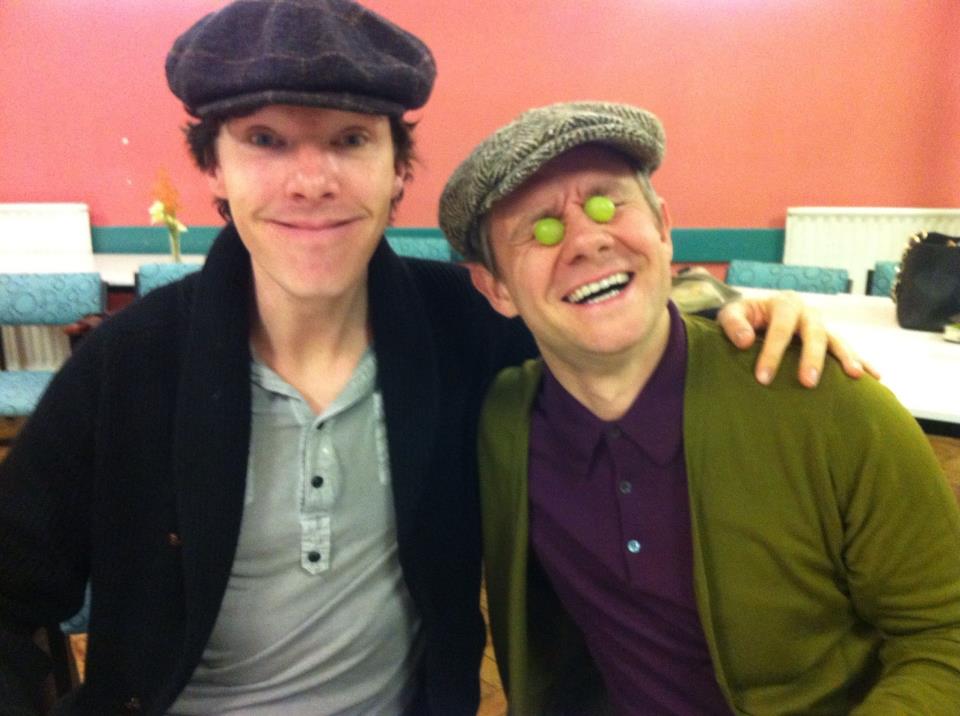 Seriously, these two. Admittedly, it's kinda hard not to get pretty psyched at finally seeing Sherlock and John together again. Don't feel bad if you shrieked a little bit. (I might have. But I admit nothing.) 
This news alone probably would have been enough to make your day, but it would appear that – at long last – the walls surrounding Series 3 information have finally started to come down and a few details have started to emerge about the new episodes.
Series 3 Director News. Sadly, fan favorite Paul McGuigan has confirmed that he will not be in the director's chair for Series 3. (He previously helmed A Study in Pink, The Great Game, A Scandal in Belgravia and The Hounds of Baskerville.) Like apparently everyone else in the cast, McGuigan also has many other new commitments this year, and will be busy filming the new Frankenstein reboot and working on Beatles biopic The Man Who, which will also star Cumberbatch whenever he has a free second sometime this summer.
Additionally, Deadline has confirmed that Jeremy Lovering has been tapped to direct the first episode of Seires 3. Colm McCarthy – who has previously directed episodes of Doctor Who and Ripper Street – is also set to do one of the three Series 3 installments. No word yet on the identity of Mysterious Third Episode Director, but it's likely we should hear something about that pretty soon.
New Cast Member Revealed. Another tidbit that has slipped out about Series 3: actor Tomi May has been identified as the first new cast member from the new season.  You might recognize May from his previous work in British telly – most notably drama series Line of Duty - but he's not exactly a household name (though he's obviously talented). Thanks to a tweet from May this morning (which has since been deleted), we know that he attended the read-through today, though there's no word on who it is exactly he is playing. (Personally, my vote is for Sebastian Moran, but I've struck out wildly in the fan speculation game in the past, so take that for what it's worth.)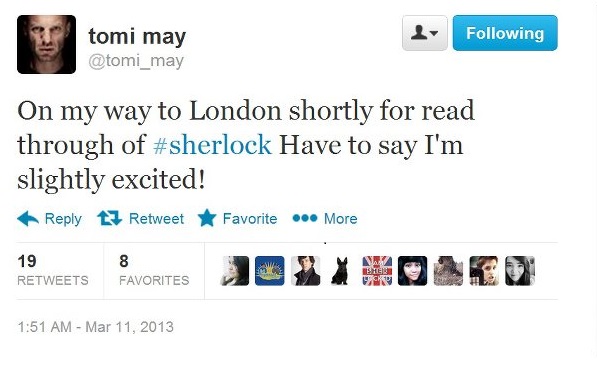 A General Production Update. It's also been confirmed that Series 3 filming will occur in two parts – two episodes will film from Monday, March 18 and then the cast will get something of a break for a bit before production resumes on the third episode later this summer. This scheduling shift has been built around the availability of the Sherlock cast – Freeman is returning to New Zealand for more filming on The Hobbit and since Cumberbatch is slated to work on several films later this year, who knows what he'll be doing with his summer vacation. (Though the internet tells me that Alan Turing biopic The Imitation Game is our best bet.)
Adjust your Series 3 airdate bets accordingly. (I hate to be the one to say it, but a Fall UK transmission date is not looking terribly likely at this point. I'm going with my gut and a prediction of Christmas at the absolute earliest, and sticking to it.)
Still – even though we've a bit of a wait still before us – this is all very exciting news! Are you pleased to see that production on new Sherlock episodes is finally getting started? 
---
By
for on March 11th, 2013