By
for on May 21st, 2018
Filming Begins on 'Victoria' Season 3 as New Cast Members Announced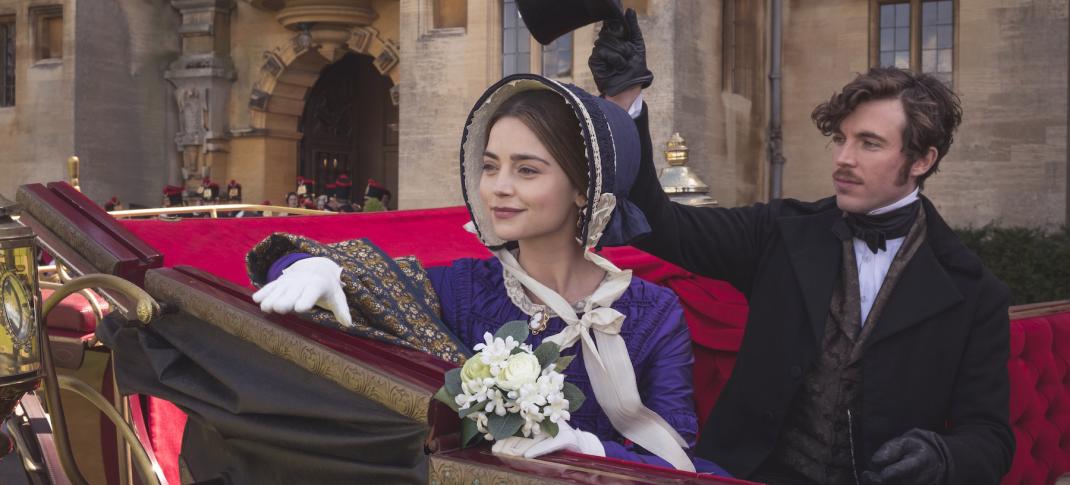 Filming has officially kicked off on the highly anticipated third season of period drama Victoria!
Announced as part of the series' acknowledgement of Victoria Day (the day which celebrates the Queen's birthday), the series not only confirmed that production is under way on Season 3, but announced several new cast members as well.
In celebration of the kickoff of Season 3 production, the official Victoria Twitter shared a special message from cast member Nell Hudson, who plays dresser Mrs. Skerrett on the show:
Happy #VictoriaDay! As promised, here is your special something... #Victoria pic.twitter.com/TeJTC1qt9z

— Official Victoria (@VictoriaSeries) May 21, 2018
Stars Jenna Coleman and Tom Hughes will of course be back to reprise their roles as Queen Victoria and Prince Albert.
However, in other exciting Season 3 news, former Inspector Lewis star Laurence Fox is confirmed to join the drama as the charismatic and wayward Foreign Secretary Lord Palmerston. Tony and Olivier Award-winning actress Kate Fleetwood will also join the cast as Victoria's mysterious sister Feodora, who makes an unexpected return into the Queen's life. Other notable new faces in Victoria's third season will include John Sessions, Lily Travers, Nicholas Audsley, Emily Forbes and David Burnett.
Most of us suspected that filming was likely to begin soon, since several of the series' official and associated accounts, including creator Daisy Goodwin, shared snaps of the first Season 3 read-through script last week.
(Waiting for the tie-in with Victoria Day to officially announce everything is a nice touch, though.)
My day pic.twitter.com/BnItTHd2cU

— Daisy Goodwin (@DaisyGoodwin) May 14, 2018
Season 3 will take place in 1848, just after Sir Robert Peel's resignation as Prime Minister. (He announced his intention to resign in the Season 2 finale, "Comfort and Joy".)
Per the official press release:
Starting in 1848, the third instalment of the lavish drama will depict a turbulent and uncertain time for both Europe and the monarchy. With revolutions on the continent and the Chartist movement reaching its peak in London, Victoria is under pressure from the government to leave London for her own safety.
The new season will reportedly focus on Victoria's pregnancies, or, rather, her feelings about constantly being pregnant. At this point, she has six children, all of whom were born within eight years of one another. That's a lot of sleepless nights, even for a royal couple who had every kind of help.
Furthermore, that many pregnancies so close together would doubtless have taken both a physical and mental toll on the young queen, who so famously disliked being in the family way in the first place.
"Victoria and Albert are the most famous couple of the nineteenth century," said Goodwin in a statement. "But underneath the united facade, their relationship is at breaking point and it is a struggle for mastery that neither side can win."
That…certainly sounds ominous, doesn't it? Yikes. 
Victoria will return to U.K. network ITV later this Fall, with a likely American broadcast in January 2019. What do you hope to see in Season 3?
---
By
for on May 21st, 2018
More to Love from Telly Visions