By
for on March 28th, 2015
Filming Begins on 'Doc Martin' Season 7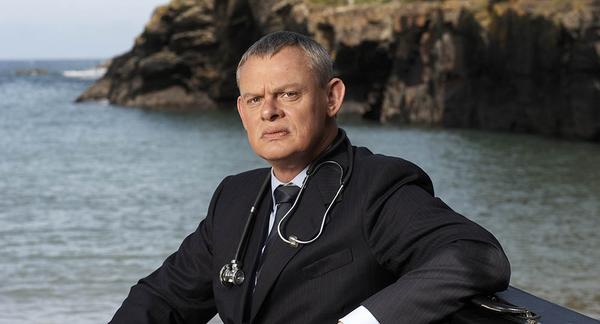 It's official – Doc Martin Season 7 is coming! To be fair, we all sort of assumed this to be the case already – either through just general fannish intuition, blind hope or the fact that star Martin Clunes offhandedly referenced heading back to Cornwall to start production in a recent interview.
At any rate, it's at least nice to have official confirmation – straight from the horse's mouth as it were.  ITV has officially announced the start of filming on Season 7, along with a few choice details about with the future has in store for the residents of Portwenn next year. 
Star Martin Clunes will reprise his role as Britain's grumpiest medical professional, and all regular members of the cast will also be returning, including Caroline Catz, Dame Eileen Atkins, Ian McNeice, Joe Absolom, John Marquez and Jessica Ransom.
The new season will once again be comprised of eight episodes.
"We're delighted Doc Martin is returning to ITV," said the network's Director of Drama, Steve November.  "Martin has created a unique and very watchable character who for all his faults is hugely appreciated by the audience."
Here's the official tweet on the subject:, just in case you need to see it for yourselves. Or what to frame it. Whatever. We're not judging. 
Martin Clunes returns as Britain's favourite grumpy medic http://t.co/WC0l0limod pic.twitter.com/gmZV7xW5e6

— ITV Press Centre (@itvpresscentre) March 23, 2015
Martin and his longtime love interest Louisa married in the last season, but their marital harmony was short lived. After a life-threatening incident, Louisa decided to take their son James Henry to live with her mother in Spain while they try to work out their problems.
Other plot points of interest we can expect to see in the new season: Aunt Ruth faces a medical emergency, which she tries to ignore, but the Doc won't let her. Meanwhile, Bert dreams up another moneymaking scheme as his restaurant struggles to stay afloat, while his son Al is setting up a business with Ruth. He's renovated her farmhouse, and is opening a bed and breakfast to attract tourists for fishing holidays. Oh, and eccentric local PC office Joe Penhale gets a Taser. So, that's surely going to end well.
"I'm thrilled to be back on the beautiful North Cornish coast to shoot series seven of Doc Martin," Clunes said in a statement. " The Doc has some serious work to do if he is going to persuade Louisa to come back."
Now that production on the new season is underway, a fall UK broadcast doesn't seem entirely out of the realm of possibility, though that still means an early 2016 US broadcast is most likely. Though, as there's been no official word from ITV on the subject, that's all so much speculation. We'll have to wait and see.
How excited are you for more Doc Martin? What do you want to see happen in Season 7?
---
By
for on March 28th, 2015