By
for on February 16th, 2015
So 'Doc Martin' Season 7 is Apparently a Go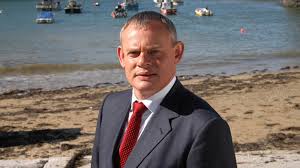 Despite the fact that no one seems to have officially announced anything about a seventh season of megapopular comedy series
Doc Martin
being a thing that's happening, well: it actually really looks like it's a thing that is happening.
This news undoubtedly comes as a welcome relief to fans, who'd previously been led to believe that the Britcom's sixth season could be its last, but then, following the conclusion of this most recent outing, there was basically global radio silence about the whole thing. Until now.
Star Martin Clunes recently did an interview with The Telegraph that is pretty fun in and of itself, in that it covers a wide variety of topics, including his dogs and horses, the fact that he's quite enjoying the latest season of Broadchurch, his and his involvement with The British Horse Society (which, apparently, is a real thing, as he is its President.)
But, the tidbit that's most relevant to your interests is probably this Clunes quote: "On Fridays I try and make sure I get home to our farm in west Dorset at all costs," he explained. "Even when we start filming the next series of Doc Martin down in Cornwall in a few weeks, I'll be back on Friday night by about 8.30pm. The journey is 100 miles but after six series, I can do it in my sleep now. There's only one set of traffic lights."
While this is all a very charming description of Clunes' home life and everything, it's also possibly the first open confirmation made by, well, anyone that Season 7 is actually happening. Which apparently it is. So, start getting excited.
There's no word on However, per newspaper The Cornish Guardian, filming officially kicks off in Port Isaac on March 23 and will continue through the end of July. 
Unfortunately, this more than likely means that we won't see Season 7 broadcast before the end of the year in the UK at the absolute earliest, and personally I'd guess that early 2016 is more likely. (This probably puts a US broadcast at some point in the Spring of 2016, but I'm just completely, 100% making a guess there, so don't quote me on it.)
But still: Season 7 of Doc Martin is apparently officially a go, and that should make a lot of folks very happy, even if we have to wait for a while to see it.
Are you excited? What do you want to see in another season of Doc Martin? 
---
By
for on February 16th, 2015
More to Love from Telly Visions