By
for on June 30th, 2013
British Actresses You Should Know: Olivia Colman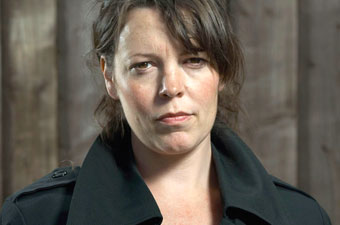 Welcome to a new series we'll be doing here at Telly Visions – introductions to some of our favorite British actors and actresses and their work.  (Yes, this means a Cumberbatch post along these lines is absolutely going to show up at some point in the future. But you probably already knew that.) This also marks Carmen's first Telly Visions post, so stop in and say hello!
As a binge watcher of British television I've come to appreciate many fine actors who are unfamiliar to most American TV viewers.  As a person who writes about British television, I'm eager to share my "discoveries" with like-minded Anglophiles.  I have always been, first and foremost, a fan.  Be warned!  I have a tendency to gush, sometimes to an embarrassing degree, when discussing my favorites.
So for my very first Telly Visions post ever, I'd like to highlight a most brilliant and delightful actress, one I think every telly fanatic should know - Olivia Colman. If her name sounds familiar, you may have read about her recent double win at the 2013 BAFTA Television awards where she picked up one statuette for a comedic role and the other for a dramatic one.
If she hasn't made an impression on you yet, no doubt she will she will very soon.  Colman's most recent project, the popular ITV crime drama Broadchurch, aired this spring in the UK and will be coming to BBC America in August.  She co-stars with David Tennant, Arthur Darvill (Doctor Who's Rory Williams) and Andrew Buchan (Garrow's Law).  I can't wait!
But I digress…
If I've piqued your curiosity, you might want to watch some of the television shows and film clips provided below.  They serve as my introduction to the talented and versatile, Olivia Colman. 
Green Wing. Sort of like Scrubs, but not really, Green Wing is a comedy set in a hospital where no one ever seems to get healed and patients are incidental to the plot.  Instead the focus is on the often bizarre lives and habits of the hospital's surgeons, administrators and office workers such as Harriet Schulenburg played by our Ms. Colman. 
Harriet works in the Human Resources office where she is overworked by her cruel boss, Joanna.  At home she has four children with one on the way.  Though very kind-hearted, she finds herself in a constant state of dishevelment and forgetfulness which leads her to do some strange things…with fruit. 
It is a favorite series of mine which features an unexpectedly sweet love story, lots of absurd sight gags in addition to some outright crude sexual references.  Colman's character is a supporting one, but her gentle, befuddled Harriet is always a welcome addition to any scene in which she appears.
You can find all 18 episodes of Green Wing on Hulu; unfortunately, it's not available in US DVD format.
Peep Show. A long running sitcom about the trials and tribulations of two roommates, Peep Show has a reputation as a cult favorite.  Mark, played by David Mitchell, is the more responsible and cautious of the two men; however, when it comes to Sophie (Colman) his co-worker and love interest, he'll abandon his ample comfort zone to make her see him as fun–loving and supportive. 
The Sophie character is a normal person for Mark to bounce his neuroses and awkwardness off of; however, the real strength of Colman's acting is in her reactions to Mark's erratic behavior. The point-of-view camera angles frequently employed in the series (the peep show effect) show off this talent splendidly.
All eight series of Peep Show can be streamed on Hulu and it's also been released on DVD here in the States.
Tyrannosaur. Until I saw this movie, I considered Olivia Colman to be primarily a comedic actress. Tyrannosaur is when I stopped thinking she was just a funny lady and starting respecting her amazing range as an actress. 
When Joseph (Peter Mullan), a volatile widower with a drinking problem, bursts into Hannah's charity shop, rather than calling the police she calms him with her concern and kind words. Thus begins an unlikely friendship, but little do we know that this woman of faith is hiding horrific secrets of her own. 
Colman's heart-wrenching performance in this film won her numerous acting awards while actor Paddy Considine also received many accolades for his writing and directorial film debut. It's by no means an "everyone lives happily ever after story" but it does have a few hopeful moments. 
Hulu Plus and Amazon Instant Video have this film on offer. I borrowed a DVD copy from my local library – it's a wonderfully cheap option!
Rev. Colman's Alex Smallbone is married to Adam (Tom Hollander), an Anglican vicar assigned to an inner city London parish.  Making a conscious decision not to take on the stereotypical role of "the vicar's wife," Alex has a career as a legal aid solicitor. She doesn't organize flowers for the sanctuary or serve coffee after Sunday services.  And she's not shy about letting Adam know when he's been neglecting his husbandly duties… 
Rev. is a humorous yet realistic look into daily life in the modern Church.  Poor Rev. Smallbone is overwhelmed with the burdens of leading a failing church in a down-and-out neighborhood.  Despite this, each episode leaves you with a glimmer of hope for the Rev, his congregation and his long-suffering wife.
Rev is available for streaming on Hulu or can be purchased via Amazon Instant Video.
Hyde Park on Hudson. In this film, Colman portrays Queen Elizabeth (the one we later came to know as the Queen Mother).  She and her husband, King George VI, arrive at President Roosevelt's house in upstate New York for an informal visit.  The plan is to urge the President to pledge his support to England as the looming Second World War now appears inevitable.  It's something of a culture shock when the formal and traditional royals meet up with the unconventional and eccentric Roosevelt entourage. 
Colman's performance is spot-on as the proper but flustered young monarch.  In America, Elizabeth feels out of her depth and tries to fall back on what she knows while her husband, encouraged by the President, attempts loosen up and face his insecurities.  A lovely film – well, at least the part about the royals was good.  I could have done without the Laura Linney part altogether.
This film did get a theatrical release in the US so it's available on DVD. 
Two Award-Winning Performances From 2013
For those who are interested in seeing Colman's recent BAFTA winning roles, I've included a clip from Twenty Twelve, the hilarious BBC mockumentary which follows the  London 2012 Olympic Deliverance committee - a group of inept civil servants with competing interests and no clue as to how to work as a team. Colman's character, Sally, is the besotted personal assistant to the committee's chairman, Ian Fletcher (Downton Abbey's Hugh Bonneville).  As it turns out, Sally probably could have been more efficient at planning the Olympics on her own…
As for her second BAFTA, Colman won it for her supporting role in "Mo's Story", an episode from Accused.  This series is unique in that each episode is an intense one-off story about the decisions people make and the consequences of those decisions.  Colman plays Sue, a mother living in a dangerous crime-ridden estate.  She and her best friend Mo (Anne-Marie Duff) work together in a beauty salon but when Mo refuses to bow to pressure from the drug dealers and their hoodie thugs and close the shop for a day, a series of horrible events result.
I couldn't find a clip from this episode on YouTube so I opted instead for her BAFTA acceptance speech:
You can find both seasons of Accused on Netflix.  "Mo's Story" is part of Series 2.  When you watch it, you'll know exactly what Colman meant by "Anne Malivia Colemuff".  It's emotionally raw stuff that only the very finest actors can pull off. 
Though this brief introduction quickly became something quite a bit longer, it is but the tip of the Olivia Colman iceberg.  (I did warn you about the whole gushing thing.) There were other good performances I omitted for the sake of time and your sanity, but I think I provided enough evidence to recruit a few new Colman fans, right? 
---
By
for on June 30th, 2013
More to Love from Telly Visions