By
for on September 11th, 2023
'The End We Start From' Teaser Has Jodie Comer Trying to Keep Her Head Above Water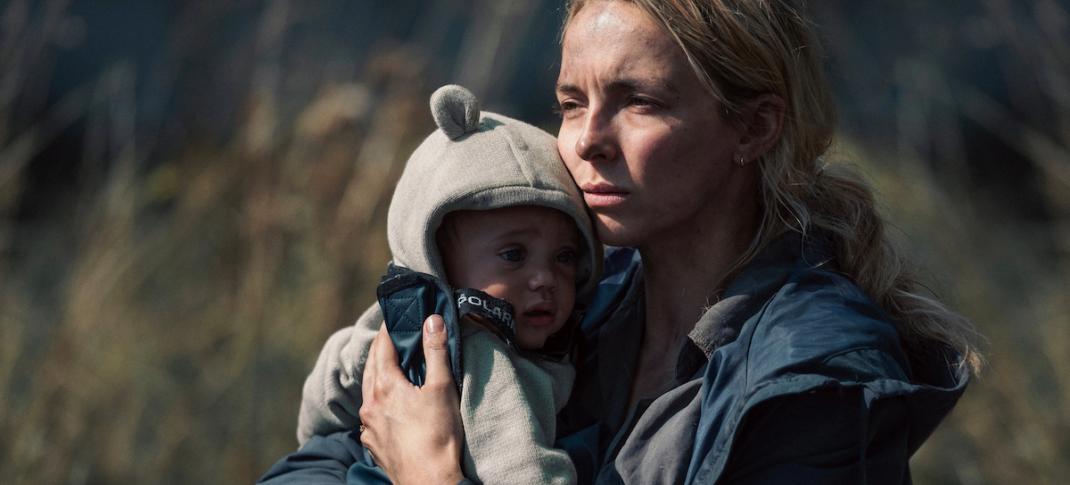 Actress Jodie Comer has already won an Emmy Award, two BAFTAs, a Tony Award, and an Olivier Award for her work on stage and the small screen over the past five years. And now it feels like she may well be coming for an Oscar next. Her new apocalyptic survival drama The End We Start From certainly ticks all the boxes: A prestige cast, a timely, provocative premise, and a film festival-laden rollout that screams "Academy Award campaign" all add up the kind of buzz that indicates Comer's award resume may not be strictly limited to the worlds of television and theater for much longer. 
The film is adapted from Megan Hunter's acclaimed 2017 novel of the same name. Hunter's book was frequently described during its release as a feminist version of Cormac McCarthy's seminal dystopian novel The Road, and its deliberately female focus — having a baby can often feel like the end of the world in the best of times, let alone during a climate change catastrophe — certainly helps it stand out amidst a crowded (and often male-heavy) genre. 
The End We Start From follows the story of a young mother (Comer) who, along with her partner and newborn child, must flee a London submerged by devastating flood waters. As she and her young family struggle to find a way to his parent's house in the countryside, they find increasingly disturbing signs that the situation is growing increasingly desperate there as well.
The teaser trailer focuses on the simple joys of a young woman playing peek-a-boo with her child, intercut with brief glimpses of the story's darker elements: rising water, claustrophobic jostling crowds, a wall of photographs (presumably of missing Londoners), mesh fences, and drab bunkers, all with an ever-increasing sense of tension on top. 
Here's the synopsis.
An apocalyptic drama that still makes room for hope, The End We Start From uses the language of genre to ask the only question that matters about our increasingly bleak future: What will you do? And why aren't you doing it already? The End We Start From is ultimately a cautionary tale, its characters moving episodically through various strata of social collapse.
Alongside Comer, The End We Start From's star-studded ensemble cast includes Joel Fry (Our Flag Means Death), Mark Strong (1917), Benedict Cumberbatch (The Power of the Dog), Katherine Waterston (Fantastic Beasts: The Secrets of Dumbledore), Gina McKee (My Policeman) and Nina Sosanya (His Dark Materials).
The film is directed by Mahalia Below (The Long Song) and adapted for the screen by Alice Birch (Normal People). Producers include Leah Clarke and Adam Ackland (The Mauritanian) for SunnyMarch, Liza Marshall (Temple) for Hera Pictures, Amy Jackson (Aftersun), and Sophie Hunter.
The End We Start From premiered last week at the Toronto International Film Festival and is slated to make its European debut at the BFI London Film Festival in October. Clearly an obvious awards season candidate, it's slated to hit theaters on December 8, though whether that will be in wide or a limited release is yet to be announced.
---
By
for on September 11th, 2023
More to Love from Telly Visions