By
for on September 13th, 2022
Jodie Comer & Benedict Cumberbatch to Lead Apocalyptic Thriller 'The End We Start From'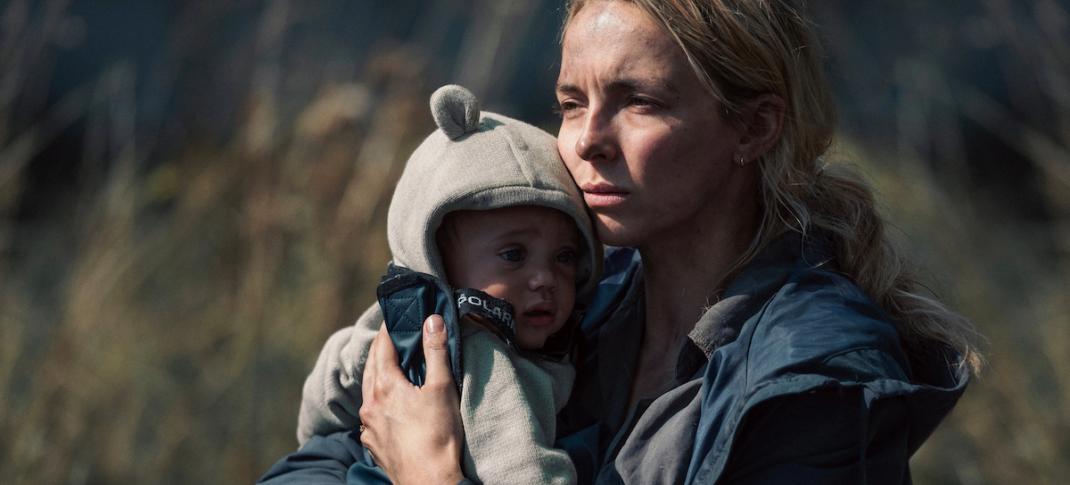 Emmy-winning actress Jodie Comer has a long history of wearing great clothes onscreen, from the opulent gowns seen in period pieces like The White Princess and The Last Duel to the outrageously colorful wardrobe sported by stylish assassin Villanelle in BBC America's hit thriller Killing Eve. (And let's be honest, her wardrobe was one of the only good parts of that series' messy final season.) Sadly, it looks as though her latest project will not feature killer fashion, but the star-studded apocalyptic thriller The End We Start From comes complete with a different kind of sparkle: Likely awards bait. 
Adapted from the acclaimed 2017 novel of the same name by Megan Hunter, which is often likened to a more feminist version of Cormac McCarthy's The Road, the female-fronted apocalyptic thriller is stuffed with buzzy up and comers and established performers both in front of and behind the camera. The story is set amid an environmental crisis that sees London submerged by devastating flood waters. Comer plays a young mother with a newborn child trying to survive the chaos and find her way home. Per a plot description, "the profound novelty of motherhood is brought into sharp focus in this dystopian portrayal of family survival and hope."
"My character is ordinary and extraordinary, both her very personal life and the world around her have been turned upside down, and she is dealing with the unknown at every turn," Comer said in a statement. "Her story is about the quiet heroics of determination, devotion, bravery, and love."
This environmental crisis thriller closely follows a new mother as she navigates two new worlds: motherhood and the rapidly rising waters in London. As the city faces these frightening hardships, Comer's character struggles to keep her newborn, Z, safe as he learns about the world around him. Only days after the city begins to flood and Z is born, their family is forced to seek shelter each day, straining relationships along the way. The film's characters will face the perils of a society reaching its boiling point all while exploring motherhood for the first time.
Benedict Cumberbatch (The Power of the Dog), Mark Strong (1917), and Katherine Waterston (Fantastic Beasts: The Secrets of Dumbledore) have all also signed on to the film's ridiculously stacked ensemble in as yet undisclosed roles, joining cast members Joel Fry (Cruella), Gina McKee (My Policeman) and Nina Sosanya (His Dark Materials). Succession's Alice Birch is adapting the novel for the screen with BAFTA winner Mahalia Belo (Ellen) directing.
"The End We Start From' is a unique and original take on a survival film. One that feels in tune with the climate crisis we are experiencing now," Belo says. "It delivers an honest look at the nature of a hero, someone forced to be brave who sometimes can't be. It is incredible to be working with such an extraordinary cast, bringing this human, primal, and ultimately hopeful story to life."
Principal photography began in London last week, and though the film does not yet have a target release date, mid-to-late 2023 in time for an awards season push seems as likely a guess as any.
---
By
for on September 13th, 2022
More to Love from Telly Visions