By
for on October 22nd, 2022
Mendes' Ineffective 'Empire of Light' Fails Its Audience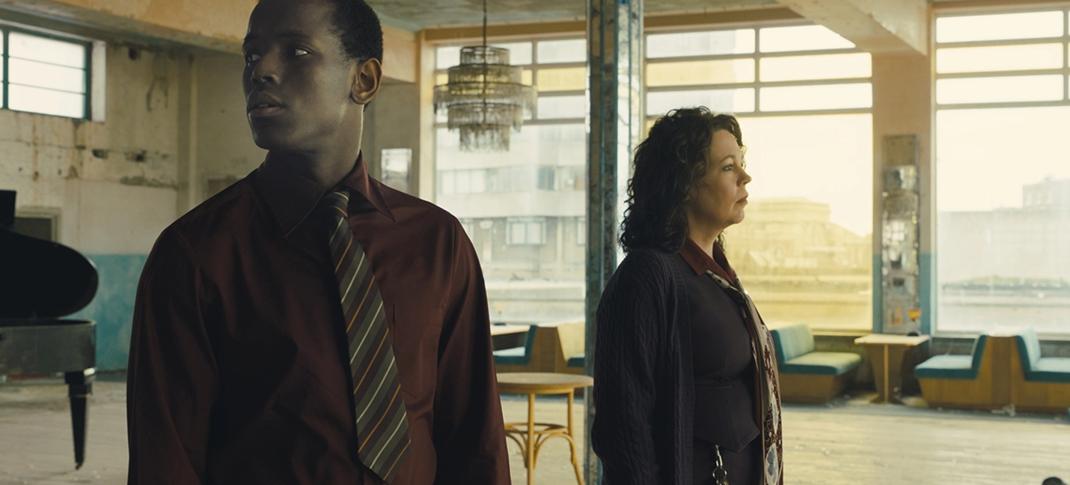 We're currently experiencing a deluge of filmmakers reflecting on personal stories of their pasts and the ways cinema forged their future. It's likely pandemic-related; lockdown offered a lot more chance for reflection on family, while the future of cinemas was a little less clear. This year's Oscars proved such stories are received warmly by audiences and award bodies, and after Kenneth Branagh's Best Screenplay win for Belfast, studios have been given the greenlight for intense FYC campaigns for the three coming out this year. Hopefully, after the cloyingness of Belfast and now the completely inept Empire of Light from acclaimed filmmaker Sam Mendes, it's not confirmed if any of these films will be good.
Set in the seaside Sussex town of Hastings, Empire of Light concerns itself with three narrative strands; the day-to-day runnings of a Art Deco style cinema across the first couple years of the 80s (cue "the magic of cinema" beats), the psychological unwinding of its mentally ill duty manager (the most personal part of the film, with Mendes basing this on his mother's experiences), and the rise of fascism and racism seen through a young, Black worker at the cinema (Mendes developed this aspect of the script alongside actor Michael Ward).
While Mendes' film stands out for not focusing on a filmmaker-surrogate child character à la Belfast, Armageddon Time, or The Fabelmans, knowing how personally-tinged the material in Empire of Light conflicts with how distanced the film feels to all the issues it explores, rendering them inauthentic and manipulative.
This isn't helped by our main characters Hilary (Olivia Colman) and Steven (Michael Ward) embarking on a romance together, one that Mendes (in his second role as screenwriter and first as sole writer) seems clueless to colour with any emotional reality. Colman, one of Britain's best actors, is giving a performance we have seen from her a thousand times before; while she's not phoning it in, watching Hilary's awkward cheeriness interjected with bouts of intense loneliness and distress fails to make the impact it should due to sheer familiarity.
Ward, recently seen in Netflix's Top Boy revival and Steve McQueen's magnificent "Lover's Rock" segment of Small Axe, is an excellent performer hampered by, you guessed it, a weak script. Save for an ending stretch that explores his life without Hilary, Steven rarely feels like an actual person; his romantic fascination with Hilary doesn't feel natural, always a deliberate design of the screenwriter. The depiction of racism, by extension, lacks any incisiveness beyond the worthy intent to make an '80s film that's honest about the era it's set in.
There is no period of British history not tinged with racism, and while an invasion of skinheads on a fascist rally into the Empire cinema makes for an alarming and upsetting sequence, it never feels like this part of the story interacts with Hilary's. Nor does Mendes ever explore how, in a film about British film culture, Black British cinema has played a crucial role. It's not a bad thing to have distinct, unique layers to your screenplay, but when none of them seem to affect or embolden each other, you end up with a confused story.
It's a shame, because the fine detailing of Empire of Light is delightful. The trappings of early 80s regional England are delightful to see, not just in the retro packaging of movie theatre concessions (the fact that Chewits and Fruit Gums are my favourite UK sweets indicates I should develop my sweet tooth from 1981). There's the promise of great make-up and costuming when a list of British B-list celebrities are announced to attend a Chariots of Fire regional premiere, only for the crushing disappointment that we don't spend any time with someone done up to resemble Dusty Springfield. 
The iconic Pearl and Dean sting (the British cinema advertising company) makes a sneak appearance, and the dynamic of a crappy service workforce feels like a great way of bringing cinema culture to life without getting misty-eyed at the magic of watching films. The Empire cinema's team are made up of people who'd rather be anywhere else (who can blame them on £4.50 a day): disillusioned teens and annoying, unfunny jokesters (having Hilary find them funny is a genuinely strong character detail) are consistently winning, even if you feel like a lighter touch than this era of Mendes' direction is needed to pull off the jovialities. Even the obligatory cinephile perspective is restricted to one character: the charming, grumpy projectionist (Toby Jones) who gives the film a shining moment when he mentors Steven on how to use the cinema's dual projectors.
With cinematography by Roger Deakins, a score from Trent Reznor and Atticus Ross, starring one of Britain's great actors and helmed by none other than Sam Mendes, Empire of Light's thundering dullness is the result of a clumsy screenplay and an inability to assess all the social and personal issues it deals with. When we get to the scene where the soothing balm of cinema alleviates struggling people from their earthly troubles, it all feels awfully ineffective – a direct mirror for the audience's experience watching this film.
---
By
for on October 22nd, 2022