By
for on February 11th, 2020
Jane Austen, 'Sanditon' and the Reality of Race in Regency England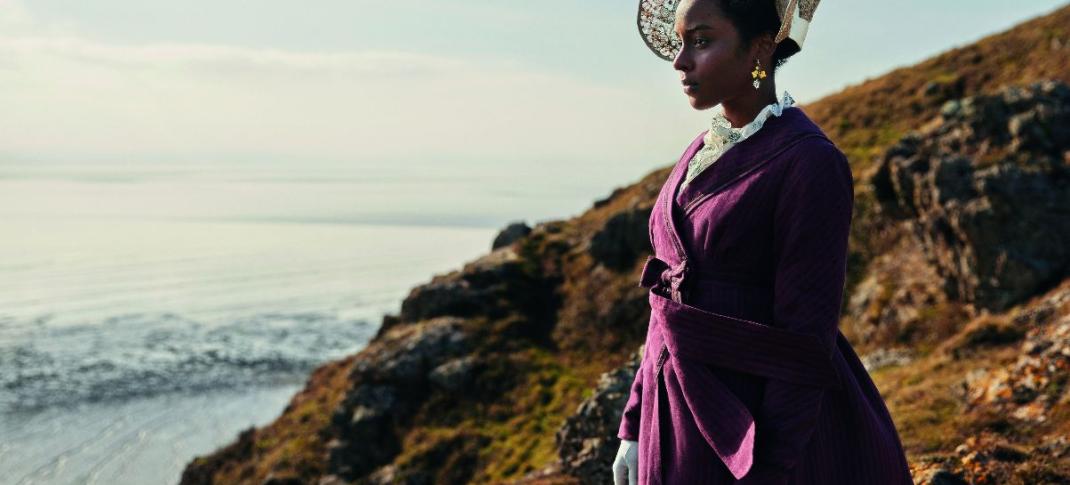 Mrs. Griffiths was a very well-behaved, genteel kind of woman, who supported herself by receiving such great girls and young ladies as wanted either masters for finishing their education or a home for beginning their displays. She had several more under her care than the three who were now come to Sanditon, but the others all happened to be absent. Of these three, and indeed of all, Miss Lambe was beyond comparison the most important and precious, as she paid in proportion to her fortune. She was about seventeen, half mulatto, chilly and tender, had a maid of her own, was to have the best room in the lodgings, and was always of the first consequence in every plan of Mrs. Griffiths.
If you've watched Masterpiece drama Sanditon you may have wondered about the mysterious Miss Georgiana Lambe and the other characters of African descent in the series. What evidence did Jane Austen draw on for these characters, and were they inspired by real-life people?
It's a fascinating subject because Britain had a large population of people of color -- some twenty thousand or more -- during Austen's time. They are portrayed widely in the art of the period: On the crowded streets, aboard ships, in the military, and as household servants, and musicians. A sailor whose birthplace was listed as Africa was aboard Nelson's flagship HMS Victory for the Battle of Trafalgar, one of nine men of color in the crew. Austen, the sister of two career naval men, who spent time in London and Southampton (a major naval base on the south coast), would certainly have been aware of those cities' diverse populations. 
Predominantly male, and concentrated mainly in London and in port cities, the black population included both freedmen, and escaped slaves, brought to England by their owners from the West Indies. For a long time people of color held an ambiguous position in England, where slavery did not traditionally exist. The Somerset case (1772) ruled that an enslaved person brought over to England could not be forcibly removed from the country in order to be returned to slavery. This decision was widely interpreted to mean that an enslaved person was free once on British soil.
There are all sorts of clues in Austen's writing that she likely held abolitionist sympathies—in her letters she facetiously declares herself in love with Thomas Clarkson, founder of the Society for the Abolition of the Slave Trade, and we know she had had read his works. Mansfield Park (almost certainly named in honor of Lord Mansfield, the Lord Chief Justice in the Somerset case) directly addresses the issue of slavery. And her other novels are full of hidden references to the abolitionist movement--a mention of the city of Bristol, for instance, is code for the slave trade. One of her favorite poets, and that of poetry-loving characters like Sense and Sensibility's Marianne Dashwood, was William Cowper, an ardent abolitionist. And if you've ever wondered about the origins of the title of Pride and Prejudice, just read this essay.
In light of this, let's take a look at some of the people of color who Austen might have known about, or whose works she might have been familiar with as she read her way through her father's library, and who might have influenced her thinking. 

Olaudah Equiano (c. 1745–1797) was a prominent figure in the abolitionist movement whose autobiography helped turn public sympathy to the cause. Born in what is now Nigeria, he was enslaved at the age of 11, and sent to Barbados and then Virginia. His next owner, a British Navy captain, renamed him Gustavus Vassa, and sold him to a merchant captain from whom Equiano was able to buy his freedom. He worked as an explorer and merchant for 20 years before settling in England and his enormously successful autobiography was published in 1789.
I am Sir an Affrican – with two ffs – if you please – & proud am I to be of a country that knows no politicians – nor lawyers … nor Thieves (Ignatius Sancho, 1779)
Musician, writer, actor and grocer Ignatius Sancho (ca. 1729-1782) was known as "the extraordinary Negro," becoming a symbol of the humanity and potential of enslaved people. He was born in Africa and brought to England as a slave when he was a tiny child of two (I cannot read that without wincing), first working in the house of three sisters in Greenwich in southeast London. He came to the attention of the Duke of Chandos who encouraged his education, and when he worked as the Duke's butler met writers and intellectuals who visited the house.
After leaving service, Sancho married and opened a grocer's shop in Westminster. His correspondence with author Laurence Stern and other important figures gives a vivid picture of London from the point of view of a man of color, and tells of his experience of racism. As a businessman with property, he qualified to become the first black voter in London, and was the first man of color to be given an obituary in the British press.
A keen musician herself, Austen may have heard of violinist and composer Joseph Emidy (1775-1835). Born in Guinea, he was sold into slavery and taken to Brazil and then to Lisbon, Portugal, where his master provided him with music lessons. He played violin with the Lisbon Opera Orchestra, but then was impressed into the Royal Navy, where he spent seven unhappy years playing jigs and hornpipes. Emidy was released in 1799 at Falmouth, and spent the rest of his life in Cornwall, which had a thriving amateur music scene, and was where he met his future wife.
He became the leader of the Truro Philharmonic with a sideline in piano and harp tuning and maintenance. Impresario Johann Peter Salomon, who introduced Haydn to London, briefly considered him for his prestigious concert series, but felt his skin color was too much of a risk. Sadly, none of his music survives, but he's thought to have composed at least one violin concerto, a horn concerto, and music for strings and for piano.
But what about women? I am still wondering when more of their stories will be uncovered. Austen may have discovered the poems of Phyllis Wheatley, published in London in 1773, after she and her owners failed to find a Boston publisher. Since Wheatley was in London at the time of the Somersett case, and met with leading abolitionists, she was probably inspired by her visit to seek her freedom, a process begun when she returned to Boston. The reaction to the Wheatley family (the owners, that is) was chilly--they were criticized for bringing an enslaved woman to London.
And now for something completely different. We know there were women of color working in London's busy and blatant sex trade. You, or Jane Austen, couldn't miss it. Harris's List (click if you must, I took this one for the team) a sort of Michelin guide to prostitutes, has such listings as follows.

Miss Fr—s—r, Charlotte street, Rathbone Place.

Not less her blandishments than beauty move
  
At once both giving and confessing love.

This lady is about twenty-five, very short, with dark hair and black eyes; and was it not for her nose, which is quite of the pug cast, we might stile her a compleat black beauty…
At the opposite end of the spectrum, there was a woman of color called Miss William Brown whom Charles Dickens met. She had left her husband to serve in the Royal Navy, disguised as a man, and in 1815 was on the roster of HMS Queen Charlotte. She may have been at sea for ten years or more, but other sources suggest she was discharged after a short time when her gender was revealed.
If we go with version A, she apparently got on well with her shipmates, who had no idea of her true idenity. She was an extremely skilled crew member, and enjoyed her grog. She should have had a share of the ship's prize money, but it's possible her husband took it.
And yet another complete contrast: Dido Belle Lindsay, daughter of a slave, who was adopted by her great-uncle, Lord and Lady Mansfield—yes, that Lord Mansfield, the high-ranking judge who ruled on the Somerset case. Austen met the other woman in the painting, another great-niece the Mansfields adopted, now Lady Elizabeth Finch-Hatton, some years later when she stayed at her brother Edward's house in Kent, and found her dull. You can read more about Dido in this older post. The Mansfield family raised Dido with kindness and generosity but made it clear that she was lower in status than her cousin. They provided for her, but she was by no means an heiress like Miss Lambe.
Just as Austen's contemporary readers would have accepted the presence of people of color around them, do you think they would also have had a clear idea, or at least expectations of how Miss Lambe's story would turn out? What are your thoughts on Austen's only (identified) fictional person of color? And who do you think she should pair up with?
---
By
for on February 11th, 2020
More to Love from Telly Visions